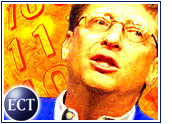 Microsoft said it is making progress complying with its settlement of the antitrust case against it, but not everyone is buying the company's soft sell on the subject.
In an interim status report filed in the U.S. District Court for the District of Columbia by the company, the U.S. Justice Department and 17 states attorney generals, Microsoft said that it has taken significant steps to comply with the settlement, most notably by revamping its Microsoft Communications Protocol Program (MCPP).
Those changes include simpler and easier-to-understand licensing terms, simplified and reduced royalties, reduction of royalty prepayments and improved logistics that make it easier for licensees to comply with their licensing obligations.
Unprecedented Program
What's more, licensees can at any time extend their licenses for an additional five years and have an unlimited time to distribute in the marketplace the products they develop under their licenses.
"The implementation of this licensing program was complex and unprecedented," Microsoft spokesperson Jim Desler told TechNewsWorld. "How we implemented it and have been open to feedback and make changes is a testament to Microsoft's commitment to comply fully with the court's consent decree."
For companies that do not wish to enter into a licensing agreement with Microsoft, the company has created an alternative it calls a "referencing agreement."
Under that agreement, companies can look at Microsoft's communication protocols and related technical documentation but cannot incorporate that technology into a product.
Increased Evangelism
As a result of modifications in MCPP and increased evangelism by Microsoft, the company has enlisted four new companies in the program — Cisco Systems, Tandberg Television, Laplink Software and SCO — bringing total enrollment in the effort to eight.
In addition, the company said that it is in talks with an additional 40 potential licensees. Asked if the company was satisfied with the progress of the program, Desler responded, "Given the challenges in the market, progress has been made."
Although not required by the settlement in the antitrust case, Microsoft said it had "expended substantial resources in an aggressive campaign to generate interest in the MCPP and identify potential licensees."
Beyond Decree Requirements
"Not only has Microsoft actively engaged in negotiations with every entity that expressed interest in the MCPP," the company added, "but it has also proactively sought to interest a large number of industry participants in licenses and has gone far beyond the requirements of [the settlement] in addressing issues important to individual companies considering such licenses."
According to Microsoft, the fact that at least eight companies have taken licenses under the MCPP "attests to the reasonableness of the terms offered."
Based on feedback in negotiations, "Microsoft believes that none of the firms that have declined to license Microsoft's communication protocols have done so because of unreasonable or discriminatory terms."
Inherently Inadequate
At least one state attorney general, however, voiced disappointment over Microsoft's compliance progress. In a separate filing obtained by TechNewsWorld that was submitted to the court, Massachusetts Attorney General Tom Reilly said that "it appears that Microsoft's required disclosures [absent additional inducements] have not attracted either the quantity or quality of licensees that one would expect from a successful disclosure regime."
This means, said Reilly, that either the disclosures themselves are inherently inadequate or some aspect of Microsoft's implementation is deterring potential takers.
Reilly also questioned Microsoft's attempt to lure developers into its program by offering nonuniform additional licensing and user rights. "These additional rights, whether offered only to selected companies or simply designed so as to favor certain developers over others, could further exacerbate marketplace inequalities, and serve to further hinder fair competition," Reilly said in his filing with the court.
No Downside
Others, however, are greeting Microsoft's efforts with open arms. "We are excited from a development standpoint with some of the projects we have underway utilizing the information we've received from Microsoft," Laplink President Mark Eppley told TechNewsWorld.
"We think we can do a lot of innovation and ultimately deliver significant value to our customers; I don't see any downside in this at all," he said of Microsoft's efforts. "I think it's a good thing for the software industry."