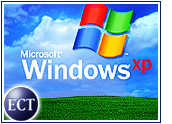 Microsoft's long-awaited and much-delayed update to its Windows operating system — officially called Windows XP Service Pack 2 — is finally ready and will be released to consumers later this month, the company said Thursday. Windows Service Pack 2 includes various security updates meant to fix some of the basic flaws that have allowed viruses to wreak havoc for computer users around the world.
These include a stronger firewall to protect computers from intrusion and also a "Windows Security Center" to help monitor an array of security programs, including those from outside companies that offer other safeguards, such as antivirus protection.
The package will be distributed online to PC users over the next few weeks while packaged Windows CD-ROMs with the update will ship to store shelves in October. Microsoft hopes that most users will receive the product via the automatic update feature that automatically connects to the company's servers via the Internet. Service Pack 2 for the Windows XP Home Edition will be about 70 MB and the update for Windows XP Professional will be about 92 MB, said the company.