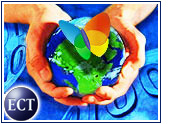 Last month Microsoft Research hosted a summit of some of the best minds in academia to discuss major computing problems and find areas for mutually beneficial collaboration. Held during the last week in July, the gathering brought together 340 academic researchers representing 115 institutions in 11 countries.
An annual event, the summit has become a showcase of sorts for new research projects and for the massive dollar endowments that Microsoft's advanced-research division — called Microsoft Research, or MSR — provides to a worldwide network of university professors and students.
For example, one MSR team demonstrated how their self-charging robot could be controlled using two-way audio and video technology to participate in company meetings for their users. Like most projects at MSR, the robot will not be sold at stores anytime soon, but it was one of dozens of inventions on display at the research fair.
Events like these seem to be solidifying MSR as a major player in the research space. Once a lackluster research lab shrouded in secrecy, Microsoft Research seems to have come into its own of late. But analysts are not sure whether Microsoft's extensive research reach — fostered by massive funding efforts — will successfully meet changing economic and end-user challenges.
Shaping Research Ahead
Currying favor with academic partners has become big business for Microsoft. In an effort to inspire technological innovation and establish itself as a leading technology partner for higher education, Microsoft invests roughly US$100 million annually in support of research and education worldwide.
In the past two months alone, the company announced grants totaling $1.7 million to 77 colleges and universities from more than 25 countries. Also in the past few months, it has bestowed Innovation Excellence awards totaling $5.2 million to professors around the world.
Almost since the company's inception, there have been researchers working at Microsoft labs. Over the years, the company has worked carefully to spread its research influence around the globe. Today, in addition to its academic partnerships in the United States, MSR boasts academic support groups at universities in Asia, Europe, the Middle East and Africa.
Kevin Schofield, director of technical strategy for Microsoft Research, told TechNewsWorld that Microsoft Research now has some 55 different research groups, each focused on expanding an assigned area of computing technology. Three of those targeted areas involve changing the software-engineering process to create software with fewer bugs, enhancing storage techniques to break the terabyte barrier, and creating a rich semantic network to support more complex natural-language technologies.
Identity Makers
However, along the way, Microsoft's acquisition practices helped give a black eye of sorts to the research team. Some people saw Microsoft as taking shortcuts to software development by grabbing innovations from competitors and cobbling them into future program rollouts. While some analysts still see this perception of Microsoft as accurate, others believe MSR has come into its own in recent years.
"Microsoft Research was less relevant in the [early days of the company]; the labs were too far removed from marketable products," Ted Schadler, principal analyst for software infrastructure at Forrester, told TechNewsWorld. MSR was very visible to computer scientists but not so apparent to end users, he noted.
But that view is changing. Investing more than any other company in research and attracting some of the best minds in the industry has made Microsoft Research much more innovative, said Schadler.
Today, the Microsoft Research division is very different from its origins. "Microsoft Research is now very impressive," Laura DiDio, Yankee Group senior analyst for application infrastructure and software platforms, told TechNewsWorld.
Microsoft's View
Schofield said MSR's mission has not changed. "We're about advancing the state of the art in computing and software development and finding answers to computing's greatest challenges," he noted. "Our secondary mission is to take the innovations and research ideas and move them into our products as quickly as possible — what we call technology transfer."
From a research perspective, he said, Microsoft Research pursues technologies that the company believes will drive changes in computing over the course of the next decade. "We need to look forward at the hard computing problems facing the industry today by investing in basic and applied research and emerging technologies."
Schofield said this perspective boils down to a single goal: to develop systems that will lead to new technologies that simplify and enhance users' computing experience, reduce the cost of writing and maintaining software, and facilitate creation of new types of software.
Facing the Challenges
One of MSR's biggest challenges is overcoming the division's past reputation. "Its brand name has its own unique baggage," said DiDio. "There is a lot of anti-Microsoft sentiment." The company, she noted, is pursuing a wide variety of research to avoid repeating earlier mistakes.
With a better reputation for research more firmly in hand, Microsoft Research might be able to manage its global reach more effectively. "Managing a globalized research organization will not be an easy task," said Forrester's Schadler, who pointed out that MSR must strive to connect research innovation to product development.
Other key challenges for Microsoft Research include convergence and voice recognition, Craig Lawton, Boston Consulting Group IT practice area leader, told TechNewsWorld. Microsoft Research must adapt the PC and the emerging PDA platforms to fit into the WiFi world, he said. "Microsoft Research will have to deal with the realities of Moore's Law — things get smaller and faster."
Lawton pointed out that while voice-recognition technologies are getting better, the real challenge will be how Microsoft Research can integrate a voice interface into its future software releases. Lawton sees this challenge as a major direction in computer technology over the next 5 to 10 years.
Financial Realities
How well Microsoft Research succeeds in meeting these challenges could depend on today's economy and tomorrow's customer loyalty. Software gains in value only as people use it. If users view new software technology as too costly, they could settle for less-expensive alternatives.
"Microsoft has the deepest pockets of all the players in the industry," said DiDio. "The company puts 15 or 20 percent of all its money back into research and development." Despite the company's resources, however, Microsoft still must worry about the economy and brand-name loyalty.
In today's market and economy, lack of funds is the great leveler of all companies, DiDio theorized. "Brand loyalty won't guarantee product sales if similar products are available cheaper elsewhere," she said.
"The technology to do these things is further along than the money from consumers to buy it," said Boston Consulting Group's Lawton. Microsoft must hope that Lawton's assessment doesn't ring true.