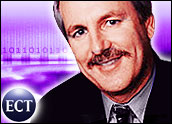 Last week was busy:Microsoft supposedlythreatened open source with patent infringement, and it supposedlysaid Linux was dead. I'll come back to the word "supposedly" in a moment.
If that didn't piss off enough people, Engadgetfalsely reported delays for Leopard and the iPhone, trashing Apple's stock, and if there was anyone in tech not pissed off at that point, Google's brand beat them to a pulp at theBrand Impact Awards, and HP'sstunning financial results made those using market conditions as an excuse for poor performance look stupid.
Finally, as always, I'll close with my product of the week, which speaks to the power of influence in the tech market and what defines a successful blog.
Microsoft's Unbelievable Patent Threat and Death of Linux Claim
Do you sometimes get the sense that Redmond's elevator doesn't make it to the top floor? That's what occurred to me last week, when Microsoft seemed to threaten to pull a SCO and take OSS (open source software) users and developers to patent court. Then, to add insult to injury, its lead open source guy claimed that Linux and OSS were dead.
Typically, Microsoft bad-mouthing Linux is about as unusual as OSS supporters bad-mouthing Microsoft. In tech, it's the equivalent of our national sport. However, what caused me to wonder what the heck was going on was the fact that Microsoft some time ago realized that doing this kind of thing would only give OSS and related products massive amounts of free press.
In addition, it would force Novell — a partner Microsoft is trying to nurture — totake sides against it.
Finally, Microsoft is defending itself in Europe against claims it is behaving in an anticompetitive fashion; these comments would seem to support the EU's opinion that it its effortsaren't serious enough.
In short, this went beyond stupid to unbelievable. It turns out we shouldn't have believed it.
Going back over the initial story and looking at what Microsoft said in the context of its new position on how not to deal with open source, I realized the whole patent thing was bogus. Not that it doesn't have patents — clearly, it does — but it's highly unlikely that Microsoft is going to use them in litigation against OSS users.
What the company apparently was actually trying to say was that it was not planning to litigate, nor was it trying to stop competing products. The underlying message was that Microsoft would focus for the foreseeable future on getting users to consensually license its technology — and not just the OSS infringing stuff — so that people, including competitors, could legally integrate or emulate Microsoft's offerings.
While the open source purists probablydon't like this either, it is vastly less threatening — and probably much less controversial — than the notion of Microsoft "taking on the open source" world. I do tend to think that when it numbered the patents, Microsoft should have disclosed them — but they aren't my patents, and I don't get a vote.
The "death of Linux" thing was an attempt by Bill Hilf, Microsoft's top open source guy, to point out that the people who are critical to open source projects are, in most cases, paid today.His intention was to say that the belief that these products were entirely supported — or even primarily supported — by folks working for free was not true.
This is a position that IT might actually like, because most in IT like getting paid for what they do, and it creates a less threatening — because it isn't different — open source image for some. Accurate or not, this too was a lot less controversial than the claim that the entire class of products was dead.
In the end, I thought this was all about page views, and folks should maybe take some of this with a little healthy skepticism.
What both sides should remember is that what customers want is for both product classes to work together. Neither Microsoft nor FOSS (free and open source software) are going away anytime soon, and that focusing on pounding on each other is increasingly counterproductive. Let's all be a little less gullible — and I include myself in this.
In addition, the side that wins won't be the one with hundreds of patents, nor will it be the one generating the nastiest e-mail with the scariest personal threats. The side that wins will be the one that best addresses the customers' needs, and the side that doesn't get this will not only be a failure, but also historically famous for it.
Engadget Pounds Apple
Speaking of gullible,Engadget got its hands on a leaked Apple memo that said Leopard and the iPhone would be late — really late. This took Apple shares down sharply and created what is likely to be a rather nasty additional SEC (Securities and Exchange Commission)investigation involving both Apple, where the note did apparently originate, and Engadget.
Now, I believe Apple regularlyissues fake memos to catch those that leak them. You would think they would know better than to issue a memo that could materially move their stock, because that could be considered intentionally releasing false material statements, and the SEC really frowns — in a Martha Stewart memorial suite way — on that kind of behavior.
I would say this last is unlikely, but then a few months ago, I would have said HP pretexting reporters was impossible — particularly because even I didn't know what pretexting was.
Companies sometimes do stupid things to catch leaks, and this would probably eclipse what HP did if Apple were found to have done it on purpose — and it is already under investigation for stock option issues.
In the end, this all does build on the earlier point that we shouldn't believe all we read on the Web. Some of it really isn't true, and some of that untruth is intentional.
Google's Brand Rules and HP's Financials
Last week, all the brands in the tech market competed for top honors at the Liquid Brand Summit. Google and Cisco made it to the top of their respective classes and Google, the new kid on the block, won decisively. They even trounced Apple, even though in a brand competition, Apple is typically regarded as second to none.
This is because Google and Cisco focus like lasers on customers and not competitors, and they build products that showcase that focus. Both companies do a good job of protecting their brands, but in the end, Google stands out because it has more consistently excelled in its brand practices.
The competition was based on a survey, with judges like me making some of the final calls. This win really defined the week, as it showcased that customer focus and execution should be the measure of a winner in any market — something that Microsoft, FOSS, Engadget and Apple should all remember.
It's not about killing your competitor, making use of an improper leak to drive page views, or catching the leaker at any cost — it's about focusing on the customer and executing.
HP ended the week with stunning financials, which showcased the massive customer and operational focus driven by HP's CEO and his divisional managers — and, wait for it, they executed! HP isn't focused on Dell, Microsoft, Sun, Kodak or any other company. Rather, it's keeping its attention on building the best thing for its customers — and the benefits of that focus shouldn't be lost on anyone.
Google's win and HP's stunning financials showcase the benefits of this customer focus. Maybe it's time the other vendors took this to heart and followed their lead.
Product of the Week
Much of this week was about influence either properly or improperly applied. Influence has changed a lot in the post-blog period, and many of us that work in this industry don't yet fully understand the implications of this change.
That's why my product of the week is an excellent book focused on the changes in influence that have occurred and the impact these changes will have on our future. Written by someone who has an extensive history in both new and old media, this is a must read for anyone trying to understand or work in the tech market.
Also, for anyone blogging or working to understand how bloggers influence the market, this is a must read. It is packed full of examples of winning blogs, descriptions of who has made key products successful, and how to both make use of new media and avoid being killed by it. It should be a primer for anyone in marketing — or anyone planning to enter the field. It's a quick and easy read without fluff and lots of very interesting observations.
TitledThe New Influencers and written by the legendary Paul Gillin, with a forward by the even more legendary Geoffrey Moore, this is my product of the week. It probably should be my product of the year.
---
Rob Enderle
is a TechNewsWorld columnist and the principal analyst for the
Enderle Group
, a consultancy that focuses on personal technology products and trends.
---