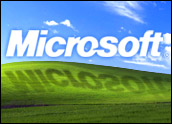 Part 1 of this series discusses Microsoft's smartphone forays.
Microsoft rekindled its on-again, off-again love affair with tablet PCs late last month, as CEO Steve Ballmer told financial analysts that it's giving top priority to its tablet project.
However, he was vague about the details. The tablet would run on Intel's forthcoming Oak Trail processors, he said — but these won't be available for about another year. At different times, he mentioned Windows 7 and Windows Phone, in a manner that hid more than it revealed about the operating system such a tablet would run.
What will Microsoft do in the meantime? Offer a tablet running on an Atom processor with Windows 7, then come up with a second-generation tablet running on Oak Trail processors? Microsoft is working with several OEM partners, Ballmer said, which might indicate it plans this two-step solution.
However, Redmond might find it's in rough seas — Google's Android operating system is gaining in popularity. Will Microsoft's OEM partners forget the software giant's previous forays into the tablet market and team up with it once again, or will they go with Android?
Further, tablet owners will look for a variety of mobile apps, a field where Apple and Google dominate. Can Microsoft come up with enough apps to make anyone want to purchase its tablet?
Android Does It Better?
In the wake of Ballmer's talk with analysts about Microsoft's tablet plans reports surfaced that perhaps the software giant was a tad optimistic.
The DigiTimes blog, for example, claims that notebook manufacturers prefer turning out ARM-based tablets running Android to Intel-based ones running Windows.
They will, however, produce tablets running Windows on Atom processors in small numbers to maintain ties with Microsoft and Intel and to gauge market demand.
If this is true, it underscores the growing strength of the Android OS. In May, Android's share of the U.S. mobile market grew by 4 percent, according to comScore's figures. That gave Android smartphones 13 percent of the U.S. mobile market, fourth behind Microsoft's 13.2 percent. RIM was the market leader, with nearly 42 percent, followed by Apple with more than 25 percent.
An App a Day
Microsoft's biggest problem, however, is not getting OEM partners to string along — when you're an 800-pound gorilla, resistance is futile. The hurdle that could stymie Microsoft's attempts to gain headway in the mobile market is apps — or, more precisely, the lack of apps.
Mobile apps are the key driver for sales of mobile devices ranging from smartphones to tablets, and some, like Jim McGregor, chief technology strategist for In-Stat, think mobile apps will largely replace online and computer-based apps at some point.
"The biggest innovation out there that's driving a huge change in where we're going technology-wise is the mobile app," McGregor told TechNewsWorld. "A really good mobile app replaces the browser, the content or the PC application you're trying to get to."
Apple is currently king of the hill, with about 239,000 apps available on its iTunes app store, according to Carl Howe, director of anywhere consumer research at the Yankee Group.
Google is, like Hertz, trying harder. Last month, it unveiled App Inventor, a new tool in Google Labs that makes it easy for anyone, including those without coding or programming experience, to create mobile Android apps.
More importantly, Google has a direction for its Android apps — the App Inventor encourages educators to participate. That's a dagger aimed straight at the heart of Apple, whose rise decades ago was largely fueled by the education market. Apple's thinking when it began targeting schools was that, once kids became Mac fans, they would have that allegiance for life, and it's that mindset Google is seeking to tap into.
Microsoft's Dilemma
Where does that leave Microsoft? Far, far behind at present.
Microsoft is trying to lure developers with cash and goodies, but this might not be the ideal approach, IDC's Hilwa suggested.
"Buying your way to a good portfolio is not really the right approach," Hilwa pointed out. "It's OK when you're in bootstrap mode and have to rush apps to the market on deadline, but in the long run, the platform as well as its devices have to be compelling because market share is everything for apps."
There's the rub — Microsoft needs to sell enough mobile devices to lure developers into creating apps for its platform, but it won't be able to sell those devices if it doesn't have apps. Further, it doesn't even have its toe in the door because it doesn't have a decent mobile device that can take either the iPhone or the Android smartphones head-on.
"Apple's App Store and Google's Android Market only work for developers who can drive significant sales volumes," Charles King, principal analyst at Pund-IT, told TechNewsWorld. He reckons Microsoft can continue to buy developers over because it "continues to enjoy such robust profits."
The Winds of Change Are Needed
Although adding a tablet device to its mobile offerings is strategically important for Microsoft, it may not be enough because of the company's adherence to Windows.
"Microsoft's speed to market in the mobile space has been hobbled lately by its restricting the solution of every problem to a Windows-derived operating system," Hilwa pointed out. "Even Apple changed its operating system a few years ago when it bought the assets of Next Computer and used that company's operating system for the Mac," he said.
"Microsoft's repeated mistake is to put Windows in places where it doesn't seem to belong or, when creating a blend, to not complete it," Rob Enderle, principal analyst at the Enderle Group, told TechNewsWorld. "It either needs to come up with something unique or take Windows where it needs to go to be competitive."
However, there might still be hope for Redmond in the tablets market.
"What seems to get forgotten in the din around tablets is how young the market is," Charles King, principal analyst at Pund-IT, told TechNewsWorld. "Yes, Apple has sold more than 3 million iPads, but that's a tiny fraction of a percentage point compared to the more than 1 billion PCs and laptops worldwide."