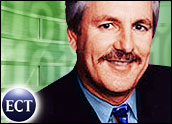 Last week, I was on the road at Microsoft's TechEd conference and had a chance to chat with a number of my peers, some Microsoft customers, and a large number of Microsoft executives. Things are changing rapidly at that company: The Windows group is largely new, Bill Gates is mostly gone, and the company's strategy is increasingly driven by folks who seem to understand open source.
Computex took place last week, and the major battles were between AMD, Intel and little Via. There were a number of products announced that may redefine just how small a computer is and might even re-energize the media center computer space, which has been languishing.
Finally, my product of the week: HTC beat Apple to market with what may be a vastly better touch screen phone — for the money.
Microsoft's Changing Strategy
After covering Microsoft for over two decades, one of the things that continues to fascinate me is how it just seem to be continually blessed by competitors who are suicidal. Think back — IBM's run at Microsoft could only fail.
IBM had internal studies — I know this because I did them — that indicated its strategy with OS/2 simply wouldn't work. Yet it ignored all evidence to the contrary and killed OS/2 years before Windows NT, Microsoft's true competitive offering — basically a clean room version of OS/2 — could get to market.
Novell shifted resources to compete with Microsoft on the desktop but forgot the desktop OS part of the equation. Then, upon seeing NT, it came up with SuperNos, which was just like NT, except it didn't actually have a working product before calling Netware obsolete.
Then there was Sun, which got so focused on Microsoft that it didn't even see Linux coming. It poured huge amounts of resources into stupid offerings like expensive thin clients.
Finally, there was Netscape, which owned the browser market but tried to take Microsoft on in the enterprise, lost focus, and lost the company.
Granted Google and Oracle are exceptions but, man, talk about lucky. This luck seems to be holding with the GPLv3 draft fracturing the OSS (open source software) base and leading some to suggest developers will abandon it. This is only one of many reasonsMicrosoft is starting to like GPLv3 and is changing its competitive strategy.
Core to that change — andvery clear from TechEd — is a massive refocusing on the customer and the concept of interoperability.
Microsoft believes — given that OSS is fractured, and hardware vendors never get along — that it can repeat its earlier successes by returning to its core and becoming the only common standard between warring parties. So, the company is hell-bent on improving interoperability, and given how important interoperability is right now, I think Microsoft may have gotten this right.
This goes along with its litigation strategy to focus onthose who use Linux and convince them to license, avoiding the Linux distributors who have little in the way of money or assets (patent litigation is very expensive).
This has worked successfully, and Microsofthas racked up a number of key multinationals, which are used, in turn, to convert others. This alsoprovides these firms, many of whichdon't appear to like GPLv3, umbrella protection under Microsoft's own patent portfolio — graduallyturning FOSS (free and open source software) into the villain and Microsoft into the white knight.
You have to admit, it isn't a bad strategy. In fact, it's fascinating to watch this play out. It appears not only that Microsoft is not following SCO, but also that is is using what was learned to craft an alternative strategy that should be — and likely is — vastly more successful. It is so much more fun to watch this from a distance.
Cool Products From Computex
Computex was the site of a massive battle between Intel and AMD. Even Via tried to jump in and take some points, but it increasingly seems overmatched. Still, there were solid offerings from all three vendors and their partners, which have been covered elsewhere at length. Out of these announcements came some new and interesting products that are worth a look.
AMD/AlienWare: These two announced the first true media center, something I've been anticipating since CES (Consumer Electronics Show). Here are the three traditional problems with media center PCs: They are too complex; they don't have a built in amplifier — adding to the complexity; and they are way the hell too noisy. AlienWare announced itsHanger 18, which is quieter, has an amplifier, and supports HDMI (high-definition multimedia interface), making it the simplest media center in its class to set up and use. It costs around US$2,000 — but for what you get, that may be a deal, and it was the first out using the new AMD reference design.
AMD/The World: A large number of vendors showed offprototype systems using the AMD DTX specification. These tiny, quiet systems may form the foundation for a new class of desktop PCs that could find their way onto your desk or into your living room. They could also make the Mac mini look big, but then again, Apple is expected to put that product on a diet shortly, so who knows? Small, light, quiet and inexpensive — now that's PC market progress.
Intel/Toshiba: Every once in a while, Toshiba brings out a notebook that will knock your socks off. Last year, it was the R400, which was developed with Microsoft. This year, it's the Intel-basedR500. This bad boy weighs in at under 2.5 pounds — that's less than half the weight of your average notebook. It has a transflective LED (light-emitting diode) 12-inch screen — the only one of its type in production — providing crisp outdoor viewing. It has a 64-gigabyte flash drive, which is the largest and fastest in any notebook. It can be configured with a whopping 12.5 hours of battery life — the longest in its class — and it is actually semi-hardened. It also starts around $2,000 and makes anything anyone else has brought out — including Apple's products — look like yesterday's news.
Intel/Asus: At the other end of the scale, andIntel clearly bracketed the market with its 3 Series chip announcements, was theAsus $199 computer, called the "Eee PC" (probably from the same guys who gave us the Wii). Targeted at emerging markets, this is one hell of a deal for the money — a little cheaper than an iPod nano. Some felt it "slaughtered" the OLPC, but that product was designed for environments that would likely trash the Asus product, and the comparison was unfair. Still, this thing dramatically lowered the floor for what a laptop could cost — though to get there, it had to use Linux. That makes it less attractive for some, but it's a nice showcase for desktop Linux.
Via/Packard Bell: Via partnered with Packard Bell to bring out thesub-$700 Nanobook in Europe — sorry, won't hit the U.S. for a while. For around the price of a PS3 and a game, you get a 1.9 pound almost-pocketable notebook that will run Vista Basic. With 4.5 hours of battery life, and vastly more capability than thePalm Foleo, this product could open up the UMPC (ultra-mobile PC) segment, largely because it is getting close to the target $500 well ahead of the Intel-based offerings.
So, the one yearI didn't go to Computex, there was actually some interesting stuff there. Go figure.
Product of the Week: HTC Touch
What makes theHTC Touch phone particularly interesting, I think, is that it entered planning after the iPhone was announced, showcasing just how quickly the phone vendors can respond and how different this market is from the MP3 (iPod) market.
The HTC Touch will do most of the things the iPhone will do, and it will sync with your desktop and company Exchange server. It will also run Good Technology, so you can get a full BlackBerry experience if you want.
It works with any GSM (global system for mobile communications) vendor — not just Cingular (AT&T). It's best with T-Mobile, though. Also, like the iPhone, it uses a unique touch interface.
Unlike the iPhone, this is a sixth-generation product — not a first-generation offering — and it has a replaceable battery and memory-expansion capability.
It's available in Europe only for now, but will reach the U.S. before year end — and it comes unlocked, so gray market is likely in a few weeks. It's about the same price as the iPhone, but without the two-year contract, which effectively makes it about $200 less expensive — and you don't have to use AT&T.
---
Rob Enderle
is a TechNewsWorld columnist and the principal analyst for the
Enderle Group
, a consultancy that focuses on personal technology products and trends.
---