Microsoft on Wednesday unveiled the Surface Hub, a large-screen device meant to dramatically improve business collaboration.
The 55-inch and 84-inch interactive displays marry white boards with presentations, voice with video, speakers with addressees, Android with iOS, and Windows 10 with conference rooms. The Surface Hubs will go on sale July 1, and on Sept. 1, they'll start shipping out of a Microsoft facility about 200 miles south of the company's Redmond, Washington, headquarters.
They're priced at US$6,999 for the 55-inch model and $19,999 for the 84-inch version.
The Surface Hubs were first shown to the world during a Windows 10 event back in January, but it appears the majority of onlookers' eyes were glued to Microsoft's augmented reality headset, the HoloLens, or searching out familiar elements in the new operating system.
Microsoft has been developing and manufacturing the Surface Hubs at a satellite campus a few miles outside of Portland, in Wilsonville, Oregon. All components except the screens were developed and produced at the facility, and Microsoft owns the company that produces the multitouch display technology for the Hubs.
The Surface Hubs are full-featured Windows 10 devices. The larger Hub features a 4K display, while the 55-inch variants output 1080p video.
Modernizing the Meeting
Meetings increasingly are dispersed, noted Brian Eskridge, a senior manager at Microsoft. About half of all corporate meetings include at least one remote participant.
"Surface Hub is designed to be engaging for everyone in a meeting," Eskridge told TechNewsWorld. "Remote participants that are dialing in have a great view of the conference room or ad hoc meeting space where the Surface Hub is located, and participants in the room have a great view of those remote participants."
That's all thanks to the dual 1080p cameras, inspired by Xbox's Kinect, that are built into the flanks of Surface Hubs, he pointed out.
The cameras "provide a full range of view for both people that are standing close to the Surface Hub, potentially whiteboarding on it, and for those who may be sitting at a conference table several meters away from the Surface Hub," said Eskridge.
As a full-fledged Windows 10 system "with all-in-one compute power," the Surface Hub is meant to be a workhorse in conference rooms, he added.
Businesses increasingly have been making decisions based on insights gleaned from data served up in real time, Eskridge pointed out, and it's that access to real-time data in an interactive experience that separates the Surface Hub from other displays on the market.
Real-time data access "ultimately enables a platform for amazing large screen applications that are powered by Windows 10 as a platform, but then extend out into a variety of industry verticals that may need business-specific or line-of-business applications," he explained.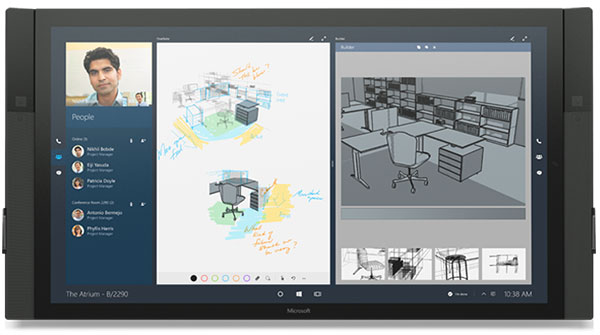 At Home at the Hub
BYOD, or bring your own device, is now less a phenomenon and more the status quo, and the Surface Hub opens its arms to devices running on all major platforms. Hub users with Android, iOS or OS X devices can receive the same treatment that users of Windows or Windows Phone devices enjoy.
"Suddenly, you have a meeting room with that's live and active 10 hours a day," said Eskridge. "You have multiple individuals coming in and interacting with Surface Hub, and those people are bringing in their own devices and they're having great experiences on those other devices with our cross-platform applications like Office, or Skype for Business, or OneNote."
The Surface Hub is "incredibly impactful," and it's a worthy endeavor for Microsoft, which strives to empower individuals and groups alike, he added.
A Node in the Net
Microsoft last year started marching to the mantra "mobile first, cloud first." The development and release of touch-sensitive, big screen devices may appear to be a departure from that two-pronged strategy of mobility and cloud connectedness, but it is, in fact, integral to it.
"We're creating best-in-class experiences with our hardware that extend to our productivity software and services," Eskridge said.
Microsoft's mobile and cloud ambitions are trained on improving people's work lives and then following them home via their tablets and Windows Phone handsets.
The Surface Hub could serve as a new inroad into the workflows of enterprises, suggested Eric M. Jackson, CEO of CapLinked.
"Microsoft sees two trends that are threatening the longstanding dominance that Windows and Office have had with enterprises: Software as a service is rapidly expanding into the enterprise; and the number of non-Windows devices that people use for work is growing," he told TechNewsWorld.
Along with injecting itself into another area of enterprise workflows, the Surface Hub could inspire Microsoft's developer community as well, noted Charles King, principal analyst at Pund-IT.
"The fact that the Surface Hub will also support common Windows applications and frameworks — in contrast to the original Surface's less open environment — means that many in Microsoft's developer community should be inspired to write applications for it," he told TechNewsWorld.
Nothing Succeeds Like Success
The Surface Hub and other hardware, such as the latest Surface Pro, indicate that Microsoft has a new attitude, and its OEM partners should be on notice that the company will produce hardware when they won't, King said.
"I believe that under CEO Satya Nadella, the company is moving aggressively to meaningfully highlight the capabilities of its core technology assets, far more so than when Steve Ballmer was leading the charge," he remarked. "At that point, numerous projects were left unfinished, or dropped after they faced initial challenges."
Only time will tell how successful the Surface Hub will be, but Microsoft at least appears to be marching in the right direction, said CapLinked's Jackson.
Devices "have not proven to be Microsoft's strong point," he said, "but the strategy of diversifying away from Windows/Office toward workflow-enabling products and tools is the right concept to pursue."