Braavo Capital on Tuesday announced it has raised US$6 million in Series A funding, led by E.ventures with participation from SWS Venture Capital and Bill Smith, CEO of Shipt.
The company also converted $2 million in seed capital from investors including SV Angel and BoxGroup, bringing the total equity raised to date to nearly $8 million.
Braavo, which claims to be the first company to offer Capital as a Service to mobile app entrepreneurs and developers, will use the funds to add personnel to further its mission of funding clients in this space.
---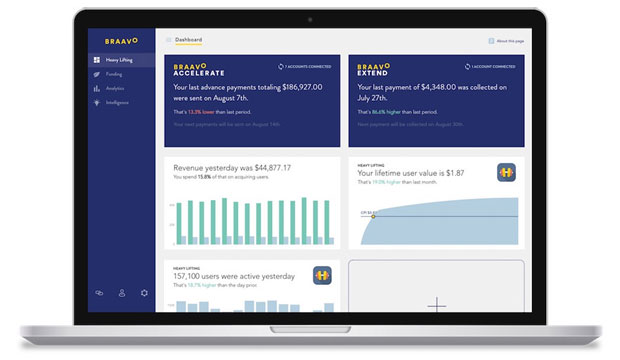 ---
"Our goal is to arm founders with both the capital to take advantage of every opportunity to scale and the insights to know which path will get them there," said Braavo cofounder Sergei Kovalenko.
The company offers two financing products — Accelerate and Extend — that employ an automated system to gather and analyze real-time business data on applicants, including current and future earnings.
The application doesn't require any personal credit checks or the applicant's Social Security Number.
Once approved, entrepreneurs begin to receive funding in one to two days.
"This fills an important niche for mobile developers," said Holger Mueller, principal analyst at Constellation Research.
"They usually have to bootstrap themselves as single workers, and may be short on cash when they need to invest into, say, another app or platform or employee," he told the E-Commerce Times.
Braavo formerly was known as "Aprenita."
"We renamed the business to have a more memorable and positive name," said Braavo Marketing Director Alexandra Northington.
The "Braavo" name "reflects better what we do — provide performance-based financing," she told the E-Commerce Times.
The Series A funding follows combined debt and equity financing of more than $70 million, led by Mark 2 Capital, which Braavo closed last year.
Those funds were earmarked to scale Braavo's financing originations and support the rapid growth of its customer base.
Braavo's Financing Products
Accelerate gives entrepreneurs up to 85 percent of their receivables in weekly payments that they can spend as they see fit.
Entrepreneurs decide what percentage of the previous week's earnings they'll get in advance from each of their platforms, and can adjust the amount at any time. The first payment covers earnings from the beginning of the month.
Clients get a customizable reporting dashboard, consolidated weekly payments, and the visibility to know how they're doing.
Extend provides clients with funds to spend on user acquisition through approved channels, such as Facebook, Instagram and Google.
Braavo typically provides enough capital to double clients' short-term user acquisition budget. Funding terms are based on a client's current budget and performance.
Funds are deposited directly into clients' bank accounts. They can begin spending on growth immediately.
Braavo's free analytics software surfaces insights across clients' accounts so they can see the impact of their efforts and find opportunities to improve.
Loan amounts depend on clients' revenues for Accelerate, and on budget and performance for Extend, Braavo said.
The company charges a fixed percentage of future payments. It does not charge interest.
Braavo receives payments directly from ad networks and app stores, automatically deducts the money it has advanced and its fee, and delivers the remaining balance to clients the following day. The repayments correlate with earnings, decreasing in bad months.
Braavo's financing would be considered medium-risk, noted Rob Enderle, principal analyst at the Enderle Group.
The company "basically takes control of revenue and then pays itself, so their risk is far lower than if they were letting you collect and make payments," he told the E-Commerce Times.
Qualifying for Braavo Financing
There is some confusion over the way Braavo operates.
For example, a Highyareview states that applicants' apps must have analytics that can be reviewed using sources such as Flurry, Localytics, Mixpanel or Appfigures.
Applicants also must show they have revenue coming in from their apps, the review says.
Qualifying applicants will need at least six months of revenue history for at least one active app, and most qualifying customers have at least three full-time employees with $10K-plus in monthly revenue, the review states.
However, "none of the info you've been able to gather from Highya is accurate," maintained Braavo's Northington. "We're not sure where they got their information, but we have never spoken with the company."
For analytics, Braavo integrates "with a number of platforms such as Facebook, Appsflyer, Adjust and Aplitude," she said.
Braavo's clients incude Very, Fanatee, Pixite, Homer, Studio, Radish and Spring, Northington said.
"I would think there could be demand for this kind of financing," said Michael Jude, program manager at Stratecast/Frost & Sullivan.
It gives app developers "an easy-to-qualify-for source of financing that, assuming they continue to grow, would be less onerous than using consumer credit to keep operating," he told the E-Commerce Times.
How Braavo Differs
Braavo's approach differs markedly from that of venture capitalists and equity investors.
"Venture capitalists typically want ownership and some aspect of control," Enderle remarked. "Lenders for a revolving credit line may want points up front and collateral."
Braavo lets founders retain control of their companies and not have to give up board seats or equity. It also saves entrepreneurs from spending resources looking for funders or serving their needs.
"VCs can ask for as much as 20 percent of the company plus a three-year return on investment just to say hello," Frost's Jude pointed out. "Angel funding can require not only interest, but equity in the company."
BI Analytics for Clients
Braavo also announced the rollout of a business intelligence analytics tool that will help mobile app businesses understand their performance in real time.
This is "critical if you want to sustain growth and have a reliable revenue source," Enderle said.
The tool is designed for revenue-generating long-tail and mid-market mobile apps. It will be available at no cost for the rest of this year.
"A smarter move would likely have been to partner with Flurry or App Annie rather than build their own analytics tool," Enderle suggested. They are more analytics pure-play, while Braavo is kind of a collections and revenue management agent."