Managing personal finances once involved lots of paper. Then computer programs came along that helped simplify the process. Now a multitude of mobile apps are available to help people attend to money matters on the go.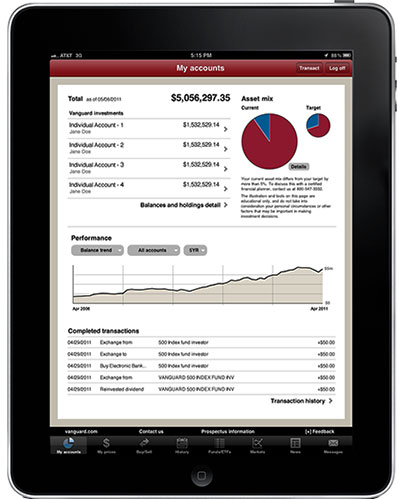 Vanguard for the iPad
"It's very convenient to have it in your pocket on your phone," Garth Scrivner, senior investment counselor with StanCorp Investment Advisers, told TechNewsWorld. "It's just a convenience factor."
Company-Specific Apps
Many personal finance apps are provided by banks and investment firms to help their customers manage their accounts. Vanguard, for instance, has an app that lets its customers view balances and holdings, move money between banks and Vanguard accounts, buy and sell exchange-traded funds, look at transaction histories, research performance and prices, and view market news.
"Vanguard is a virtual service company," Julie MacArthur, senior manager in retail services, told TechNewsWorld. "We need to be where our investors are."
Vanguard launched its first mobile website back in 2007, before apps were all the rage. In 2009, it launched its first iPhone app, and in 2011, it launched apps for Android devices and the iPad.
Increasingly, customers expect their financial institutions to have apps that let them access and manage their money, MacArthur said. "Consumers have gotten comfortable interacting with banks through mobile devices. Investment management is a natural extension of that."
Vanguard's phone app focuses on numbers and text, but the iPad has opened up a whole new dimension for the app.
"The iPad app has more interactive content and charting, taking advantage of the larger screen," said MacArthur.
Aggregating Apps
Apps that collect financial information from a variety of institutions are also becoming increasingly popular. One of the most well-known of these comes from Mint.com. Mint, which is owned by Intuit, sees the role of its website and mobile app as helping people better manage their money by seeing it all in one place.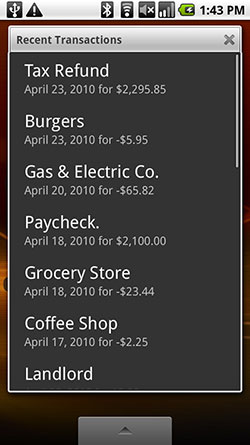 Mint for the iPhone
"One of its key advantages is that it aggregates all your information," Ken Sun, a group product manager with Intuit Personal Finance Group, told TechNewsWorld. "It provides additional features, such as budgets and goals."
Users can sync the app with various accounts so they can see real-time balances. They can also set up budgets, track spending, get bill reminders, and generate reports to analyze the health of their finances.
The app also lets users enter cash transactions. An interaction between the mobile device's GPS and Google Places allows the app to suggest the specific location for the transaction, which the customer can confirm.
Users can see their balances, but they can't actually move any money around.
They can sign up for the service either through Mint's website or through the app itself, which is available for iPhones, Android devices, and the iPad. Because it's a cloud-based app, any information entered on a mobile device is instantly available through the user's account on the Mint.com website, and vice versa.
"People just really want to keep on top of their finances," said Sun. "The Internet generation likes to use technology to do that. You can think of Mint as a real-time dashboard into your personal finances."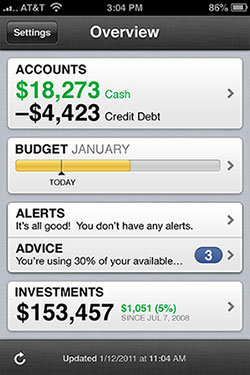 Mint for Android
Mint monetizes its service by analyzing its users' data and spending habits and suggesting certain strategies, including financial products and services, that might be appealing or useful.
For instance, if a customer spends a lot on groceries using a credit card, the app might suggest a specific card that offers cash back on grocery purchases. If the user follows through and signs up for that card, then Mint receives a referral bonus for the transaction.
Only the most pertinent, customer-specific advice is given, Sun emphasized. "We like to make the advice really targeted and relevant to the user."
Mint's smartphone app, like Vanguard's, has relatively simple lists of numbers, data and information. The iPad, however, has given Mint's app a platform to replicate the colorful spreadsheets, graphs and pie charts of its website, with the added capabilities of the touchscreen.
Promoting Financial Literacy
Mint's app has many loyal users, including Scrivner, who has been using the iPhone app for several years to manage all of his own personal finances and recently got the iPad app.
"It's really nice because I can look at all of my apps in one spot," said Scrivner. "It's a great app for budgeting."
Mint's commitment to providing users with information, and even a kind of financial education, are particularly appealing, he said.
"They do a great job of sending alerts," noted Scrivner. "They give you tips and notices. They try to do some educating along the way."