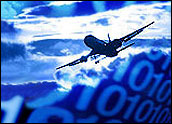 Mobile communications on an aircraft are more than air-to-ground interactions that take place in the cockpit. Today, passengers can use their mobile devices at cruising altitude in an aircraft to call, text and e-mail colleagues, friends and family, just as if they were on the ground. In the future, real-time connectivity will offer passengers the opportunity to plan their travels en route, and give airlines a way to improve their customer service while increasing ancillary revenues and reducing costs.
It is simple to use. On a connected aircraft, the passengers simply switch on their GSM-enabled phones when the cabin signs indicate that the service may be used. As long as their mobile service provider has a roaming agreement with the airline's in-flight communications provider, passengers will be able to use the GSM and GPRS services.
The technology, however, is advanced. Mobile devices connect to an antenna on board the aircraft and to a mini-GSM network. The mini-GSM network sends the calls and data via a satellite link to the ground, where it connects to the ground infrastructure. This then routes the calls and data to public networks (mobile and fixed network operators).
Improving Customer Service
Over the next two to three years, we can expect to see many airlines extend the mobile services they currently offer on the ground to their airborne passengers. This will enable passengers to know while they are still flying if their luggage is delayed, if gate or flight details have changed, or, for example, about long queues in immigration. This will help passengers make the best use of their time in transit and provide them with the opportunity to change their plans if needed. In-flight connectivity in the future can improve passenger service levels on a flight, save passengers time, and save money for the airline.
Real-time connectivity opens up new opportunities for passengers to buy tickets to a host of entertainment options in their destination cities, from discount vouchers to a visit to the Eiffel Tower, or train tickets from London Heathrow to the city center. Similar to mobile ticketing on an airline, the electronic ticket will simply include a two-dimensional bar code that can be swiped upon entry to an entertainment venue, and it will be delivered directly to passengers' phones. Passengers benefit from the convenience of making travel and entertainment arrangements en route, and airlines derive ancillary revenue through a commission from the travel or entertainment provider for each ticket sold.
Mobile Entertainment
Real-time connectivity also offers advantages for standard credit card transactions on board an aircraft. The ability to verify a credit card in real time, which most airlines are currently not able to do, has the potential to help protect them from annual credit card fraud losses that add up to millions of dollars. This, in turn, means they can safely add new and more expensive options to their duty-free and in-flight shopping catalogs, which will help boost the airlines' ancillary revenue further.
With their larger screens and enhanced audio-visual capabilities, today's mobile phones are well equipped to serve as entertainment platforms in addition to being communications devices. Over the next two to three years, airlines will be able to migrate from current in-flight entertainment (IFE) systems to passengers' mobile phones as the primary platform for in-flight entertainment.
They will be able to access on-demand movies and games — even interact with other passengers via on-board networks — using their own mobile device. With the high cost of IFE systems and the fact that they add more weight to the aircraft — burning more jet fuel — more and more airlines will be looking to mobile in-flight communications systems as an alternative to current IFE systems.
Emergency Medical
Real-time connectivity also creates opportunities to provide better patient care in the case of an emergency. Using today's telemedicine technology and in-flight connectivity, airlines can provide better passenger healthcare on board and better avoid unscheduled landings. Today's telemedicine systems use specialized medical devices that connect to the network and send data on passenger's vital signs (e.g., temperature, heart rate and blood pressure) to medical experts on the ground.
This helps ensure that passengers in distress receive faster care on board. Also, if the aircraft does need to land, consulting with experts prior to landing can ensure that medical resources on the ground are adequately equipped to respond to the patient's needs. Telemedicine technology can provide crucial care to patients in flight, while at the same time delivering to the airline a considerable cost savings — an estimated Pounds 30,000 Pounds (US$41,630) to Pounds 150,000 ($208,077) for each emergency landing.
Mobile in-flight communications systems will also continue to improve airlines' operational efficiencies — increasingly important in today's challenging economic environment. For example, airlines will be able to check the weather en route and download maintenance information and aircraft manuals in real time — placing orders for new parts and reserving maintenance time while mid-flight and before arriving at the airport. This leaves less administrative work to manage when they land.
In short, real-time connectivity on board an aircraft offers significant benefits for airlines and passengers alike. It enables airlines to move one step closer to the concept of the "connected aircraft," in which the aircraft is linked to the ground throughout its entire journey. Plus, it provides better service and greater convenience for passengers. With mobile in-flight passenger communications and more in-flight mobile services available from the airlines, it may not be long before packing for short-haul flights will mean taking your mobile phone and your passport.
---
Benoit Debains
is the CEO of
OnAir
, a global provider of inflight passenger communications.
---