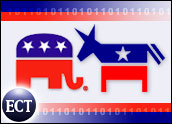 Have you ever felt a burning desire while taking your dog for a walk to knowhow much money your neighbors have contributed to the Democratic andRepublican parties? Well, now you can whip your cell phone out and find out.
A New Jersey software tinkerer has written a Java-based program he'sdistributing free that can access Federal Election Commission (FEC) datafrom a cell phone and display it in a fun and meaningful way.
The application, called "Red | Blue" (pronounced red or blue, the | symbolbeing a substitute for "or" in a Boolean search), was written by Jason Uechi,whose day job is as chief technology officer at GlobalWorks, a Fifth Avenuemarketing firm in New York City.
Color Him Curious
Uechi told TechNewsWorld that curiosity was the driving desire behind hiscreation of the program.
"GPS [global satellite positioning] technology is just being integrated intocell phones, and this is a great data set to use," he said.
For phones with GPS, the application calculates an optimal radius from yourcurrent location and uses that geographic information to create an aggregate index of contributors to the major political parties.
Tilting Pachyderm
That index is displayed on your cell phone as a meter, with a blue donkey atone of end of its scale and a red elephant at its other. A needle on themeter shows the political polarity of a location. If you're in a Republicanstronghold, for instance, the needle will tilt toward the red elephant onthe meter.
Also displayed on the meter are the dollar amounts contributed to each majorparty in your location and the length of the radius used for those calculations.
When creating the index, the program weights the information by proximity. Soeven if you're in a Republican stronghold, if you're standing near a largeDemocratic contributor, the meter's needle will lean toward the blue end ofthe scale.
Political Geiger Counter
Proximity weighting makes the meter behave like a political Geiger counter.As you change your position, its needle will change to indicate theradiation of levels of money to the parties.
Moreover, you can also use the program as a political compass. You can pointyour phone in a direction, and it will tell you which party dominates inthat direction.
For phones without GPS, the program asks for address information and usesthat for its calculations.
Polarity Attracts
The software will run on any phone that can run Java applications and hasInternet access — such as Nextel handsets, which have built-in GPS, and someBlackberry units.
Aside from curiosity, the political angle also motivated Uechi, a Democrat,to write the application. "The whole polarity of red versus blue in the U.S.at this point coming up to the election is a big deal," he said.
Uechi obtained his data for his project from EyeBeam R&D, a New YorkCity-based non-profit organization which, among its other activities,operates Fundrace.com, where FEC data can be searched by using name andaddress information.
Geo-coding for the People
"It's a fantastic idea," EyeBeam Research Fellow Michael Frumin said of Red| Blue.
"It's taking the principle that we were trying to engender of taking openinformation and making it relevant to you and moving it into the real world,into the physical world, instead of just looking at it on your computer," hetold TechNewsWorld.
Frumin explained that Red | Blue illustrates the collaborative potential ofthe Internet. "It's an example of a certain kind of Open Sourcecollaboration that's happening more and more," he said.
He predicted more applications would be combining geo-coding and wirelesscommunication in the future.
"Geo-coding has only recently become accessible to people withoutsignificant resources," he observed. "And everyone and his mother is workingon interesting wireless applications."
Red | Blue, he said, "is an example of geo-coding being brought to thepeople."