With today's economic environment driving consumers into money-saving mode, e-commerce retailers must double down on targeted communications to ensure their mobile content is as personalized as possible without underestimating the power of a single inappropriate or misaligned message.
Mobile engagement platform Vibes and Industry Dive surveyed a broad range of 1,001 mobile-centric consumers in November and December 2022 to better understand their relationship with mobile retail.
The goal was to discover how mobile shopping consumers interact with brands on their phones and how often. The results published in the 2023 Mobile Consumer Trends Reports showed some surprising and unexpected insights. One of the key trends was a rise in the use of digital wallets connected with mobile store apps.
In-store events or store-exclusive offers may motivate some consumers to turn on a brand's mobile app push notifications and sign up to receive text messages. Nearly half of consumers (42%) said they would be more encouraged to visit a business's physical location to avoid shipping costs.
Researchers were most struck by the persistent and unambiguous consumer excitement around the personalization and immediacy that comes from SMS, according to Jay Hinman, vice president of marketing at Vibes. The survey showed that 70% of consumers use it to interact with the brands they love.
"We see mobile wallet as a growing and very important channel that brands can use for continuous two-way dialogue with their customers," he told The E-commerce Times.
Buying Into New Payment Methods
For instance, the Vibes Wallet Manager helps brands drive customer downloads of permanent wallet passes, such as loyalty, gift, and membership cards that expand each brand's reach, explained Hinman. It really supplements their apps.
The mobile consumer report focuses on the mobile wallets with which Vibes is most familiar, such as Apple and Google. That is where the company sees all of this action taking place on consumer devices.
The report side-steps the use of online banking methods other than the big digital wallets. That was more of a function of the questions not asked rather than a statement on online banking, according to Hinman.
"Clearly, that is a trend that is only rising. I am still amazed that all my check deposits are now done by taking photos of my checks rather than driving to the ATM. It will take me a couple more years to adjust to that great leap forward," he quipped about his adoption of digital and mobile payment methods.
Telling Takeaways for E-Commerce Sellers
One of the main insights from the survey is that 40% of smartphone users say they will gladly give brands their zip code, name, mobile phone number, and other zero-party data in exchange for better personalization. This data shows that these exchanges will only get more mutually beneficial over time, Hinman predicted.
Part of this ongoing ramp-up of mobile convenience for shopping results from the current global economy. He sees the situation as less macroeconomic conditions such as interest rates or bank troubles driving mobile wallet adoption.
---
Consumers want all kinds of messages from brands.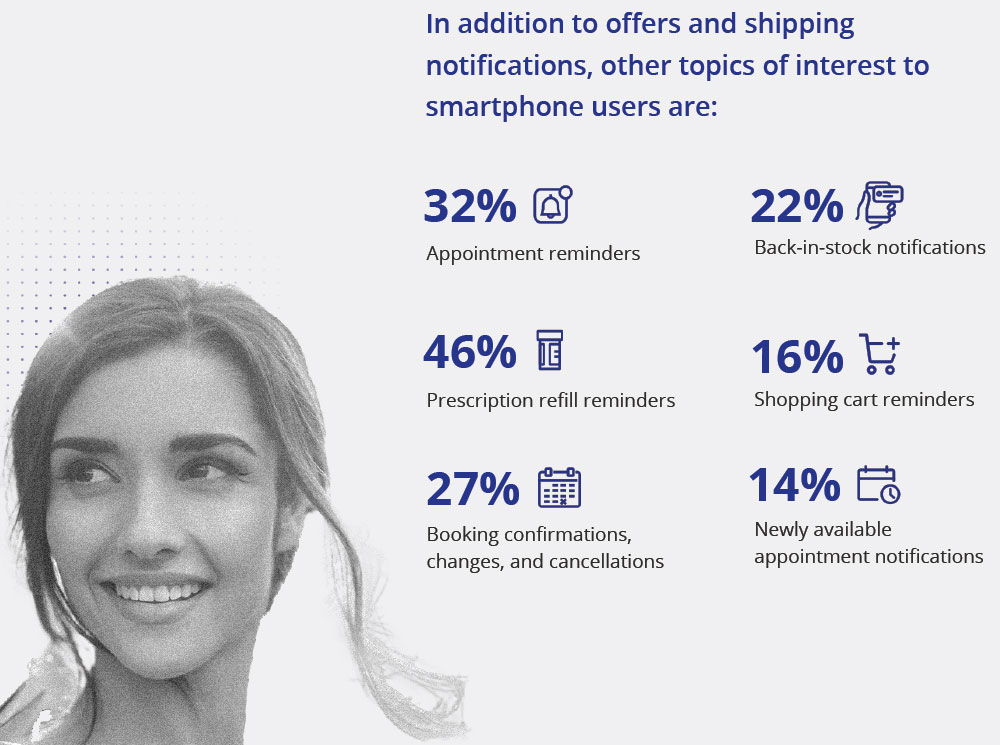 Source: Vibes and Industry Dive's studioID 2023 Mobile Consumer Trends Report
---
Instead, more brands have found that they need to bridge the engagement gap by connecting high-reach, low-engagement channels like email with low-reach, high-engagement channels like a brand's mobile app.
"They see the low open rates of the former and the low download rates of the latter. They see a clear-cut way to present their customers with a way to engage with and store items such as digital offers and loyalty cards," Hinman said.
According to this survey, he noted that over 70% of smartphone users would likely save and redeem mobile wallet offers or coupons that personalize their names and match their shopping preferences. This predilection for personalization sets the stage for boosting engagement and driving users into stores for redemption.
Age Factors Mobile Adoption
Another big surprise is the role that consumer ages affect their view of engaging with mobile to shop and pay.

Source: Vibes and Industry Dive's studioID 2023 Mobile Consumer Trends Report
---
While those 55 and older did not show strong interest, consumers under age 55 said they are also interested in mobile wallets for storing loyalty cards over having a physical card.
One in every two consumers between the ages of 25 and 54 is interested in a loyalty card they can store in their phone's mobile wallet.
There is a generation gap for everything, and mobile wallet is one of them in 2023, Hinman agreed. Consumers under age 55 were much more enthusiastic about using their devices to pay for items, engage with offers, and store loyalty cards and tickets than those over 55.
The other big surprise that stood out for Hinman is that while consumers over 40 stated that getting too many SMS messages from a brand would be the main reason to opt out of receiving them, 28% of consumers under age 40 actually cited a frequency of too few messages as a reason to stop receiving communication from a brand.
"I'm sure every brand marketer wants to know who that 28% are right now," he quipped.
Report Highlights
Mobile messaging continues to grow as a widely-used marketing channel. Nearly 70% of consumers have received text messages and mobile app push notifications from a brand on their phones.
When it comes to shopping, saving money is back on everyone's minds. Almost half of the responding consumers say avoiding shipping costs would encourage them most to visit a business's physical location.
Almost one out of five smartphone users (19%) who did not use their phones to redeem store-branded offers and coupons last year plan to use their phones for this activity in the coming year.
---
For activities not done in the past year, one in ten or more smartphone users plans to do these activities in the coming year.

Source: Vibes and Industry Dive's studioID 2023 Mobile Consumer Trends Report
---
Half of the consumers who receive push notifications or SMS messages from brands say their primary motivations are incentives or coupons such as dollar-off offers, percentage-off offers, free gifts with purchase, and free shipping. Almost half, or 46%, are motivated by loyalty benefits such as rewards points.
Other motivations for turning on a brand's mobile app push notifications and signing up to receive text messages mentioned by smartphone users are:
Informational or product updates, e.g., flight notifications, account balances, shipment information — 33%
Exclusive content, e.g., sneak peeks of new products or deals, etc. — 31%
Store news and events, e.g., information about new store locations, special events held at select stores, etc. — 25%
Final Thoughts
The report indicates a trend to use multiple brand loyalty programs so consumers can search for the best deals via comparison shopping rather than a singular focus on one, according to Hinman.
"Most of us started our loyalty journeys with airlines and hotels, but now that it is incredibly easy to carry your current offers and loyalty programs from Chipotle, Starbucks, or Kentucky Fried Chicken with you. It's easier to take a quick glance at Apple Wallet or Google Wallet to figure out the best place to go for lunch today and then pay with the device that is always with you," he said.
Seventy-nine percent of U.S. consumers said they are more likely to join a loyalty program that does not require carrying a physical card. Pair this with 75% of loyalty program members saying they would engage with a rewards program if they could easily access it from their phone.
A mobile wallet is an obvious answer for brands who want to seamlessly enroll, engage, and retain loyalty members. Hinman concluded that it is one of the best ways to bridge the engagement gap between traditional email and the brand's mobile app.