Apple on Tuesday announced a refresh of its iPad as part of a new approach to the education market. CEO Tim Cook and other Apple officials also outlined a number of new education initiatives at an event held at Lane Tech College Prep High School in Chicago.
The new 32-gigabyte, 9.7-inch iPad, which will sell to consumers for US$329 and to students for $299, has a more powerful processor — Apple's Fusion A10 chip. It sports a 2048-by-1536-pixel retina display with a ppi of 264. It also supports the Apple Pencil, discounted $10 for the education market.
---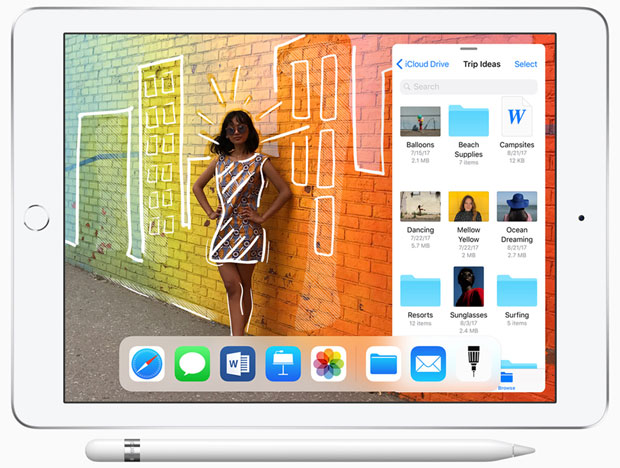 Apple's New 9.7-inch iPad and Apple Pencil
---
The Apple team demonstrated a number of new apps that take advantage of the company's augmented reality development kit, including apps that allow students to take a virtual walk through a museum, interact with wildlife in the virtual wild, and dissect a virtual frog.
Apple introduced ClassKit for developing educational software. It expanded its Classroom app to the Mac. It also showcased a new free app, Schoolwork, to help teachers handle assignments and handouts. Further, the company said it would provide 200 GB of free storage on Apple's iCloud for educational accounts.
Emphasis on Creativity
Apple has moved features found in some of its higher-end products to the more moderately priced new iPad.
"Apple has filtered down some of the technologies from the iPad Pro line down to this line," noted Ross Rubin, principal analyst at Reticle Research.
"While they didn't add the smart connector for an Apple keyboard, they showed off a rugged, Bluetooth keyboard for the tablet that Logitech will be producing," he told TechNewsWorld.
Apple emphasized that the iPad is a creativity tool that's mobile, Rubin pointed out.
"A lot of the focus at the presentation was doing things in the field using the camera and agility of the device," he said. "You can take it on a trip and do augmented reality things through its camera without having to worry about a keyboard."
Fallen Leader
Once a leader in the education market, Apple has taken a backseat to Google in recent times. In 2013, about half the mobile devices shipped to schools were Macs and iPads. In 2016, about 58 percent of the 12.6 million mobile computing devices shipped to primary and secondary schools were Chromebooks, according to Futuresource Consulting.
In rebooting its educational efforts, Apple will face some sizable hurdles, observed Charles King, principal analyst at Pund-IT.
"The company abandoned the leadership position in education it once enjoyed so long ago that it's essentially starting over from scratch," he told TechNewsWorld.
"Moreover, it's going up against a formidable competitor — Google — with a wide and deep channel of education-focused channel partners and dedicated customers," King said.
The costs associated with switching also pose a problem for Apple, he added. Moving from Google Docs to iWork would create retraining and support costs. Since tablets aren't as durable as clamshell computers, there might be replacement cost issues to consider too.
"This is not going to be an easy market for Apple to reenter, let alone lead," King said.
A World View
Apple certainly has strengthened its position in the market with this announcement, noted Rhoda Alexander, director of tablet and notebook research at IHS Markit.
The lower price point for iPad will help its position in the education market, as well as moving Classroom to the Mac ecosystem, she suggested.
"The ecosystem is a huge piece of it," Alexander told TechNewsWorld, "so watch for developments on ClassKit, Apple's new software development tool."
Chromebooks have a very strong hold on the U.S. education market at present, she acknowledged, noting that cost and ease of use played a large role in that success.
"When looking at Apple, though, you always have to think beyond the U.S. and recognize this is a global play," Alexander pointed out. "The situation differs dramatically across geographies, and Apple is always planning globally. The initial focus is U.S., but taking initiatives global is always part of the plan."