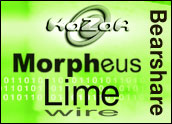 As the entertainment industry attempted this week to overturn a court ruling protecting the operation of file-sharing services on the Internet, two peer-to-peer outfits rolled out new products that could cause more hand-wringing among movie and music execs.
Los Angeles-based StreamCast Networks released a new version of its Morpheus peer-to-peer software client that allows its users to connect to all the major P2P networks — such as Kazaa, iMesh, eDonkey, Overnet, Grokster, Gnutella, LimeWire and G2.
And later this week, Optisoft of Madrid, Spain, is expected to release a new version of its Blubster P2P product, which will deploy encryption to protect its users from snoops, such as agents of the Recording Industry Association of America (RIAA), the industry trade group that has filed scores of lawsuits against online music sharers.
Big, Big Advance
Although some small players like Poison and Shareaza boast interoperability between P2P networks, StreamCast is the first major provider to incorporate the technology into its software.
The peer-to-peer world is medieval in nature. Numerous fiefdoms have been created around a multitude of clients. In order to access files in a particular fiefdom, you have to run its client on your computer.
"Imagine if you had to use different kinds of browsers to get to different kinds of Web sites," StreamCast CEO Michael Weiss told TechNewsWorld. "We thought the next logical progression was to allow users to connect the networks together. That's a big, big advance."
Some P2P purveyors, however, remain skeptical about the StreamCast technology. "There are some benefits to universal connectivity, but I don't think it's necessary," Greg Bildson, COO of LimeWire in New York City, told TechNewsWorld. "It plays well as a marketing strategy, but in reality it doesn't affect the user experience that much."
Marketing Hype
That's because the cross-network results from the program are more likely to fail than not, he asserted. "I don't believe [Morpheus is] reaching more content than they would find on the Gnutella network alone," he said.
Gnutella, which is used by LimeWire and other P2P services, is a popular protocol for sharing files on the Internet.
"As with a lot of Morpheus stuff, this is the triumph of marketing hype over real technical innovation," he added.
In addition to universal P2P searching, the new version of Morpheus has many new features, including voice chat, hashed IP addresses to protect user identities, advanced parental controls, a media player, a file shredder and the kernel of a new technology called NEOnet.
Next-Generation P2P
Although NEOnet won't be fully implemented until version 4.1 of Morpheus is released, the proprietary protocol will greatly speed up P2P searches, according to Weiss. "We think this will be the next generation in P2P technology," he said. "It will save 600 percent in bandwidth for searches, which ISPs are going to love."
While consumers may find universal searching beneficial, P2P service operators might see the technology as a means of poaching their user base. Asked if StreamCast expects any of its peers in the P2P community to take retaliatory measures to close off Morpheus searches from their networks, Weiss responded, "It's a decentralized environment; I don't know what kind of control these other companies can exert on their technology.
"If Kazaa moves to block Morpheus, like they successfully did a year and a half ago and stole our users from us, what does that tell the courts and Congress when they're trying to make the claim that their system is decentralized and they have no control over what happens?" he added.
New Blubster Build
A key issue in the case involving Morpheus and Grokster heard before the 9th U.S. Circuit Court of Appeals this week is that they have no control over what their users do with their software, so they can't be held liable for copyright infringements that take place on their networks. A decision in that case isn't expected for months.
Meanwhile, Optisoft will be pumping up privacy protections in a new build of its P2P program. "Our new build of Blubster coming on Friday will have full network encryption," CEO Wayne Rosso told TechNewsWorld.
Files on the system not only will be encrypted, Rosso explained, but also will be chopped up and reassembled by the software on the user's machine, a technique used to preserve anonymity on the system.
"I'll believe that when I see it," LimeWire's Bildson said. "They've claimed anonymity before when it wasn't true.
"For true anonymity, you have to start proxying content," he explained. "Proxying is very inefficient and will slow down a network a great deal. It remains to be seen whether true anonymity is ever going to become desired enough for the bandwidth cost."