Motorola has unveiled three new devices in its Razr smartphone line, touting extended battery life and larger screen size as their main selling points.
All three will be available from Verizon Wireless later this year. They will come preloaded with various Google services, including the Chrome browser, Google Play, Google Maps, Voice Actions for Android and Google+.
All three will run on Ice Cream Sandwich and will be able to be upgraded to Jelly Bean when that becomes available.
Motorola will also offer a special developer edition available only from it online in the United States. This will come with software tools to unlock the bootloader.
The Razr's Edge
The new family of devices consists of the Razr M, the Razr HD, and the Razr Maxx HD.
The Razr M has a Super AMOLED 4.3-inch display with no bezel, meaning it runs edge to edge across the device. This lets it offer 40 percent more screen than the iPhone 4S, Motorola claims. The device's battery is also 40 percent more powerful than that of the iPhone 4S.
The Razr M comes with interactive tutorials accessed by swiping across the screen. It includes Motorola'sSmartactions app, which lets users customize battery use to extend the battery's life.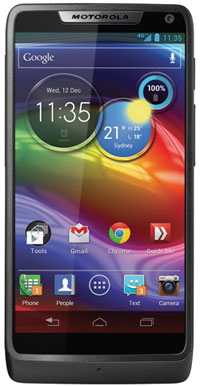 Motorola's new RAZR M makes the most of itsGoogle heritage,with the Android OS and Chrome browser on a 4.3 inch AMOLED screen.
The Motorola Razr M will be offered with a black or white case. It will be offered as the Droid Razr M on Verizon's network at $100 after a $50 mail-in rebate with a new two-year customer agreement.
The Razr HD will have a 4.7-inch HD display. It's designed for watching up to 10 hours of movies and TV shows or six hours of Web surfing between battery charges. The device's screen offers 85 percent greater color saturation and 50 percent more pixels per inch than that of the iPhone 4S, Motorola claims.
The Razr HD also offers voice-guided turn-by-turn navigation. It will be offered in black. In the US, it will be marketed as the Droid Razr HD. Motorola did not disclose information on pricing and the launch date.
The Razr Maxx HD will be available in the US before the holidays. It will be available in black and will be marketed here as the Droid Razr Maxx HD.
The Razor Maxx HD offers 32 hours of battery life. More details on pricing and availability will be released later.
Going Forever and Ever
"One of the things that seem to be emerging seems to be handset makers addressing the battery power issue," Michael Morgan, a senior analyst at ABI Research, told TechNewsWorld.
However, "everybody's going to be able to put out better battery life because the phones are getting bigger while the components are getting smaller, and that extra space will be used for bigger batteries," Morgan said.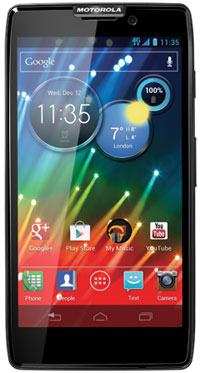 The RAZR HD by Motorola has a 4.7 inch, 720pSuper AMOLED HDDisplay and ships with Android Ice Cream Sandwich, but is upgradeable toJelly Bean.
Coolth Is an Elusive Quality
The edgeless screen and the colors "have to do with the cool factor," ABI's Morgan suggested. "It's to do with industrial design, which is Apple's forte, but Motorola is trying to step its strength there, and matching that with excellent battery life."
On the other hand, "this new line of smartphones looks like it was optimized for price, and has neither the premium feel nor the sexiness of the original Razr line," Rob Enderle, principal analyst at the Enderle Group, told TechNewsWorld. "They look to me like cheap Samsung knockoffs."
The Google Play
With Motorola being a wholly owned subsidiary of Google, the question of whether it's bringing out a new line of smartphones might upset OEMs the same way that Microsoft's Surface tablet aroused antipathy among Redmond's partners arises.
"I do believe that Motorola has a strong level of autonomy and they're going to be used to deliver Google's vision for Android," said ABI's Morgan. Further, letting Motorola launch new devices "could be a continuation of the experiment [with the Google Nexus] of pushing out non-subsidized handsets."
Or perhaps Google's playing a deeper game. "This looks more like a division of Google that is being starved into obsolescence, which would be consistent with a Google strategy to collapse Motorola and just keep its intellectual property," Enderle suggested.