Motorola on Wednesday announced the Moto G, an unlocked, no-contract smartphone with an unlockable bootloader running Android 4.3, Jelly Bean, to be widely available next year.
An 8-GB version will be offered for US$179 and a 16-GB version for $199.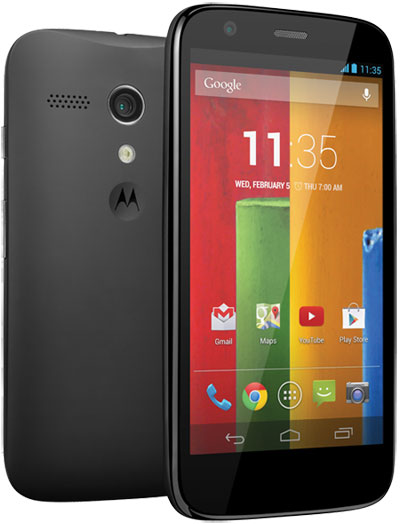 The rollout began this week in Brazil and parts of Europe, and the device will come to the United States in 2014.
The Moto G "is designed for people who may be purchasing their first smartphone or love Android, and want the very best of Google Mobile Services, and who do not want to compromise on quality, style or experience in the name of affordability," Motorola spokesperson Kristine Mulford told TechNewsWorld.
What the G Will Offer
The Moto G has an edge-to-edge 4.5-inch HD display with 1280 x 720 pixel resolution at 329 PPI.
It runs on a quad-core 1.2 GHz Qualcomm Snapdragon 400 processor.
The device has a micro USB port and a headset jack.
Its rear camera is user-configurable and offers 3.8 or 5 MP resolution depending on how it's set up. Features include LED flash, 4x digital zoom, slow motion video, burst mode, auto HDR and panaroma capability.
The Moto G has a 1.3 MP front camera.
Both cameras offer 720p HD video capture and playback at 30 fps.
The Moto G supports 802.11 b/g/n WiFi and Bluetooth 4.0. Location services supported are GPS and GLONASS.
Purchasers will get an extra 50 GB of Google Drive storage free for two years on top of the standard 15 GB that come with the Moto G.
A Pointer to Google's Marketing Strategy?
The Moto G is Motorola parent Google's attempt to target the lower-end market.
"Nexus devices are reference designs for new versions of Android, and appeal to early adopters," Motorola's Mulford remarked. "We've chosen to focus our resources on products for a broader market."
Indeed: The Moto G is a 3G device, and doesn't support 4G LTE networks, and that means the U.S. market, where carriers are moving to LTE, might be more of an afterthought than anything else.
"This is a value play and more for the emerging market than the developed world," Rob Enderle, principal analyst of the Enderle Group, told TechNewsWorld.
White-box smartphone manufacturers in Asia reportedly offer Android devices at lower prices and with more features than the Moto G does, but that might not impact the G's sales because "these areas are still very brand-aware and value a brand like Motorola highly," Enderle pointed out.
In such markets, the Moto G "will likely be seen as somewhat of a premium phone with a higher status," he explained.

Running From Tizen
Google really needs to bolster Android now that the open-source Tizen mobile OS, which is backed by Samsung and Intel, is gaining strength.
Tizen is a Linux Foundation project supported by major mobile industry players.
The Tizen Association on Tuesday announced the launch of a partner program with 36 new members, including eBay, McAfee and The Weather Channel.
Samsung overwhelmingly dominates the Android market, and speculation that it would use this strength to move away from Google first arose when it developed its own Bada OS, which later was rolled into Tizen.
Samsung has been shifting its emphasis "to a uniquely Samsung user experience on Android, in what appears to be a long-term strategy to migrate its users to Tizen," Enderle said.
If Samsung does succeed, it would "dramatically reduce" Android's success and influence, he predicted.
However, because the move likely will take years and is not likely to succeed, he surmised that in the near term, Samsung will offer two streams of products — one running Android and the other Tizen.