Motorola's latest high-end Android smartphone, the Photon, has hit the shelves at Sprint stores for US$200 and a two-year contract.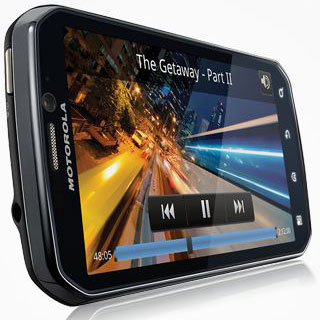 The Motorola Photon 4G
Online customers had a head start — the Photon was available at Sprint's website days ahead of its brick-and-mortar arrival.
The Photon runs on Android 2.3 — Gingerbread — and works on both 3G and 4G networks.
Features include a dual-core Nvidia Tegra 2 processor, a 4.3-inch touchscreen, WiFi hotspot capability, and enterprise support.
The Photon offers various options, including an HD Station, a full-size wireless keyboard, and a vehicle navigation dock.
Overall, reviewers seem to like this device, which is Sprint's first international 4G smartphone. However, there are a few areas where they think there's room for improvement.
Brighten Up
Some say the Photon doesn't have any features that differentiate it from the competition. However, the Photon may at least help Motorola remain in play in a highly competitive market.
"Sure, it's another high-end smartphone, but that's where the profits are," remarked Alex Spektor, an analyst at Strategy Analytics.
"Yes, it has everything that everybody else has got, but it's in keeping with Motorola's strategy, which is to have a high-end smartphone presence with every major carrier here in the United States," Ramon Llamas, a senior analyst at IDC, told TechNewsWorld.
Shedding Light on the Photon
Each of the processors in the Photon's dual-core processor runs at 1GHz.
The device has 1GB of RAM, 16 GB of onboard memory, and support for SD cards with up to 32 GB capacity.
The Photon has a 4.3-inch touchscreen with the qHD technology Motorola uses in other high-end smartphones such as the Atrix. A qHD screen has a resolution of 960 by 450 pixels, which is one quarter of a full HD 1080p display and three-quarters of a 720p display, in a 16:9 aspect ratio.
The Photon measures 2.6 by 5 by about 0.5 inches. It weighs just under six ounces.
The device has an 8MP rear-facing camera with digital zoom and dual Led flash, and a VGA front-facing camera for video chat and snapshots. It supports 720p HD video capture and 1080p HD for video playback.
Built-in features include location services including Google Latitude, aGPS with Google Maps and Google Maps Street View.
The HD multimedia dock accessory and webtop let owners launch the Firefox 4 browser on an HDTV or PC monitor over an HDMI connection.
Security includes data encryption and remote device management.
The Motorola Photon can serve as a WiFi hotspot for up to eight devices. The device supports CDMA, WCDMA and GSM.
Kudos and Kvetches
PC Magazine's Sascha Segan likes the Photon's optional desktop dock, the 4G compatibility, the fact that the device is a world phone, its high-resolution screen and the music and video players.
Not so hot: the lack of a laptop dock like the one that works with the Motorola Atrix.
Verdict: Despite that drawback, the Photon was good enough to earn a PC Magazine Editor's Choice pick.
Jonathan S. Geller's review on Boy Genius Report praises the Photon's futuristic design identity, the attention to detail, the user interface, the display, the battery life and the smartphone's international roaming capability.
The speaker opening was one of the few areas he didn't like, and Geller reported that some callers complained about the audio.
Overall, though, Geller likes the Photon.
Writing for Laptop Magazine, Mark Spoonauer likes the Photon's design, the display and kickstand, the speaker, the device's graphics and gaming performance, and its 8MP camera.
However, he found the Photon's interface a little clunky. He said 4G connectivity was a problem, video calling capabilities were weak and warned that global roaming data rates are expensive.
Saving Motorola's Bacon?
The Photon could help Motorola remain a player in the highly competitive smartphone market.
"As Motorola's losing ground to HTC, Samsung and Apple, it needs to offset some of the losses it's had with [Android on] Verizon Wireless, so any other products, especially a high-end product on Sprint, could be beneficial to it," Strategy Analytics' Spektor told TechNewsWorld.
For one thing, the Photon lets Motorola work with Sprint on something other than the carrier's IDEN network
Motorola is a longtime customer of Sprint's Integrated Digital Enhanced Network (IDEN), through which it offers its push-to-talk handsets.
Sprint plans to shut down the IDEN network, CEO Dan Hesse told Fierce Wireless in October.
"Motorola has had a good relationship with Sprint on Nextel and Boost Mobile on the iDEN Network but hasn't really worked with Sprint on its other networks," Spektor stated.
"The Photon phones will bring in some additional volume, and whether or not that will be as much as Motorola needs, any additional volume they can bring in in the U.S. market is important," Spektor said.
Motorola did not respond to requests for comment by press time.