Motorola has announced two new Droid tablets, both of which will run on Verizon's 4G LTE network.
The Xyboard 10.1 and 8.2 will be available this month, both online and at Verizon Wireless stores.
The 10.1 will have a stylus and will come in three models, with 16 GB, 32 GB and 64 GB of storage. It will be priced at US$530 to $730.
The 8.2 will come in two models, with 16 GB and 32 GB of storage. Pricing will be $430 to $530.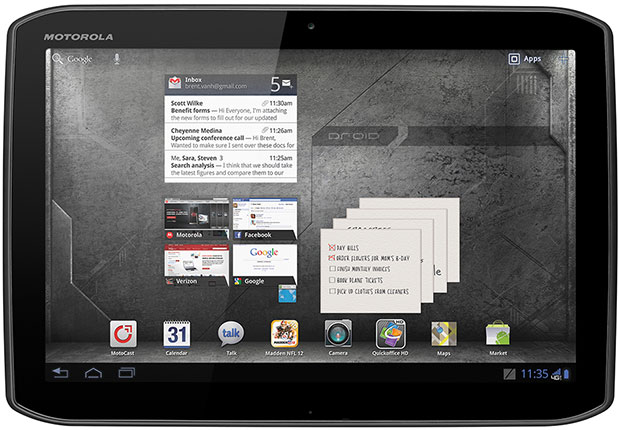 The Motorola Xyboard
Customers who buy a Droid Xyboard tablet will have to get a two-year Verizon Wireless contract starting at $30 a month.
"Droid Xyboard tablets are designed to leverage the Verizon Wireless 4G LTE network and are capable of also running on 3G and WiFi connections," Motorola Mobility spokesperson Giancarlo Fasolo told TechNewsWorld.
"[Motorola's] clearly trying to address the same high price point [as the iPad] because that's where the profit is," Carl Howe, director of anywhere consumer research at the Yankee Group, told TechNewsWorld.
What the Xyboards Offer
The Droid Xyboards come with Android Honeycomb preinstalled, and they can be upgraded to Ice Cream Sandwich through an over-the-air update, Motorola's Fasolo said.
Both tablets have dual-core 1.2 GHz processors, 1GB of RAM, and the Motocast streaming app.
The tablets have scratch-resistant, high-definition Gorilla Glass displays coated with water-repellent nanoparticles, and they have magnesium-reinforced bodies with aluminum housing.
Both are enterprise-capable, with features such as enterprise-grade security and preloaded apps like Quickoffice HD, Citrix GoToMeeting and GoogleTalk.
Both Xyboards have mobile hotspot capability that supports up to eight WiFi-enabled devices; feature 5 MP rear-facing HD cameras and 1.3 MP HD front-facing cameras; have support for Google Mobile services, including Gmail, Google Maps, Google Search and YouTube; and come preloaded with the Dijit app, which lets them double as universal remote controls for most consumer electronics devices.
The Impossible Dream?
Other players, notably HP with its ill-fated TouchPad and RIM with its BlackBerry Playbook, have tried targeting the high end of the tablet market and ended up getting hammered.
The iPad's differentiator is the user experience, and "the question is, what can you offer to differentiate you from that?" Maribel Lopez, principal analyst at Lopez Research, told TechNewsWorld.
"If you're going to play in the high-end tablet market, you're going to need to offer some kind of differentiator," Lopez said.
Banking on enterprise demand for tablets is not a good idea, because "Right now in general, except for a few specialized areas, businesses are not buying tablets," Lopez cautioned. "Maybe they might, two or three years from now, but right now they aren't."
Reaching for the Invisible Hand
There is potential for success in the tablet market — ABI Research found that media tablet shipments totaled 13.6 million units in the third quarter, almost double the 7.3 million netbooks shipped and surpassing netbook shipments for the first time.
"The thing everyone's struggling with is, it's pretty obvious that there's no one-size-fits-all tablet; what they haven't figured out is, how to get to the other sizes," Lopez said.
Apple and Amazon will dominate the tablet market, and "everyone else is looking for that lever that will allow them to be the second or third player in the market," Lopez stated.
However, the Droid Xyboards "aren't seen as superior [to the iPad] and, historically, tablets at the same price point haven't done that well unless they were near clones of the iPad like the Samsung Galaxy tablet," Rob Enderle, principal analyst at the Enderle Group, told TechNewsWorld.
Also, demand for cellular technology "has been really low because people don't like the cost of the data plans," Enderle pointed out. "As a result, I don't think the Xyboards will do that well."