Motorola Mobility on Tuesday announced its latest smartphone, confirming many of the rumors and spec leaks that had already begun to surround the handset.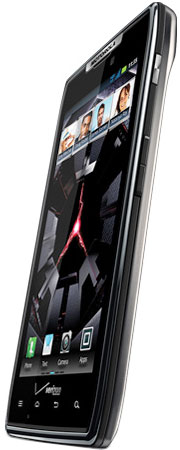 The Motorola Droid Razr
It's called the "Droid Razr," its body is partially made of Kevlar, it has a 4.3-inch Gorilla Glass display, it's a 4G LTE device, and it's headed to the Verizon Wireless Network.
Motorola touts the Droid Razr's ultra-thin, lightweight design, in keeping with the Razr line's penchant for slimline devices. However, slimness alone is becoming less and less of a truly standout attribute among phones.
"You could use adjectives like 'thinner' and 'lighter' for devices from every other vendor out there," Ramon Llamas, a senior research analyst at IDC, told TechNewsWorld.
"The only thing they might have going for them is the Kevlar," said Michael Morgan, a senior analyst at ABI Research.
The back of the device incorporates Kevlar fiber, Motorola Mobility spokesperson Christa Smith told TechNewsWorld.
Slicing Into the Droid Razr's Guts
The Droid Razr measures about 5 inches by 2.7 inches by 0.27 inches and weighs less than 4.5 ounces.
It has a Super AMOLED Advanced touchscreen measuring 4.3 inches and a dual-core 1.2 GHz processor. It offers Bluetooth and WiFi connectivity and can serve as a WiFi hotspot
The device is claimed to be the first smartphone that can stream movies and TV shows through Netflix with HD resolution.
The Droid Razr has an 8 MP 1080p HD camera in the rear and a 1.3 MP front-facing camera. It can capture and play back HD video. Other features include an eGPS and eCompass.
Preloaded applications include Google Mobile Services and MotoCast, a free app from Motorola that lets users stream or download media from PCs to the phone.
The Droid Razr runs Android 2.3.5 and has a dual-core 1.2 GHz processor. It can double as a 4G LTE mobile hotspot.
The device also has remote wipe, PIN lock and government-grade encryption.
A water-repellent coating protects the device inside and out.
The Droid Razr will be available exclusively from Verizon Wireless in the United States. It will go on sale in November at US$300 with a two-year contract.
The Glory That Was Razr
Motorola appears to be trying to capitalize on the Razr brand — the Razr was the hottest cellphone on the market when it was introduced in 2004.
However, "The Razr was great, but it came and went," IDC's Llamas said.
Motorola plans to offer the Droid Razr to every possible market.
"Droid Razr meets certain government-grade security features so is suitable for consumers, enterprises or governments concerned about the security of their device," Motorola's Smith said.
Joining the 4G Parade
"Looking at the market, I'd say the Droid Razr is an average WIMAX or LTE 4G smartphone," ABI's Morgan told TechNewsWorld.
"They've all got dual-core processors, WiFi hotspot functionality and a wide display," Morgan added. "Unfortunately, the Droid Razr's looking like another attempt at making an LTE handset."
The Droid Razr could be uncomfortably similar to the ill-fated Droid Bionic, which was unveiled in January, Morgan cautioned.
"I'm trying to see how it differs from the Bionic, which had problems," Morgan said.
Motorola "had to swop out some hardware, and had some delays," Morgan elaborated.
Whether or not the market responds favorably to the Droid Razr remains to be seen, but "this is part of the Droid line, which has been wildly successful at Verizon," IDC's Llamas pointed out.
Motorola also introduced the Motoactv device on Tuesday. This is a wristwatch-like device that tracks the owner's running and cycling activities and features music-player abilities.