Researchers at the Tokyo University of Technology have developed software that lets users link up multiple mobile devices to create a giant display.
You just place a number of mobile devices together in any array desired, and use the pinch gesture familiar to touchscreen users to link them up.
The so-called "Pinch" software lets users link mobile devices of different sizes together.
Its creators have offered it to developers to create apps with.
In The Pinch
To link several devices up using Pinch, a user places a thumb and finger on two adjacent screens and pinches them together. That can be repeated until all the devices in an array are linked.
If a graphics application is used, each device shows one part of a picture. Think of a Jumbotron composed of multiple mobile devices.
The connected devices share information on each other's positions and screen sizes through WiFi.
One possible use case would be to develop a music app with Pinch. If such an app is played on devices connected horizontally, it would continue playing for a long time. Another use case might be for mobile ads.
"The apps that come to mind would be gaming, which was demonstrated [in the Pinch video] and social networking applications," Jim McGregor, principal at Tirias Research, told TechNewsWorld.
Pinch uses WiFi to connect devices, but, while WiFi "will provide the best image resolution because of the bandwidth capabilities, Bluetooth would be the best choice from a power consumption perspective," McGregor said.
Pinch Me, I'm Dreaming?
Pinch "is in a class of technology that looks great in demos but likely wouldn't be that practical in use unless there were games and apps developed directly for it, and that's when you run into the cart-and-horse problem," said Rob Enderle, principal analyst at the Enderle Group. "Folks wouldn't be able to sell the apps unless a lot of people were doing this and a lot of people won't do this unless they have the apps."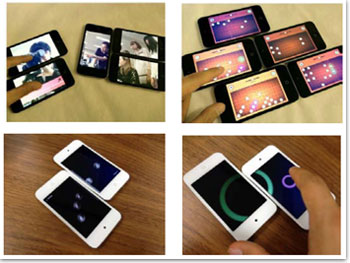 Different uses for Pinch technology
Further, "the security risk that someone linking to your phone would compromise the phone would keep many away from it," Enderle told TechNewsWorld. Also, "Given you need a number of devices that will all interact properly, the bar is higher than it was for Zune and music sharing, and that didn't take off even though it was backed by Microsoft."
Pinch "is cool technology, but there's not a real compelling application for it, and running the display and WiFi constantly on a smartphone is going to zap your battery life," Tirias Research's McGregor opined.
"Technology to connect and synchronize multiple screens has been around for years, but there are two issues with it," McGregor said. "The bezels of the electronic devices get in the way of making seamless images, and [it's difficult to] create practical applications beyond the productivity apps used in PCs. Eyefinity from AMD is still the best multi-screen solution that has practical solutions, and the display vendors offer solutions with very narrow bezels but this is harder to do today on a mobile device."
Nothing New Under the Sun
Technology linking up mobile devices is already in use by the Junkyard Jumbotron project developed by Rick Borovoy at the MIT Center for Civic Media and released last year.
This gangs together laptops or smartphones in close proximity to form a large display.
The Junkyard Jumbotron is just a Web page that receives real-time updates from the Center and allows scrolling and zooming. At the time it was released, Borovoy was working on enabling it to handle video.