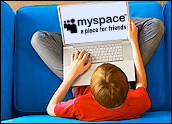 A deal announced Tuesday between social networking Goliath MySpace and digital content manager Snocap will have a marginal impact on Internet music sales, according to some observers of the market.
Under the deal, Los Angeles-based MySpace and San Francisco-based Snocap will make tools available to artists and record labels among its 100 million members who wish to sell unprotected music files from their online profile pages or create digital storefronts.
"MySpace has become one of the largest promotional tools for artists and labels to distribute their music to fans," MySpace CEO Chris DeWolfe said in a statement. "By introducing a powerful commercial tool set into the industry, we expect to see artists translate their community reach into sales, ultimately allowing more bands to make a living and connect with fans."
Long Tail Not Enough
Despite the size of the captured audience for the new services, which are slated to be rolled out by the end of the year, it's unlikely they'll pose a threat to the market leader, contended David Card, a senior analyst with JupiterResearch.
"It's not going to have the slightest impact on iTunes and the iPod," he told TechNewsWorld.
The artists targeted by MySpace — those signed by independent labels or unsigned by any label — represent 20 to 30 percent of total record sales, noted Card.
"Although I acknowledge that there is such a thing as a long tail, I have never seen a media company in the entertainment business make much money off of servicing only the long tail without also having the hits," he said.
"It will be an interesting, cool service that's good for MySpace's audience and for the bands that are on MySpace," Card added, "but no real rock stars or major labels are very interested in distributing unprotected MP3s."
Just a Headline
One analyst, though, was more optimistic about the service's potential.
"Those bands with big fan clubs online can essentially establish their own direct sales channel to buyers — and with MySpace's reach, that channel could become huge very quickly," Ted Schadler, a principal analyst with Forrester Research, told TechNewsWorld.
Much of the music MySpace believes it will monetize is already bought and sold elsewhere on the Internet and even through existing tools on MySpace, according to Wayne Rosso, chairman of Mashboxx, a peer-to-peer distributor of authorized and licensed music content.
"This is more of a headline than anything else," he told TechNewsWorld.
Pushing MP3 Envelope
However, "what's good is that they're pushing the MP3 envelope," he added. "It's putting the MP3 format in the consciousness of the labels."
Although the labels are shunning unprotected MP3s now, he predicted they will embrace the format in the future and charge a premium for it — US$2 instead of $1 a song.
By supporting protected formats that allow online merchants to create closed systems around their music, he argued, the labels are "once again making themselves slaves to mass market retailers," a situation they've historically found themselves in in the bricks-and-mortar world.
"If I'm a content owner," he continued, "I would want to sell MP3s. That way, I can get my content anywhere and everywhere. Why get caught up in these format wars? You can sell a lot more content if it's interoperable."
Mixed Emotions
Among the tools MySpace is likely to introduce is an embedded media player. Similar players, which allow music to be streamed to a Web page by incorporating a few lines of HTML code into it, are already offered to MySpace users through outfits like ProjectOpus and Sonific.
David Gratton, CEO of ProjectOpus in Vancouver, B.C., expressed mixed feelings about the MySpace announcement.
"It helps solidify part of the business model we're pursuing," he told TechNewsWorld. "It gives a lot of legitimacy to our market."
Putting Up Roadblocks
On the other hand, Gratton expressed concern over MySpace's recent moves to block content.
"MySpace has put up a number of roadblocks to third-parties onto their site over the last couple of months," he said.
For example, it blocked applets like widgets from taking members to sites outside the MySpace community.
"MySpace's position was that they were closing a security hole," he observed, "however, in a lot of people's opinion, it appeared to be a way to stop some competition as well."
Will Take Time
Gerd Leonhard, CEO of Sonific in Basel, Switzerland, explained that MySpace's embedded player was unlikely to compete with his company's application.
"What we are doing has nothing to do with selling music," he told TechNewsWorld, "it's more about setting up a promotional network."
He predicted that it would take some time for MySpace's grand plan for music to reach a boil.
"The gigantic traffic that MySpace has really isn't based on people buying music," he opined. "This whole assumption of people buying music there will take a long time to monetize."