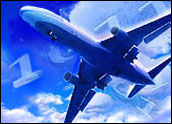 American Airlines created a nightmare for its customers for at least two hours Tuesday. Its electronic reservation system wentdown in the middle of the afternoon, forcing the carrier to hold allflights until after 4:30 p.m. ET. The incident may have exposed a rift between AA and Sabre, the company managing its computerized reservations system, which used to be part of the airline.
American's electronic reservation system went down in the middle of the afternoon, forcing the carrier to hold all flights until after 4:30 p.m. ET.
A glitch in American's computer reservations caused more than 400 flights to be canceled and scores more to be delayed.
American declined to comment on the source of the system failure for this story, but it told The New York Times that the problem was linked to its connection with Sabre, a reservation system used by the airline industry.
Sabre told The Times its computer systems were working fine and that other airlines that use them, such as Southwest and JetBlue, weren't having any reservations problems.
Gold Standard
Reservation systems used by airlines manage an assortment of essential activities for an airline — bookings and reservations, printing boarding passes, online check-ins, ticketing and bag tracking.
"The gold standard in reservations systems is Sabre," Ari Zoldan, CEO of Quantum NetworksQuantum Networks, a technology and media incubator, told TechNewsWorld.
Despite Sabre's reputation, "You're never going to have 100 percent up time all the time," Zoldan said.
While these kinds of disruptions are rare, they're not unheard of, noted Seth Kaplan. a managing partner with the trade publication Airline Weekly.
"A lot of times it happens when an airline tries to do something new," he told TechNewsWorld.
"They try to test things, but when you go live with something, you can have problems that don't arise in test conditions," Kaplan said.
Old But Reliable
American had been shopping for a new reservation system up to about a year ago, but had to put that process on hold, Kaplan said.
"American's reservations system is old, but that doesn't mean it can't be reliable," he added.
American is currently in bankruptcy and has proposed to merge with US Airways. If that merger goes through, it could create future problems for the airline. "When you cut over from one reservation system to another that can be a choke point where things go wrong," Kaplan said.
"United Airlines had a rough year last year, partly because of their merger with Continental," he noted. "They had to migrate United to Continental's reservations systems, and they had some issues."
Finger Pointing
Relations between Sabre and American have been deteriorating for years, according to travel consultant Edward Hasbrouck.
That's ironic, since American created Sabre but later let it spin off as an independent company.
The blame game being played with Tuesday's reservation problem is unusual. "I've never seen a case before where you had people pointing fingers at each other," he told TechNewsWorld.
Even after the spinoff, Hasbrouck said, Sabre provided American with a large array of critical IT functions for the airline. The tiff between Sabre and American is an example of the risks of spinning off a company that provides important internal services to the parent firm.
"Even if there was some benefit from the spinoff for stockholders, it can put you in the position where you're dependent on a competitor for IT services," he said.
Cautionary Tale
The antagonism between American and Sabre creates an uncomfortable situation for the companies, Hasbrouck said.
"You now have a situation where you have an airline dependent for essential business processes on a company with whom it has an increasingly problematic relationship," he added.
"Would American have been better off if they kept Sabre in-house?" Hasbrouck asked. "I don't know. But it's created a misfit that makes it harder to sort out these kinds of problems. This may be a cautionary tale of outsourcing internal business process automation divisions."
American has apologized to its customers for any inconvenience they experienced due to the system disruption. It offered to fee waivers for travelers who wanted to change their flight plans and full refunds to those unable to change their reservations.