A video and photos of what could be the first Motorola-Google smartphone have appeared on the Web, showing a standard Android phone with a Motorola logo at the top left of the device's screen and the words "Motorola Confidential Property" along the screen's bottom edge.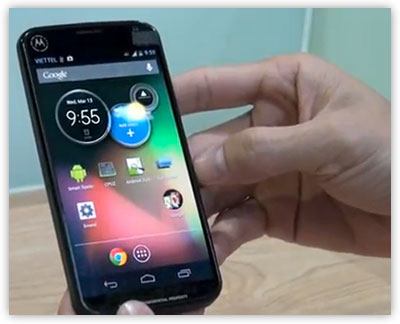 A Possible Motorola-Google Smartphone?
The Vietnamese website hosting the images, Tinhte, lists the mystery phone as having a 720p 4.65-inch AMOLED 320 ppi screen. It is apparently built around a Qualcomm Snapdragon S4 Pro or higher processor, and has a Qualcomm Adreno 320 graphical processing unit.
The mystery phone is reported to have 2 GB of RAM and a 2200 mAh battery. It also has onscreen buttons and a case with a curved back.
The device has been spotted in Brazil, according to published reports.
"It is nearly impossible to determine the specs," said Michael Morgan, a senior analyst at ABI Research.
This may not be the so-called Google "X Phone," which will reportedly be Motorola's flagship device when it launches later this year. That device could be unveiled in mid-May at Google I/O 2013, and it may run the stock version of the Android 5.0 Key Lime Pie operating system.
"I have heard of the 'X Phone' rumors, but nothing that definitively tells me what it is," Morgan told TechNewsWorld.
Google Influence?
"If this phone is an example of where Google is taking its handsets, I would say that Google is looking to treat smartphones as a commodity whose only purpose to push Google software," Morgan remarked. "From what I can see in these pictures, the only thing Google has brought is the request for higher margins from its newly acquired Motorola hardware business. The physical design and size of the handset imply a lower bill of materials."
There might be some traces of the old Motorola on the mystery device, "but from what I can see here, those traces are only a silkscreen logo on the top and bottom," he said.
The phone in the photo looks very much like any other Android smartphone, and "the only hope of differentiation is if this device has an Intel chip and sells for less than $100," Morgan suggested.
X May Not Mark the Spot
Much of the speculation regarding a Motorola-Google device has centered around the rumored "X Phone" which the companies plan to position against both the iPhone and Samsung's smartphones.
Whatever device Motorola and Google release, it "cannot be the same as before with an emphasis on thin design and, mostly, battery life," Ramon Llamas, a research manager at IDC, told TechNewsWorld. "I am looking forward to new or better user experiences instead."
Those experiences could take many forms, such as "more integration with Google + or YouTube, more augmented reality a la Google Glasses," Llamas said.
"Both Google and Motorola bring a lot to the table," he added, "and I cannot envision them just maintaining the status quo."