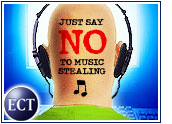 A brand synonomous with music piracy is about to reemerge from the scaly bosom of bankruptcy. A beta version of Napster, brought to its knees by music industry litigation over copyright violations, will be launched next Thursday by its white knight, Santa Clara, California-based Roxio.
Roxio, well known for its CD-burning software for both PC and Macintosh computers, bought Napster for US$5 million last year and vowed a new, improved and legitimate version of the service — which in its free-music-swapping heyday claimed to have 60 million users — would be launched by Christmas 2003 as a paid service.
With the announcement of the beta rollout set for next week, Roxio appears to be ahead of that schedule. Asked for details about the new service, a Napster spokesperson would say only that information will be made public at the launch event next week — and that a major recording artist will be there.
In a statement released earlier this week, Napster said the new service will offer music fans access to more than 500,000 tracks — reportedly the most of any service on the Web — from all five major record labels and hundreds of independent labels.
Multiple Purchasing Methods
According to Napster, customers will be able to purchase individual tracks or albums, which can be seamlessly transferred to portable devices and burned to CDs. A premium version of the service also will be available, offering unlimited listening and downloading, plus radio and community features.
Since Roxio's purchase of Napster, competition has heated up in the online pay-for-music market. RealNetworks has opened its Rhapsody service, which sells songs for 79 cents per download; BuyMusic.com has a music store; MusicMatch announced a pay-for-tunes site earlier this week; and Apple Computer has its iTunes service.
iTunes for Windows
iTunes, which sells songs for 99 cents each, is limited to users of Apple computers right now, but the company is expected to expand to reach Microsoft Windows users by the end of the year.
And, of course, there are the biggest competitors of all: free music-swapping sites like Kazaa, Grokster and LimeWire, to name a few.
With the market getting more and more crowded every day, it will be difficult for a new player — even one with an old name like Napster — to gain traction. "I can't think of any advantage Roxio has in the market," Jarad Carleton, IT industry analyst with Frost & Sullivan, told TechNewsWorld.
Leverage with Microsoft
One thing Roxio has, though, that its competitors don't is a blossoming relationship with Microsoft. When the software company rolled out its new Windows XP Media Edition 2004 earlier this week, Napster was there to share the limelight.
"Napster 2.0 will be the first online music service that allows consumers to enjoy their digital music wherever they want," Roxio chairman and CEO Chris Gorog said in a statement. "Our relationship with Microsoft will enable music fans to take their digital music beyond the PC."
"Microsoft is excited to be working with Napster to give consumers more access than ever before to enjoy music on demand," a Microsoft spokesperson said in an e-mail.
According to the spokesperson, Napster's Media Center online music service will allow consumers to enjoy their digital music wherever they want through an easy-to-use menu designed to be viewed from a distance with a remote control.
Nobody's Getting Rich
While the number of players in the pay-per-tune market continues to grow, there are skeptics of the approach. "Nobody's going to get rich selling 99-cent singles," Grokster CEO Wayne Rosso told TechNewsWorld.
"The only people who'll survive this are the ones who are using music as a loss leader of sorts in order to entice customers into buying hardware or software that's being offered by the same online retailer," he continued. "Or, as in the case of, say, a Yahoo, MSN or Real[Networks], as a traffic builder."
Roxio shares, which received a boost of more than 6 percent after the Napster announcement yesterday, remained relatively unchanged Thursday at $9.22 per share.