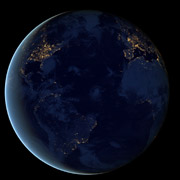 In 1972, we marveled at the beauty of our planet in a photo taken by the crew of Apollo 17 on its way to the moon. Dubbed the "Blue Marble," the iconic image depicted a blue-and-white globe floating in the blackness of space. On Thursday, we were treated to a different view of Island Earth, one with the undeniable stamp of humanity on it.
NASA and the National Oceanic and Atmospheric Administration (NOAA) unveiled what's being called the "Black Marble" — high-resolution photos taken of the dark side of the earth. That planet differs from the one captured by the camera of the astronauts because it shows how the human race transforms the earth by illuminating it at night.
The NASA-NOAA photo was also more difficult to create than the one snapped by the astronauts. The photo and an accompanying animation are composites from data gathered by a satellite operated by the Suomi National Polar-orbiting Partnership over nine days in April and 13 days in October.
The photos are available for viewing and download at NASA's Earth at Night 2012 page.
To get a clear shot of every parcel of land on the planet's surface, the satellite had to circle the earth 312 times and collect 2.5TB of data.
Clouds Get In The Way
Composite photography is used to create a cloud-free view of the Earth, explained Chris Elvidge, a physical scientist at the NOAA who has been studying day-night band data for more than 20 years.
"There are always clouds in any image that you collect over the earth. There are very few areas that are cloud-free," he told TechNewsWorld. "We have a cloud detection algorithm, and we combined that with low-light imaging so over time we can accumulate enough cloud-free images to make a seamless mosaic that is a cloud-free view of the Earth at night," he observed.
Elvidge's group has been working on producing night photos of the Earth since 1994, but the tools used to create this latest batch of night images have allowed the scientists to hugely improve on past efforts with better spatial resolution and dynamic range.
The new instrumentation is so sensitive that it will detect terrain features on nights where there is no moonlight present, Elvidge explained. Because the new tools are an order of magnitude stronger than the old ones, they're detecting terrain illuminated by "sky glow."
Humanity's Footprint
Sky glow is created by a chemical reaction in the upper atmosphere that's faintly visible at night. "Sky glow is much, much dimmer than moonlight," Elvidge said. "How to filter out features lit by sky glow will be one of our biggest challenges as we go forward to improve our products."
The military has been taking photos of the Earth at night for some time now, but this is the first time this quality of data has been available to civilians, according to Steve Miller, a senior research scientist and deputy director at the Cooperative Institute for Research in the Atmosphere (CIRA) at Colorado State University.
Nighttime photos offer a wealth of information unavailable in photos taken during daylight hours.
"What we're seeing here is the human footprint on the nighttime side," he told TechNewsWorld. "We're seeing centers of population. We're seeing how these areas correlate to economic activity, fossil fuel emissions, light pollution and emerging demographics."
In daylilght, "there are only a few things in terms of man-made items that you can bring out," he said. "We can see quite a bit more in terms of human activity at night."
Research Avenues Opened
When NASA releases the data behind the Black Marble photos, it will be a boon for researchers, according to Erle C. Ellis, associate professor for geography and environmental systems at the 00000University of Maryland, Baltimore County.
"It's a breakthrough for us," he told TechNewsWorld. "The nighttime products we have are pretty poor quality compared to this new one. There's no real way to observe human activity from space. You can only see secondary effects. For example, if a forest disappears, you don't know if someone cut it down or it burned down."
Because the data behind these photos is of a higher quality than has been available in the past, it will be easier to unravel the sources of light in the photos, he added. That will create a mine of riches for researchers.
"You can bet they'll be a lot of research projects built on this," he said.