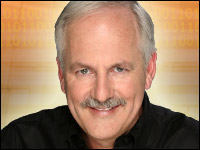 Last week was one of those rare weeks when there was way too much going on to cover in one column. Microsoft stole E3 with what may be the closest thing to a "Star Trek" holodeck yet.
Computex was all about battles between smartbooks and netbooks; Intel and AMD; and Windows and Android.
Also last week, the Palm Pre actually showed up on my doorstep, and I got a first look. You may recall that I felt Palm really messed up this launch — but I've always been impressed with the phone, and I wasn't disappointed.
Summer is starting out with a bang!
Microsoft Steals E3
I can't even remember the last time Microsoft stole a show. Think back. Apple steals shows, and Palm steals shows — but Microsoft? In general, the response to Microsoft's presentations at shows has been disappointment. Not this time.
Microsoft's XboxProject Natal is the next big thing in virtual reality: turning a player's entire body into a controller. During the demonstrations, people's jaws dropped to the floor. Microsoft brought out one kid who, after interacting with the game for a short period of time, appeared to forget that the game character he was interacting with wasn't real — he tried to catch something it threw to him. (Boy, wouldn't it have been cool if Microsoft had rigged something so it appeared that what was thrown came out of the screen?)
The only negative — and it is a big one — is that there is no announced release date for the product, leading people think it's likely to miss the fourth quarter. That has some of us concerned that Microsoft — like Apple with the first iPhone — is struggling right now. However, the iPhone did clearly pay off, so this could still pay off for Microsoft.
Sony brought out a nice new PSP, but with the iPod touch and the iPhone pulling so much interest for gaming, I think the premium class, above the Nintendo DS, is really at risk of becoming obsolete. The PSP Go is a nice product, but it didn't appear to pull much interest. Sony also pumped its PS3 with more media — but here too, Microsoft appears to have the lead, as it moved earlier, and its offering is more compelling. However, I'm still having trouble with game systems as media players and wonder if it wouldn't simply be better to create good media players; not everyone wants a game system in the family room.
Nintendo was a disappointment. Yes, it had new games, but Nintendo was the star of previous shows, and it appeared to fall behind both Sony and Microsoft at this one. This may simply be because all three systems are approaching their late middle age, and we are waiting for big refreshes now. Still, in any show, the Microsoft Natal thing would have stood out. This could really transform gaming. It's a shame it wasn't connected to Windows 7, though. Then again, nothing really says it can't be.
Nvidia Rules Computex
Speaking of Windows 7, the big news that hit at that show was the announcement that Windows 7 would be out on Oct. 22. Microsoft has effectively eliminated every mistake it made with Vista — from not having the product ready on time (it is arguably ready now), to timely OEM support (every one of them is champing at the bit), to marketing (it's doing the best it's ever done with the "I'm a PC" campaign).
One of the most interesting announcements came from Acer, about its netbook based on Android. I'm listing this as one of my top three things to pull the next class action lawsuit at the moment, because Android won't really be ready for this size product until a year after Acer starts selling its version, and it isn't a netbook at all. It is a smartbook, and much like a motorcycle is different from a sports car, a smartbook is really different from a netbook. Not that it's bad, mind you — it's just that a netbook is an inexpensive notebook, while a smartbook is a larger, more capable smartphone, and you shouldn't mix them up.
Intel made a series of announcements aimed at reinvigorating the desktop, and it started talking about various usage models, from gaming to simple Web browsing. However, this was its big push down into smartphones and the first time it appeared Intel had a product that could actually work in one. One of the first smartbooks will be based on the Atom processor, which is a strong win for Intel, because smartbooks — unlike netbooks — were expected to go to Qualcomm or Marvell ARM processors. Atom may be the hottest product Intel has had in years.
AMD came to play as well, and it showcased a number of design wins in what were credible and inexpensively priced thin-and-light notebook products just slightly more expensive than netbooks. It argued that for a little more, you can avoid sacrifices. Its best-for-the-buck arguments appeared to play well to an audience aware of the extreme value focus of the market. AMD took a leadership position on DX 11, which is supposed to revolutionize PC gaming when Windows 7 launches, and it offered a nice demo.
Nvidia was really in Intel's face with a large number of Ion netbooks announced at the show. You put Ion in an Atom-based netbook, and suddenly you have a vastly more capable device for about a US$50 additional. This product won the Best Choice award at the show. Nvidia was also hitting with smartphones, and it had wins with its Tegra product.
While there was no knockout punch like Microsoft's coup at E3 with Natal, I think Nvidia pulled the most interest and took the show.
The Palm Pre: A New Bar Is Set
I have to admit after using it that Palm really did a nice job with the Pre. It conforms to your face nicely when opened, and there's actually a mirror on the part of the back of the phone that's uncovered when the keyboard pops out, so you can make better video calls.
I think the coolest part is the optional inductive charger that, like an electric toothbrush, just requires you set it in the base for it to charge, and it automatically puts it into speakerphone mode. Setup on Exchange was a little difficult, but only because it was different from the Windows Mobile phones I get most often. Most would likely need to open instructions, but I got through the process without them.
The new gestures are cool as well. You end up using many parts of the screen as you navigate the open applications. The UI is designed to make the iPhone look old, and it does a great job of that. The keyboard is a fingernail keyboard, which means it is too narrow for your fingers and smaller than a Treo keyboard to my touch. However, women in particular will like it — if they have long fingernails, that is — and it took me just a few moments to get used to the differences.
The camera is great and has a light source, thank God, for those times you aren't shooting outside on a bright day. It works like a flash, and it is really handy. The pictures look great. (It's a 3 megapixel camera; the iPhone has a 2 megapixel, which is all you really need). Navigating open applications is easy and intuitive, though, like the iPhone, it will take a few hours to become proficient with it.
In the end, this is the best phone I've ever had the privilege to play with. There were no issues or problems, other than the learning curve, and, like the iPhone, you can play with it for hours to learn all the tricks. Wonderful products are a natural for product of the week, and the Palm Pre is a wonderful product.
One word: Wow.
---
Rob Enderle
is a TechNewsWorld columnist and the principal analyst for the
Enderle Group
, a consultancy that focuses on personal technology products and trends.
---