Navdy has announced an aftermarket car heads-up display (HUD) console that lets drivers access their iOS or Android smartphone's apps without taking their eyes off the road.
Navdy's concept, Google Glass for cars, may be cool — but the execution leaves something to be desired. If it were as unobtrusive as the above product image suggests, it might attract more positive interest. However, the Navdy device that projects the image onto the windshield isn't pictured. Here's the unit that needs to be mounted on the dashboard to create that transparent display: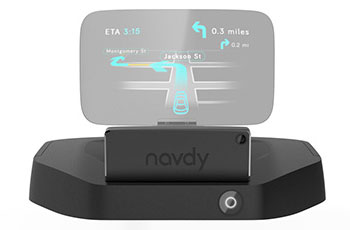 "I want to believe," sighed Roger Lanctot, associate director of the global automotive practice at Strategy Analytics. "I want to get excited. But it actually looks kind of cheap."
What It Is
The Navdy is a box measuring about 5 x 5.5 x 3.7 inches with a flip-up projector screen. It's placed on a car dashboard and plugged into the automobile's OBD II computer outlet.
It consists of a high-quality projector; an infrared camera for touchless gesture control; a dual-core processor running Android 4.4; an internal speaker and mike with noise-canceling DSP; a mini-USB port; and a portable, bendable, non-marking powered friction mount with a magnetic connection.
The Navdy has an accelerometer, an e-compass and an ambient light sensor.
It supports WiFi 801.22 b/g/n and Bluetooth 4.0/LE. Audio out goes through Bluetooth or a 3.5 mm minijack.
The Navdy has an OBD-II power and data connector to car computers.
A 12 V power adapter is offered as an option.
The screen splits to simultaneously display navigation instructions and notifications.
The Navdy offers both voice and gesture controls. Users swipe left in front of the HUD to answer a call or right to dismiss a notification.
It can be preordered for US$300, which is a 40 percent discount off the $500 list price, for the next 30 days.
The Navdy is expected to ship early next year.
Voice recognition lets users compose new tweets, write a text message, call a contact, or share their location, among other things.
What It's Not
"Most HUDs today project the information out ahead of the driver — not on a flip-up display," Lanctot pointed out. "So, I think it's fun and the video is amusing — but not $300 amusing."
Good HUDs aren't cheap, so the Navdy's pricing is not out of line, Rob Enderle, principal analyst at the Enderle Group, told TechNewsWorld. However, these devices "have not sold well historically."
Further, owners of high-end cars, who are the target market, "like something to look more finished and less like a VCR on their dash," Enderle said.
"With increasingly intelligent AIs in smartphones, OBD II Bluetooth links for them, and either an HDMI or other wired or wireless link to the display, you could create something that is smaller, far less expensive, and far more capable — and I think they should have taken that path."
New Cans of Worms
The Navdy is "built from the ground up to be the safest and most intuitive way to make calls, use navigation, listen to music, or access notifications without ever looking away from the road," said Navdy cofounder and CEO Doug Simpson.
"Navdy is in the driver's line of sight, which is good, and it enables gestures — you can accept or reject calls by just moving your fingers in the air without having to touch any screen," Praveen Chandrasekar, telematics program manager at Frost & Sullivan, told TechNewsWorld. "So they're creating something intuitive that's relatively safe."
However, "There are safety reasons why you don't want something that big and heavy on your dash," Enderle said. "Should you be hit from behind, this device would become ballistic and come for your head."
Further, Navdy wants to add apps for its HUD, which might be a problem, Chandrasekar suggested.
"This is not Mission Impossible stuff," he pointed out. "If you crowd your line-of-sight projection space too much, that's also going to be a distraction."
"I doubt this will fly," Enderle noted. "It is simply too big and unattractive."