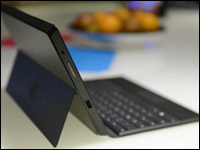 Microsoft scrapped plans for Friday night's launch of its Surface Pro tablet at the Best Buy store in New York City because of an impending blizzard meteorologists have dubbed "Nemo."
"Surface Pro launch activities in NYC have been canceled due to weather," Microsoft spokesperson Dani Reese told TechNewsWorld. "Our best wishes to everyone impacted by the blizzard."
The cancellation is yet another bit of bad luck for the ill-fated Surface Pro; its launch was initially scheduled for January, 90 days after the October launch of Windows 8 and Surface RT.
Microsoft will blitz stores with the Surface Pro when retail outlets open on Saturday. It will offer the tablet at all Microsoft stores, Staples and Best Buy in the United States, as well as at Best Buy and Future Shop stores in Canada, and at its online store.
Snowed Under by Critiques
The Surface Pro has come under fire from early testers for its weight, short battery life and price.
The tablet hybrid weighs 2 lbs., or almost 50 percent more than an iPad. Several reviewers have pointed out its chunky design.
The device comes in 64-GB and 128-GB models priced at US$900 and $1,000, respectively. That's a premium of about $200 over comparable iPads. However, you'll need to fork out about $130 more for a special cover in order to really be able to use a Surface Pro.
"The Surface Pro has full-on Windows 8 with all the bells and whistles, but it's still a Surface tablet with an Intel core processor," Rob Enderle, principal analyst at the Enderle Group, told TechNewsWorld.
"It's heavier than the RT and the battery life is only 4-5 hours," Enderle added. "It's basically a laptop in tablet form, and it's not cheap."
The Surface Pro "suffers from trying to be too many things and not being good at any of them," commented Carl Howe, a research vice president at the Yankee Group.
The device falls in between being a PC and a tablet, and "unlike Microsoft's claims of its being a no compromise device, the actual shipping product suffers from too many," Howe told TechNewsWorld.
The Surface Pro's Good Points
With the Surface Pro, Microsoft "did some incredibly innovative stuff — for example, the entire edge is the heat vent so you can hold it in your hand and not block that vent," Enderle said. "They optimized the form factor, and given how much heat the Intel processor generates, that's pretty incredible."
The big advantage of the Surface Pro is that it runs legacy Windows hardware, which IT departments "see as a huge plus," Howe pointed out.
"I suspect almost all sales will be to corporations looking to run decades-old Windows software on a tablet to satisfy corporate goals of having their business apps available on tablets," he said. "However, as companies like SAP bring their apps to true tablets such as the iPad and the [Samsung] Galaxy, these heavy, power-hungry Surfaces will get left behind."
As Intel moves to its next-generation Haswell processor, which is more power-efficient than its iCore chips, the battery life of the Surface Pro is like to improve, Enderle said.
Marketing Mavens Needed
Microsoft has launched a full-on advertising blitz for the Surface Pro and the RT, but it may need to rethink its marketing strategy at a more fundamental level, Howe suggested.
"One blind spot I think Microsoft has about [its tablets] is size. These are bigger than 10-inch iPads, and even Apple has acknowledged that there's a market for smaller tablets. Yet Microsoft went the other way to make their tablet bigger," he said. This is an indication of Microsoft "not really having a clear plan for what the target market for Surface Pro would ultimately be."