The company that brought Apple-style elegance to the lowly home thermostat is attempting to do the same for the common smoke detector.
Nest Labs, founded by Apple emigres Tony Fadell and Matt Rogers, on Tuesday announced Nest Protect, a US$129 combination smoke and carbon monoxide detector with more smarts than others in the market.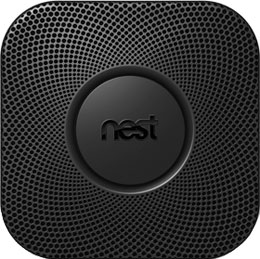 "Everyone has smoke detectors in their home — it's the law– but their user interfaces are so horrible that you usually don't even know if it's working," Rogers, who is also Nest's vice president of engineering, told TechNewsWorld.
Nest Protect is designed to address a number of annoyances created by a typical smoke detector. For example, it will alert you on an Android or iOS cellphone or via the Web that it's detecting rising heat or smoke levels so you can address a situation before the device sounds the alarm.
If the device does sound a false alarm, you can stop it with a wave of your hand.
Other notifications are sent to your mobile, too, such as low-battery alerts and emergency alarm messages. If the device detects an emergency, it recommends actions to take and gives you one-button access to an emergency phone number.
Available in black and white as well as wired and battery-powered versions, Nest Protect will go on sale next month at Amazon, Apple, Best Buy and The Home Depot. Nest Protect will also be available in Canada and the U.K.
Siri Meets Rescue Me
A common complaint among smoke detector owners is that the units can choose inopportune times to run low on power. If everything is copacetic with the Nest Protect, it will glow green when you turn off the lights before you hit the sack at night. No more low-battery chirps when you're in dreamland.
What's more, the LED lights in the device can act as night lights throughout a home.
The unit also emits voice as well as sound alarms, a feature designed to wake sleeping children, who can snooze through beeping alarms.
Many of the friendly features in Nest Protect are enabled by its battery of sensors — photoelectric smoke sensor, CO sensor, heat sensor, light sensor, ultrasonic sensors and activity sensor.
Nest Protect's bells and whistles are designed to make people safer in their homes.
"A lack of great technology and a poor user interface leads to smoke detectors not keeping us safe any more because the end up in a drawer," Rogers said.
"The fundamental problem we're trying to solve is can we make this product more transparent — so it tells you what's going on, it tells you it's keeping you safe — and to give it a great user interface so you have plenty of 'heads up' when something goes wrong," he added.
Placement Important
False alarms are a common reason for disabling smoke detectors, noted Joseph Maruca, chief of the West Barntable, Mass., Fire Department.
Those false alarms are largely due to bad placement of the devices.
"Smoke detectors too close to kitchens go off a lot so people pull them down from the ceiling and throw them in a drawer," Maruca told TechNewsWorld.
Smoke detectors placed too close to bathrooms can also be a trouble spot: "People take long showers and fill the bathroom with steam and when they open the bathroom door, the steam escapes into the hallway and sets off the smoke detector," he explained.
The Big Sleep
Disconnecting smoke connectors can be more dangerous than some people believe, maintained Jennifer Mieth, public information officer for the Massachusetts Department of Fire Services.
"People think, 'I'm going to smell the smoke and wake up,'" Mieth told TechNewsWorld. "The truth of the matter is you will not smell the smoke and the smoke will contain toxic gases , such as carbon monoxide, which will put you in a much deeper sleep from which you will never awake."
If smoke alarms become easier to use, fewer people will disable them, observed Lorraine Carli, a spokesperson for the National Fire Protection Association. Carli cited several improvements over the years that have made the devices more consumer-friendly, such as the 10-year battery, "hard-wired" power connections and features for temporarily disabling the device.
"Smoke alarms play a significant role in preventing deaths and injuries from fire," she concluded, "so the easier they are to use, the more likely people will have them and have that early warning system working in their homes."