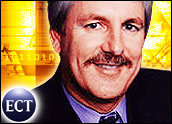 Last week was a busy one for some big tech players. AOL is funding Netscape again, and strangely enough the company seems to have Slashdot on its mind as it moves to rebuild its portal business.
Also, Creative Labs evidently didn't realize that Apple was going to fight back when it sued the firm, and the situation escalated when Creative moved to stop all sales of iPods in the U.S. Meanwhile, Microsoft screwed up its delivery of a beta anti-software-theft product and was falsely accused of distributing spyware, but the big news for this firm right now is Bill Gates' future.
Netscape Is Back
Netscape goes down in history as the company which, on its way to going out of business, did more damage to Microsoft than any other company, including IBM, ever did. As a young firm it started much as Google did with a massive IPO and the media-driven perspective that it would be the next Microsoft.
Unlike Google, however, Netscape was so poorly run that it consistently pulled defeat out of the jaws of victory (shouldn't it be the other way around?) by forgetting its core market and doing foolish things like trying to compete with Microsoft and IBM in the enterprise. Netscape almost set a record as to how fast you could burn through a lot of cash and become non-viable.
After Netscape failed AOL bought it for spare change, evidently as a hedge against Microsoft, and then didn't do very much with what was left of the company (which wasn't much). However, just before Netscape went under it created a portal that showed a lot of promise. Unfortunately it was too little and too late to save the firm, but it appeared that Netscape had realized in the end that the portal direction was better suited to its skill set, and many, including me, believe the firm could have survived and would have likely had the position that Yahoo enjoys today.
Now Netscape, under the better-late-than-never rule, has released a beta version of its new portal and it looks like an updated Slashdot — focused on a more general audience than Slashdot is. I've been messing with the beta for a few days now and I have to admit I'm impressed. While I like the geeky content of Slashdot better, personally, I know others, like my wife, for one, would much prefer this new Netscape which has content better suited for people with less technically focused interests.
Healthy Competition
Like Digg, which is even more similar than Slashdot is at least initially, individuals can submit information on various topics, and that information is filtered and polished by paid editors. Netscape goes beyond what Digg does though and adds context to articles that appear on the site and elsewhere on the Web. Done right this extra coverage could fill the holes left by contributors and make for complete thoughts and stories, making the entire site more interesting and valuable. Readers can vote on stories, which leads to them being ranked. I have to admit, I found the results in the beta very interesting and useful, particularly when it came to searching and evaluating DVDs.
You can see that, over time, it would make sense for this new Netscape to profile its readers to provide both better targeted services and better advertiser statistics. Once that data comes in, I'll bet Netscape will be giving me an experience that is almost identical to what Slashdot currently provides. At that point, unless something changes at Slashdot, a lot of folks may stop going to Slashdot and instead frequent Netscape. This could result in some competition between the sites which is likely to improve both over time. Typically that kind of situation is very good for us readers.
Creative Labs Slaps Apple Back
There are entire years for which I have to wonder whether Creative Labs is running with scissors. In this most recent case, evidently this firm did not realize that if it sued Apple for IP infringement, Apple not only wouldn't give in, it would sue Creative Labs in turn. It amazes me how many executives simply don't understand how the larger firms secure their IP. The process is mutually assured destruction. It works like this:
The large companies, because they are a natural target for stuff like this and because they don't want lawsuits to become a recurring problem, acquire, copyright, and patent as much stuff as they can afford and then, when sued themselves, use this IP portfolio much like nuclear bombs were to be used after World War II — as a way to make the litigation process pain-filled for the plaintiff.
In this case, after Creative Labs filed suit, Apple responded with several of its own suits, as triggered by the "Mutually Assured Destruction" defense. Most recently, Creative Labs filed a complaint with the International Trade Commission in an attempt to halt all iPod shipments. It seems unlikely it will be successful but it sure raises the bar. If the mutually assured destruction rule holds, Apple will have to escalate too, and the situation could become increasingly painful for Creative Labs, which is not doing so well at the moment as it is.
At the end of the day this all looks like a desperate move by a company that simply has not been able to execute well and is watching its market bleed off to a competitor which, given its late entry and lack of experience in digital music, shouldn't have been competitive, let alone the dominant company in the segment. Even if Creative was successful with its legal maneuvers, I really doubt that living off of Apple royalties is going to save the firm. Maybe it would be better if it cross licensed with Apple and focused its efforts instead on making a competitive offering.
Then again, if Creative can't compete, maybe this is all that they have left. Given where the firm has been in the past, that is kind of a shame. Of course, some people think Apple may have bitten off more than it can chew, but this time, I'm not one of them.
Bill Gates' Big Step
With Michael Dell, Scott McNealy and now Bill Gates stepping out of the firms they founded, we can now begin to wonder how the tech market will be changed by these industry giants' departures. For Gates, this has clearly been the plan for some time and it is clear that the impact he will have in managing what will be a nearly $100 billion charitable trust, the largest in history, will be epic in its own right.
Gates represents a great deal of what is right and wrong with Microsoft. He has been at the core of the company's partnering expertise, as well as its ability to "embrace and extend" in response to competitive threats, and to reinvent on a regular basis. He also exemplifies, though, somewhat of an over-commitment problem the company has, which has resulted at times in missed deadlines and unfulfilled promises. This is what has lead to ongoing trust issues found at the heart of many of Microsoft's current problems with partners, governments, and customers.
Gates' departure will leave Steve Ballmer the clear leader of Microsoft and eliminate the odd situation where Microsoft's CEO reported to an overwhelmed chief architect who was frantically trying to do too many jobs. The lingering question will be, can Ray Ozzie, the new chief architect with the stunning pedigree, step up to this new role, which includes presenting to large audiences, something he currently does very poorly, or will he fail to either address his shortcomings and find someone else who can mitigate them?
Time will tell, but one thing is sure, as Gates leaves the technology arena to personally direct what may be the most influential charitable trust ever, the world will, once again, be forever changed.
---
Rob Enderle
is a TechNewsWorld columnist and the Principal Analyst for the
Enderle Group
, a consultancy that focuses on personal technology products and trends.
---