Google on Monday rolled out Android Wear for iOS, allowing consumers to pair the iPhone 5, 5c, 5s, 6 or 6 Plus running iOS 8.2 and above with an Android Wear watch. They'll be able to check phone calls, messages and notifications; track fitness; and use Google Now instead of Siri to get smart help from their iPhones.
Using Google Now instead of Siri is "a cute touch," observed Jeff Orr, a senior practice director at ABI Research. "You're not asking Siri a question — you're asking Google Voice."
Android Wear currently works with iOS on the LG Watch Urbane. It will be available on all future Android Wear watches, including those from Huawei, Asus and Motorola.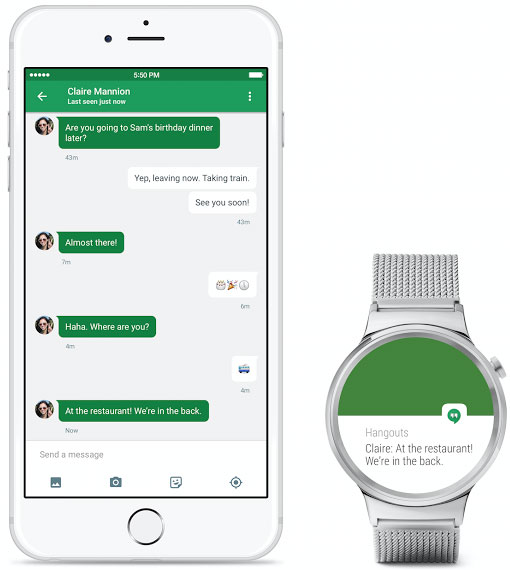 It's curious that only one Android Wear watch model initially works with iOS — the Urbane — but this "appears to be a readiness issue," Orr told TechNewsWorld.
It's All About the User
"Offering choice is important to us," said Google spokesperson Chelsea Maughan.
"That's why our platform is open to manufacturers to make different devices with different looks, capabilities and price points, and flexible enough for users to customize their experiences," she told TechNewsWorld.
Users can choose from thousands of watch faces and well over 4,000 third-party apps from Google Play, Maughan continued. "It has been our goal to make Android Wear work for as many people as possible. … Announcing support for Android Wear watches to pair with iOS devices is the next step for us."
No, It's About the Money
Google "wants to get advertising, of course," said Mike Jude, a research manager at Frost & Sullivan. Getting Android Wear to work with iOS is "a foot in the door."
The company's cash cow is advertising, and it's "trying to build a Google-ized infrastructure where everything leads back to its advertising," he told TechNewsWorld.
Google will "find ways to build applications that use Google Wear to enable commerce, and if you look at the universe of potential users of what they have, it makes perfect sense to co-opt every single device out there," Jude said.
However, Google will benefit from the Android Wear linkup to iOS even if it can't serve up ads on the Android Watch.
As long as Google can learn something about a person from the data coming off devices worn, it gains value, Jude suggested. "It may not be generating immediate revenue, but it lays the groundwork."
What Google learns could be as simple as the customer's location — and location is a key component of search.
Google will take 55 percent of this year's more than US$81 billion worldwide search ads market, eMarketer predicted.
Been There, Done That, Want It!
Speculation that Google was preparing Android Wear to run on iOS has been rampant at least since March, when Mohammad Abu-Garbeyyeh'sYouTube video of Android Wear answering iPhone calls generated considerable interest.
A jailbreak wasn't needed because of the nature of the API used, Abu-Garbeyyeh said, adding that iOS 8's actionable notifications were supported.
Where's the Market?
Android devices accounted for 82 percent of the global smartphone operating system market in Q2, according to Gartner, while iOS had nearly 15 percent.
Will iPhone users be willing to look at Android smartwatches?
"As you go into the holiday season, you open up opportunities," ABI's Orr said. Some people who can't afford an Apple Watch might opt for an Android model.
Android Wear will maintain "the promise Apple offers of a great experience, because there's now an Apple-approved Android Wear app," he pointed out.
Further, Android Wear "allows a lot of vendors to play, and that lowers the barriers for entry for those who want to get a smartwatch," Orr said. Ultimately, a huge uptick in Android Wear will require "good software, good products and products that people will want to interact with on a daily basis."