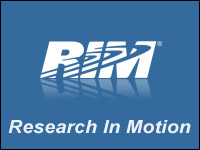 Research In Motion announced on Tuesday that its new BlackBerry 9630 Tour world phone will hit the shelves this summer.
What's really new about it is that it supports 3G EV-DO networks in North America, as well as 3G UMTS/HSPA and quad-band EDGE/GPRS/GSM networks abroad.
Blackberry Tour Smartphone
Other features — the built-in camera, the preloaded DataVIZ Documents To Go, the GPS and access to social networking services — are similar to the features available in most of the newer BlackBerry devices.
Sprint and Verizon have already committed to carrying the 9630.
About the 9630
Research In Motion bills the 9630 as a smartphone for CDMA customers in North America.
CDMA, or code division multiple access, is one of the two major standards for cellphone technology in the U.S. — the other being GSM, or global system for mobile communications. Sprint and Verizon use CDMA, while T-Mobile and AT&T use GSM.
That rules out AT&T's chances of carrying the 9630 Tour, for now.
AT&T declined comment on whether it would consider carrying a version of the phone in the future. "RIM did announce who the U.S. carriers would be (at least the initial two)," AT&T spokesperson Michael Coe told TechNewsWorld.
The 9630's Specs
The 9630 comes in black with chrome highlights and is 4.4 inches long, 2.44 inches wide and just over half an inch thick. It weighs just over 4.5 ounces.
Like most other BlackBerry models, it has a full QWERTY keyboard.
The 9630 has a 2.44-inch display with a resolution of 480 by 360 pixels, which RIM says is the highest resolution available on a BlackBerry smartphone.
Like several other models in the BlackBerry line, the 9630 has a built-in GPS system and multimedia capabilities, including an image stabilization feature. These features are expected in any phone competing in the high end of the market; the BlackBerry 9630 isn't breaking any new ground here.
"Smartphones with advanced operating systems and features are the future for the cellphone business," Yankee Group analyst Carl Howe told TechNewsWorld.
What, No Wi-Fi?
The 9630 lacks WiFi capabilities, unlike some of the newer smartphones from other vendors.
That is Verizon's fault, Gartner analyst Ken Dulaney told TechNewsWorld.
"Verizon doesn't believe in WiFi, and that's why it was omitted," he said. "Verizon are short-sighted in their thinking because having WiFi doesn't mean you'll use 3G less, it just lets you load large files faster when at home."
Sprint had no say in the matter, Dulaney said. "Sprint has been mixed on WiFi but probably took what they were offered. They were so late supporting RIM that they haven't always been able to dictate the types of devices they want."
Sprint Plays Catch-Up
Still, Sprint appears to be making up for this — it says the BlackBerry 9630 will be available at Sprint stores and online, as well as for customers ordering over the phone, at US$199.99.
Sprint's hefty rebates — $100 for a mail-in rebate and a $50 instant rebate — will slash the price to $49.99, way below that of most other smartphones, which hover around the $200 mark. The current (and soon to be obsolete) model of the iPhone, of course, has been discounted to $99.
Business customers may qualify for additional rebates.
The blogosphere has carried reports saying that the BlackBerry 9630 will hit the shelves in mid-July, but Sprint spokesperson Mark Elliott declined to be specific about the timing.
"We're saying later this summer," he told TechNewsWorld.
Verizon Remains Low-Key
Verizon has so far been restrained in its approach to publicizing the Tour. It has put up a teaser page on its Web site inviting preorders, providing a short description of the BlackBerry 9630, but little else.
Verizon did not respond to requests for comment.
"This replaces the BlackBerry Worldphone, which was never very good," Gartner's Dulaney said.
The 9630 is an upgrade to the BlackBerry Curve II, he added. "The Bold and the Curve were too close to each other, and this looks like RIM's next step to combine them."
However, the 9630 will not compete against the iPhone, the Palm Pre or any of the Android touchscreen smartphones.
"This BlackBerry is for users who value email as their top application and value a great keyboard," said Dulaney. "This is a device that Verizon, Sprint and RIM all need for business customers."