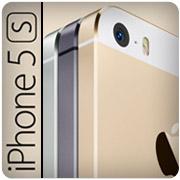 Flir Systems this week unveiled an iPhone case with a difference.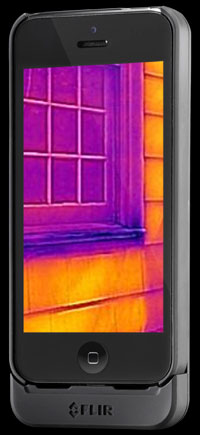 The Flir One, which made its debut at CES, lets consumers view heat signatures through a thermal imaging camera attachment to the phone.
It works by focusing the camera's attention on a different part of the electromagnetic spectrum than human eyes can see using Flir's new Lepton camera core. The sensor technology used in the case — originally developed for military night vision devices — turns heat into color images.
See Through Smoke
Those images help users to see in the dark and spot differences in temperature as small as 0.18 degrees Fahrenheit (0.1 degree Celsius). It even helps them see through smoke, according to Flir.
What Flir cannot do is see through objects like walls, glass or clothes, or give accurate readings for the surface temperature of shiny objects, which reflect surroundings rather than showing off their own heat signatures.
Though Flir's thermal imaging technology typically is used by the military, law enforcement and hunters, consumers can utilize the Flir One in myriad ways, the company suggests.
Spot Leaking Pipes
It could pinpoint areas of the home where heat loss occurs, find wall studs, or spot leaking pipes, for instance. Of course, outdoorsy types may use it to navigate in the dark or make certain a campfire is out. Artists might use the case to gain inspiration or create compelling images.
The case works in tandem with a free iPhone app that lets users save and share images and videos to social networks. A software development kit will be available for developers to create their own apps in Q1 2014.
Battery Life
The Flir One contains its own 1400 mA/h battery that can be used to power it for more than two hours' continuous use. Alternatively, it can provide up to 50 percent additional battery life for the phone itself. The device charges using a USB cable, which first charges the Flir One, then the iPhone, so users won't have to disconnect the case to charge both devices.
Flir One offers a scene range temperature of between 32 degrees F and 212 degrees F (0 degrees C and 100 degrees C) and an operating temperature of between 32 degrees F and 113 degrees F (0 degrees C to 45 degrees C). It weighs 3.2 ounces (or 80.718 grams) and measures 5.5 inches (139.7 mm) by 2.4 inches (60.96 mm) by 0.85 inches (21.59 mm).
Hitting Android Later
The case initially will be available only for the iPhone 5 and iPhone 5s. It will retail this spring for less than US$350, the company said. Flir plans to make the case available for select Android models later this year.
"With the Flir and other products, including the wearables that dominated much of the news at CES, we seem to have entered what might be called the age of companion's companions," Charles King, principal analyst at Pund-IT, told TechNewsWorld.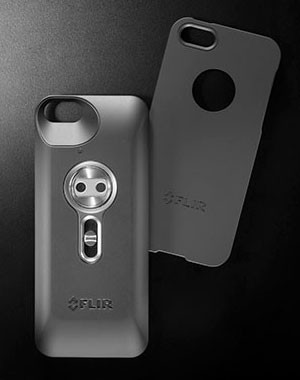 "The Flir One is certainly one of the more interesting and complex of these solutions currently available, but I don't think it will have that title for long," he added.
Expanding the functions of a smartphone through a case is far from a novel idea. Cases from FreedomPop offer free data, while others can add support for single-lens reflex camera lenses.
"I've seen cases that try to try to add NFC (near field communication) into them," Michael Morgan, mobile devices analyst at ABI Research, told TechNewsWorld.
"That application was a security application — an enterprise wants to maintain security," he noted. "When visitors come in, they can put a case over their phone, and this way they could use that NFC tag to get through doors — but it also does things like shut off camera functionality."
Handset Risks
However, making cases with additional functions brings other risks.
"One of the reasons that you want to put something into a case is that it's a way to differentiate your product and you could also charge more," Morgan pointed out.
"People buy cases for fashion and customization, and also for protection. That has been a key value proposition for cases. Unfortunately, that's starting to diminish as handset design improves — you get stronger and better glass, ruggedized handsets, waterproof handsets. Case manufacturers are looking for ways to add value to their products — technology's one way," he said.
"Let's say I make a case with NFC in it. If I have a phone without NFC, I can add it with this case, Morgan continued. "The only problem is that NFC ends up getting adopted in the handset — then you've got this product that no longer has a use. You have to be careful with the technologies you add into the case, because it may get absorbed into the smartphone itself."