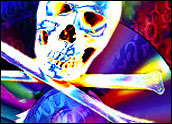 A measure aimed at countering product piracy of all sorts — from digital music to ladies' handbags — has produced a sour aftermath following its approval by the European Parliament this week.
Supporters as well as opponents had something critical to say about the compromise measure that appears to have more camel than thoroughbred in it.
"We wanted more specificity on the rules on how you define damages, and that has not been provided," Francisco Medeiros, public affairs director for the Business Software Alliance, told TechNewsWorld from the BSA's London office.
Invitation to Piracy
Some EU members permit "aggravated damages" awards equal to double or triple the licensing fee of a pirated software program, but those kinds of damage awards were omitted from the new directive, he explained. "That was very disappointing," he said.
Damage awards sanctioned in the directive are a far cry from penalties inflicted on U.S. software buccaneers, he noted. "In U.S. copyright law, damages can be fairly painful," he said. "It's much tougher."
Without significant damage awards, he continued, companies can willingly ignore software licenses because there's little monetary risk to their behavior. "It's an invitation to piracy," he said.
Agreement Difficult
It's not surprising that severe penalties were pared from the final directive, according to Eric A. Prager, an intellectual property attorney in the Seattle, Washington, offices of Darby & Darby.
"It's always difficult when you get together a number of countries that have different degrees of technological advancement to agree on a high level of protection for technology across all countries," he told TechNewsWorld.
"I think there is a push, inevitably, in those situations to soften the penalties that are available for infringements," he added.
Good Start
Despite its faults, Medeiros asserted that the directive was "a good start."
"Our disappointments were offset by the directive being approved in a timely fashion and that it will harmonize the minimal level of protection across Europe," he observed.
"All countries are obligated under recent UN copyright and phonogram treaties to enact legislation that gives meaningful protection against digital piracy," Prager added. "The member states of the EU appear to have taken this obligation to heart."
Shocked and Appalled
Others were disappointed with the directive, but for different reasons than the BSA, which includes among its members Microsoft.
"I am shocked and appalled that the EU, which has been a strident supporter of consumer rights and privacy issues, could be coerced by special interests to pass a law that makes the DMCA [Digital Millennium Copyright Act] look like a Bugs Bunny cartoon," Wayne Rosso, CEO of Optisoft of Madrid, Spain, a maker of online file-sharing software, told TechNewsWorld.
"The impact on the average consumer could be quite severe," Monique Morneault, an intellectual property attorney with Wallenstein, Wagner & Rockey in Chicago, told TechNewsWorld. "They can go after the average person, who might be copying music, for example, and possibly send them to prison for it."
On the other hand, Prager doesn't believe the directive is as strong as the DMCA. "The important thing from the standpoint of the global marketplace for copyrighted goods is that the EU has stepped up and required its member states to enact more protective legislation," he said.
All IP Targeted
To a large degree, the impact of the directive will rest with individual EU members, according to Gwen Hinze, a staff attorney with the Electronic Frontier Foundation in San Francisco.
"We wanted to see a narrowing of the directive's scope so it would apply to only commercial impact infringement," she told TechNewsWorld. "As it was passed, the directive applies to any infringement of any intellectual-property right."
The measure includes a range of new remedies that rights holders can use against any infringer of intellectual property, she added.
"We are concerned that if the directive is broadly implemented by European member states, there could be threats to individual liberties, consumers' privacy and intermediaries like ISPs," she said.
"But we'll have to wait to see how that plays out when the 25 member states pass their own rules to implement the directive," she added.