Instagram recently added some new filters — the first time it has done so in two years.
The addition of the five new filters brings the total number in the app to 24.
"In December 2012, we added Mayfair and Willow to the Instagram filter family — and a lot has happened in the last two years. Photography trends have evolved, and the capabilities of the camera on your phone have vastly improved.
"Inspired by the photography, art, fashion and design of the global Instagram community, were releasing five new filters that we believe are our best yet," the company said.
In addition to the new filters, Instagram has changed how filters are displayed at the bottom of a photo — their effects are shown as a blurred thumbnail of the pic — and the display order of the filters can be altered by dragging and dropping their thumbnails where you want them in the app's filter tray.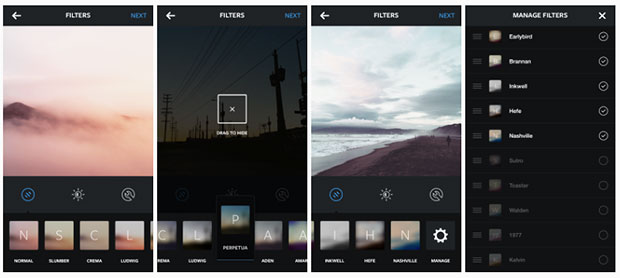 Filters that aren't often used can now be hidden from sight, too.
Subtle Effects
Each of the filters included in the latest version of Instagram, which is available at the Apple App Store and Google Play, make subtle mood changes to a photo. They are as follows:
Slumber mutes the colors in a photo and adds a haze to it.
Crema also mutes the colors and softens the edges in a picture, giving it a warm mood.
Ludwig, named after 'less is more' architect Ludwig Mies van der Rohe, desaturates the colors in an image while enhancing the light in it.
Perpetua emphasizes the blue and green colors in a photo, giving it the kind of earthy atmosphere found at the filter's namesake: the Cape Perpetua National Forest in Oregon.
Aden gives an image a pastel look.

Commercial Appeal
Competitive pressure may have had a role in the roll out of the new filters, noted IDC Research Director Chris Chute.
"A host of me-too apps have been introduced to the market since Instagram was launched. Filters are becoming a competitive advantage for Instagram so I suspect you'll see it develop more filters as time goes on because that's the real value of their service," he told TechNewsWorld.
Instagram also has an edge on some of its rivals because it adds new filters free of charge. "A lot of competitors will offer new filters, but you have to pay for them through an in-app purchase," Chute said.
He added that the new filters, which have the kind of nuance found in professional products, will be welcome among the app's growing cadre of commercial users.
"Instagram is quickly becoming a commercial tool for any business that wants to use social media in a more artistic context than just tweeting out positive news about what their company is up to. These filters seem to have particular value to a commercial audience, which is also a way to remain competitive," Chute added.
Little Effect for Pros
While Instagram has improved its features over the years, the app still falls short of what's available to professional photographers.
"Even the apps that imitate the features for professional photographers are not anywhere near as powerful or flexible. They imitate professional features but they're not getting close to equaling them at all," David D. Busch, creative director of theDavid Busch Photography Guides, told TechNewsWorld.
The migration of professional-style features to the smartphone camera, though, has had its impact on pro shooters. "As Instagram and other apps begin to bring professional techniques to the casual user and smartphone artist, pros are using their creativity to come up with new 'looks'. Smartphone vendors and app developers will then try to copy them," Busch explained.
A limitation of filters like those in Instagram is that they can add a sameness to a portfolio. "When people see a filter applied to a photo for the first time, they think it's original, but it's not. [Nonetheless] people like it. Most Instagram photographers just want something different from an old snapshot, and filters can make a bad picture a little better," noted Busch.