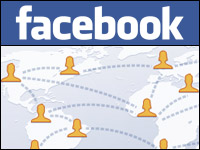 Facebook on Thursday added custom gender options for users to identify themselves other than "male" and "female."
Users now can identify themselves as bigender, androgynous, cisgender, or in one of more than 50 ways. The move initially applies only to the company's 159 million monthly users in the U.S.
Facebook plans to provide the additional options to users outside the U.S. as well, but it did not reveal a time line.
With the goal of enabling users to feel comfortable about being themselves, Facebook teamed up with several leading LGBT groups to compile a list of gender identities. Those who select a custom gender will have the option to choose the pronoun to which they are referred publicly — male (he/his), female (she/her), or neutral (they/their).
Privacy Focus
In addition, Facebook users now can select the audience with whom they share their gender identity. Many people face difficulties when going public with their gender identity, Facebook acknowledged, and customizing their sharing audience will allow them to express their true identities with those they trust. Users still have the option of keeping their gender identities private, as they have been able to do for years.
Facebook engineer Brielle Harrison, who worked on the project, is undergoing male-to-female gender transformation. Harrison changed her gender identity from female to trans woman, she told the Associated Press.
The move has drawn praise from LGBT organizations, including GLAAD, which worked on the project with Facebook, and the Transgender Law Center. However, critics have decried the change.
Proponents of the new choices are trying to argue there's an infinite number of gender identities, claimed Jeff Johnston, an issues analyst for Focus on the Family.
However, that doesn't make it so, he told the AP, insisting that "it's impossible to deny the biological reality that humanity is divided into two halves — male and female."
Ad Targeting
When it comes to advertising, marketers can target users based on whether they are male or female. Those who change to one of the new identification options will be targeted based on the pronoun they choose. Advertisers will not be able to target users if they identify as transgender or if they recently changed gender.
Other social networks have toyed with similar options. Google+ lets users identify themselves as "male," "female" or "other." Around 1 percent of Google+ users identify as the latter.
"Some people are more comfortable being known for their gender than others. Those who want to identify a certain way now have that possibility," Roger L. Kay, principal analyst at Endpoint Technologies Associates, told TechNewsWorld.
However, there may be a disadvantage in that "various people might be offended or offensive in an imperfect privacy environment," Kay added.
Igniting Conversation
"The important thing about the Facebook gender options is that it's ignited a huge conversation about who transgender people are," Vincent Paolo Villano, director of communications at the National Center for Transgender Equality, told TechNewsWorld.
"Facebook took a really important step around making sure that the platform represents the reality of who people are around the world," he said.
"The more large mainstream institutions like Facebook draw attention to transgender people and non-gender-conforming people, the easier it becomes to inform politicians and decision makers about decisions that affect those people," Villano pointed out.
"The significance of Facebook's move is hugely important, but the NCTE has privacy concerns with other Facebook features," he noted. "It goes beyond educating users on privacy and security settings. Facebook's facial recognition features have outed some transgender people."