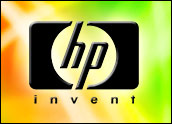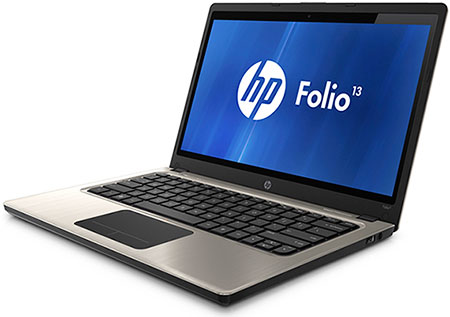 The HP Folio 13
HP on Wednesday announced its first ultrabook for the business sector, as well as new additions to its Envy and Pavilion notebook lines.
The ultrabook, called the "HP Folio 13," claims up to nine hours of battery life, the longest on the market.
It weighs 3.3 pounds, uses Intel Core processors, includes Intel Rapid Start Technology and has a backlit keyboard.
The HP Folio 13 also comes with a 128 GB solid state drive.
What's in the Folio
The HP Folio 13 is less than 1.8 cm thick. It has a 13.3-inch high-definition BrightView display and weighs 3.3 pounds.
The device has Ethernet, RJ-45 and USB 3.0 ports.
In addition to Intel Rapid Start Technology, the Folio 13 will have HP CoolSense technology so it will run cooler. It will also have an HP ImagePad for multitouch gesture support.
Other features include an HP TrueVision HD webcam and Dolby Advanced Audio.
The HP Folio 13 will be available from Dec. 7 at a starting price of US$900.
One ultrabook in the Folio 13 family will have a Trusted Platform Module (TPM) embedded security chip, which will protect data in email as well as on the hard drive. This version is scheduled for availability in January.
Taking on Apple
HP is aiming the Folio 13 at the 13.3-inch MacBook Air, pointing out that the ultrabook, priced at $900, is $400 cheaper than the larger MacBook Air model.
"HP have an interesting spin on the product in that they're focusing on business users with their offering, whereas most people focus on consumers," Rob Enderle, principal analyst at the Enderle Group, told TechNewsWorld.
"HP's always been strong in business, so this is playing to HP's strength as against Apple's strength, which has always been in consumer goods," Enderle added.
However, don't expect overnight success against the MacBook Air.
"I do applaud what HP did on the Folio 13, but it's going to take some time to compete against the MacBook Air, which clearly is a very powerful platform," Brian Marshall, an analyst at the ISI Group, told TechNewsWorld.
HP's Ultrabook vs. the MacBook Air
The Folio's specs do not line up perfectly with the MacBook Air, however.
The $900 version of HP's Ultrabook apparently uses Intel's Core i3 processor, whereas the $1,300 13.3-inch MacBook Air has a 1.7 GHz dual-core Intel i5 with 3 MB of shared L3 cache.
Other Competitors
HP isn't the first vendor to crack the sub-$1,000 price level for its ultrabook.
That honor belongs to Acer, with its S3 Ultrabook, which was unveiled in September.
Priced at $900, this has an Intel Core i5 processor, a 20 GB SSD and a 320 GB hard drive as well as a 13.3-inch HD backlit display.
Then there's the Toshiba Portege Ultrabook Z835, one model of which is available at Best Buy for $800. With a 13.3-inch backlit TruBrite display, a 128 GB SSD and running on a 1.4 GHz Intel Core i3 processor, this appears comparable to the HP Folio 13, this seems comparable to the HP Folio 13.
Bigger Beats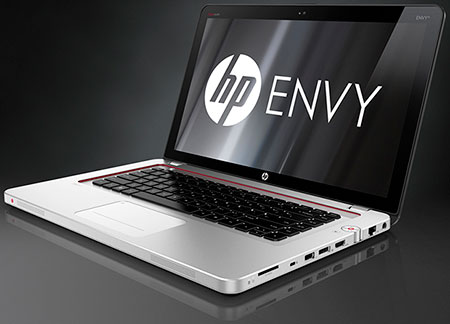 The HP Envy 15
HP also unveiled the HP Envy 15 and 17 notebook PCs.
The Envy notebooks feature a new HP Radiance backlit keyboard and have six speakers as well as a subwoofer. Buyers can opt for Intel Quad Core and AMD Mobility Radeon HD graphic processors.
Other option are 15.6-inch or 17.3-inch Radiance Full HD Infinity displays.
HP also refreshed its midi-range Pavilion entertainment laptop.