The latest version of the iPad Mini was the clear star of the show at Apple's pre-recorded new product event streamed from its website Tuesday.
"The iPad Mini was the biggest news of the day," Kevin Krewell, a principal analyst at Tirias Research, told TechNewsWorld.
"The iPad Mini is no longer a stepchild, the runt of the litter," added Mark N. Vena, senior director for smart home and strategy at Parks Associates.
The iPad Mini was one of Apple's most important announcements at the new product event, maintained Tim Bajarin, president of Creative Strategies, a technology advisory firm in Campbell, Calif.
"It uses the same chip that's in the iPhone 13, so they've given it incredible processing power," he told TechNewsWorld.
"For many years," he continued, "I thought Apple approached the iPad Mini as a stepchild in the iPad line. This time they made something that's part of the true family. It has features of both the iPad Air and iPad Pro."
"The iPad Mini is going to get a lot of attention," he added. "It's really a significant new upgrade to the iPad line. It now has the power to compete with the larger models, especially the iPad Air."
Virtuous Cycle
The iPad Mini isn't for everyone, observed Ross Rubin, the principal analyst with Reticle Research, a consumer technology advisory firm New York City.
"Even at the old price, it was more expensive than the baseline iPad," he told TechNewsWorld. The Mini's old price was US$399. the new Mini sells for $499.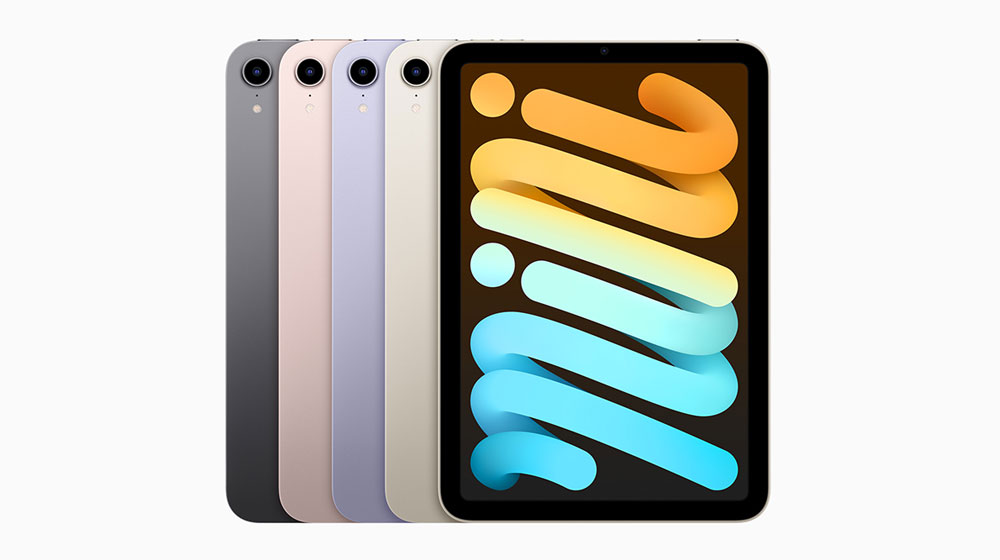 iPad mini comes in a new array of finishes, including space gray, pink, purple, and starlight.
---
"It's a unique product in the lineup in that it can deliver the enhanced capabilities of iPadOS in a smaller form factor," he said. "It can't match an iPhone's imaging capabilities, but for multitasking, it's a better alternative."
In addition to the new Mini, Apple introduced:
A new iPad that will sell at $329 with double the base storage of previous models at 64GB;
Apple Watch 7, with an unchanged introductory price of $399, an edge-to-edge display with 20 percent more space and 33 percent faster charge time; and
iPhone 13, with pricing unchanged from last year and a Pro version with Hollywood style video and support for up to a terabyte of storage.
"Apple's annual flagship event was another iteration of providing products with increasing value to consumers at largely consistent prices," Gene Munster,co-founder of Loup Ventures, a venture capital firm in Minneapolis, wrote in a research note Tuesday.
"This is what we refer to as a virtuous cycle of mutual benefit," he explained. "A product provides increasing value to the consumer at the same or lower price point, while more value accrues to Apple as it continues to grow its monetizable device base."
"Companies that participate in this virtuous cycle are most likely to continue to gain market share and expand market cap," he added.
Caregiver Appeal
The increased screen real estate of Apple Watch 7 could make it more attractive in the growing caregiver market, Vena noted.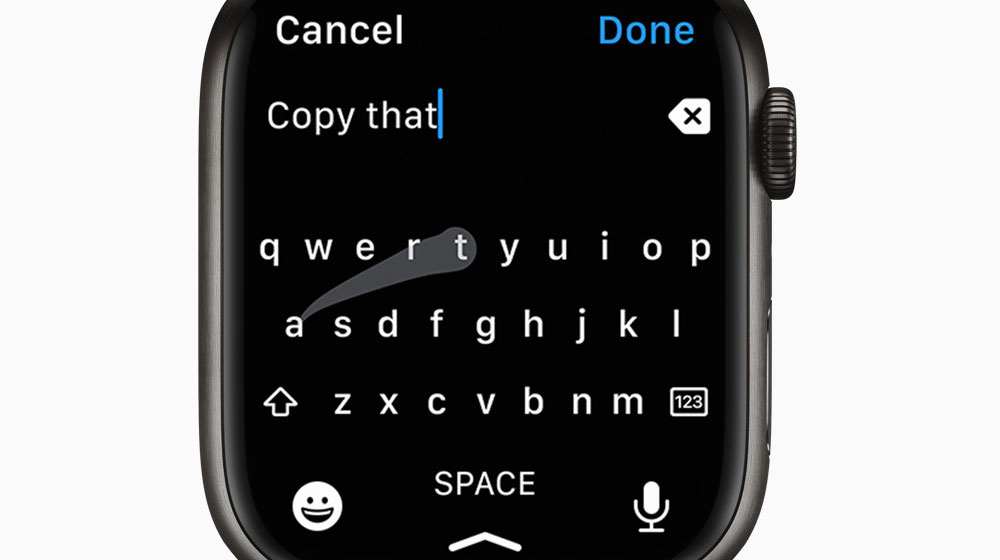 In addition to more screen space, Apple Watch Series 7 has a new QWERTY keyboard that can be tapped or swiped with QuickPath, allowing users to slide a finger to type.
---
According to Parks research, 73 percent of caregivers are likely to buy an independent living solution for a loved one, such as smart watches and emergency response devices. Nearly three out of 10 of those caregivers (28 percent) intend to buy a smart watch.
"The larger display on the Apple Watch could attract caregivers who want to give elderly folks a connected health care device," Vena said.
Existing watch owners, though, may be less enthusiastic about Apple Watch 7.
"This was not a radical design change," Bajarin said. "It isn't a significant bump from the previous version."
"If you had the previous watch, I don't think you'd be inclined to upgrade to the new one," Krewell added. "There were no huge improvement in sensors forhealth."
Munster, in his research note, noted that the new Apple Watch did not add biomarkers to its repertoire, as was predicted before Tuesday's announcements.
"We'll have to wait a year or two for blood pressure monitoring," he wrote.
Potential Super Cycle
Analysts interviewed by TechNewsWorld agreed that iPhone 13 was more of an evolutionary than revolutionary product.
"There was nothing revolutionary, but they added new levels of functionality," Bajarin said.
However, he noted that iPhone 13 had the potential to set off a super upgrade cycle.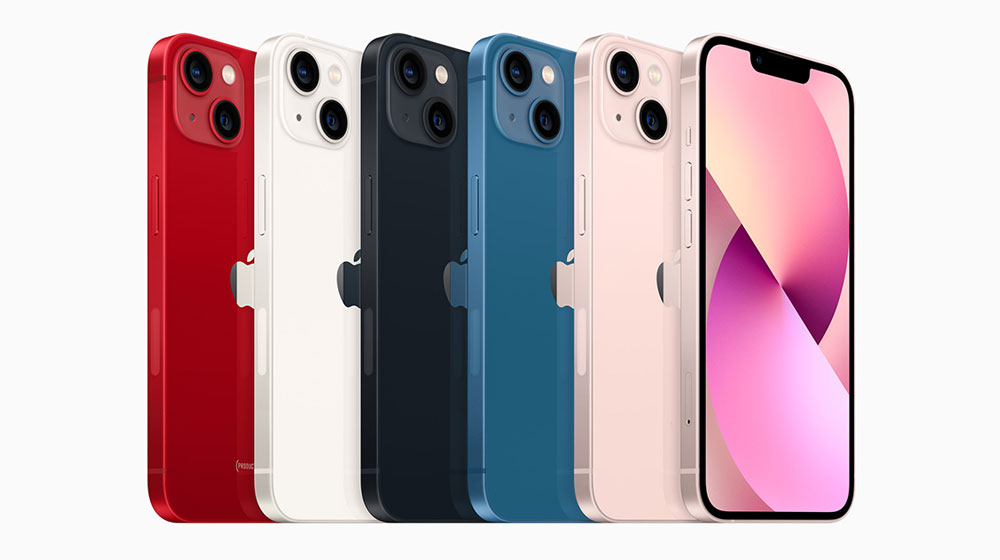 iPhone 13 and iPhone 13 mini come in five aluminum colors, including (PRODUCT)RED, starlight, midnight, blue, and pink.
---
"The 5G upgrade never kicked in with the iPhone 12, but the 13 — with its more powerful processor and capabilities, and its better cameras — could kickstart a super cycle of upgrades," he explained.
Rubin called the improvements in iPhone 13 "moderate."
"The thing most buyers will be excited about is the greater battery life," he said.
"Better low light performance in the camera is a nice addition, but every year as image sensors improve and computational photography gets better, it seems to be aimed at creatives more than ordinary folks just trying to snap a photo in a dark room," he added.
That also seems true of the dazzling cinematic features of the phone.
"Cinematic mode is another feature that might appeal to film students or trying to create a dramatic video, but it's not going to drive many people to upgrade," Rubin observed.
"There's not much there to make someone upgrade from a 12 to a 13, but the case is stronger for iPhone 11 owners," he added.
"Consumers are holding on to their phones longer," he continued. "If you bought an iPhone 12 last year, even if the 13 were a more enticing upgrade, it wouldn't cause many more people to upgrade."
Thin No More!
Krewell maintained that iPhone 13 feels like an iPhone 12s upgrade.
"It's incremental, but nothing earth-shattering," he observed.
He praised one trend that Apple appears to be scrapping with the intro of iPhone 13.
"Apple has finally dropped this obsession with making things thinner at the expense of battery life and other features," he said. "The iPhone 13 is a little thicker than the iPhone 12 and has a bigger battery and better camera lenses."
He confessed he was disappointed that Apple hadn't found a way to incorporate a fingerprint scanner under iPhone 13's display as an alternative to unlocking a phone through facial recognition.
"Facial recognition was useful until the pandemic, when we all began wearing masks," he said.
Throughout its event, Apple emphasized all the ways it's making its products environmentally friendly. While patting itself on the back for its environmental efforts, it may have ignored the elephant in the room.
As Thomas Husson, vice president and a principal analyst at Forrester Research points out, "[T]he truth is that what matters to green consumers is a longer product lifecycle — not [having] to renew their latest gadgets each year."