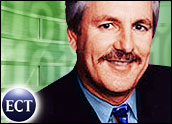 Except for those of us who build our own desktop computers, laptops have become the product that increasingly defines our personalities and which one we choose says more and more about who we are. Until recently our choices were defined by vendors: Apple if you favored high design, IBM if you liked reliability and unique features like secret keyboard light, Dell if you were driven by price and Sony if small was your thing.
But, like cars, which long ago moved away from basic black, laptops are getting a makeover. Some are even getting an extreme make over. This week let's take a look at laptops to lust after.
The Acer Ferrari
The top of the list and at a reasonable cost of US$2,000 is the Acer Ferrari 4000 laptop computer. As some of you who follow me might recall, a year ago I fell in love with the previous version of this product and used it to point out how dull the Apple Titanium product looked in comparison. However, in all honesty, the Apple remained a better product to use because the original Acer had a desktop processor, a square 15-inch screen, and could get hot enough to cause physical pain.
In the current version of this machine, the new AMD Turion processor solves most of these problems and, coupled with the high-end ATI mobile chipset and a 15.4-inch panoramic screen, this is now truly a notebook that kicks Apple's butt. Granted, Apple is hobbled right now by an aging design, the departure of many key designers to OQO, and a slow migration to an Intel-based architecture. I'm expecting Apple to come back with a typical flourish next year, but until then, the Acer Ferrari notebook wins on cool.
With a graphite and red finish and performance that would rival most game laptops from specialty companies like Voodoo and AlienWare, but with an even more impressive brand in Ferrari, this is the ultimate affordable notebook.
In a use test it never fails to draw attention — if you like to be noticed, this laptop clearly is the one to buy.
HP Livestrong
If you like practicality combined with performance, the HP Livestrong notebook represents one of the best statements of social awareness and couth. With a large and attractive Livestrong logo that showcases your awareness of the importance of cancer research ($50 of the purchase price goes to the Livestrong Foundation), this is the product for those that want to stand out and be an example for others.
This product isn't as powerful as the Acer, but it does use less power and costs about half as much, which showcases the user's fiscal responsibility as well. However, the product is no slouch. While it clearly isn't in the power gaming category it will play most current games well, as it too uses the Turion processor and an ATI graphics subsystem.
With a 14-inch panoramic screen the HP Livestrong has a multimedia option that adds a remote control and a cable set that will turn it into multimedia device for your home or hotel room.
While it doesn't draw the crowds the Acer gets, it does draw questions and knowing smiles from those who see it. It seems to make a powerful statement about the values of the user and that can be important to many of us.
Itronix Hummer
At the exact opposite of the spectrum is the Itronix Hummer. A $3000 notebook worthy of the California "Governator" Schwarzeneggar's attention, this is a notebook for those who either are adventurers or like to dream of being adventurers. What makes this product more expensive is not more performance — it is near mill-spec level hardening which allows the product to function outdoors in harsh conditions, much like its namesake.
Also, much like the Hummer SUV, this product is a dressed up version of the GoBook VR-1, a product targeted at people who live a harsher life than most of us live. The GoBook line is often favored by the U.S. military with broad penetration in virtually all U.S. military services. The Hummer laptop actually meets Military Specification MIL-STD 810F.
Light this product is not — it easily outweighs the Acer Ferrari and it even has its own handle. It has enhanced outdoor viewing capability — most laptop screens wash out outside, magnesium alloy casing and steel hinges, is both drop and water resistant, and it has a front-loading battery (for combat battery swapping). On top of the wireless options enjoyed by every laptop mentioned here it has built-in wireless broadband for which the user can choose a provider, so no Hummer user has to ever surf at Starbucks. This monster box is far from light and you could likely justify it as weight lifting equipment as it should do wonders for your biceps.
Oh, and for those times when you are called up to defend your country, it has built-in GPS so you never have to get lost on your way to save the world or pick up the laundry. This laptop defines extreme.
OQO
There is no laptop more distant from the Hummer than the OQO. Small enough to fit in milady's handbag or a gentleman's coat pocket the OQO defines elegance. Designed by the same team that created the Apple Itanium (this team left after Apple's CEO channeling Xerox said "no" to their concept) this is the BMW Iseta of notebooks.
Often looking more like a James Bond gadget than anything else this product is the ultimate in terms of portability and is clearly not for a performance user. It tends to be the king of causing doubletakes, however, as people initially assume it is a smartphone and then suddenly realize it is vastly different.
Using the unique Transmeta Crusoe processor which is fully capable and extremely power-efficient you won't be typing the great American novel on this palmtop but it is great for short e-mails and, since it runs Windows XP, it will work with virtually all Windows business applications.
Rare and exclusive, this product screams "collector's item" and may represent the beginning of a new evolution for the portable computer.
As with every product there are notebooks that are too big, too small, and some that may be just right. As I was finishing this piece I ran into a notebook that really hit me where I lived.
The Voodoo Envy A:228
The Voodoo Envy A:228 is, for a high-performance laptop, incredibly light at four lbs. and can be ordered in one of 11 custom colors. You can even order a color-matched monitor, speakers, keyboard and mouse. It also boasts very strong performance for a price of around $2000. While I haven't seen one in person quite yet, this AMD Turion powered box appears to be not only gorgeous but it has a name appropriate for this week's column: "Envy."
More Changes Coming
Dow Chemical's Inclosia division has started to ship highly unique solutions to laptop vendors. The first one, Europe's Tulip E-GO has an industrial design that looks more like personal luggage (actually, a purse) than a laptop. With six leather and fabric versions the buyer of this product gets to see a future that doesn't yet exist outside of Europe.
Capable of providing wood, metals, or protective rubber, this technology looks ahead to a time when we don't have to put up with a one size — or color — fits-all solution. Of course, with products like the Envy available to consumers, that time may already be here.
---
Rob Enderle
, a TechNewsWorld columnist, is the Principal Analyst for the
Enderle Group
, a consultancy that focuses on personal technology products and trends.
---