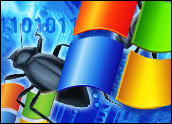 Microsoft released version 1.0 of Microsoft Security Essentials, a free basic anti-malware service from Redmond, on Tuesday.
This replaces Microsoft's discontinued Live OneCare Security-as-a-Service offering.
Live OneCare customers can move to Microsoft Security Essentials once their subscriptions expire.
About MSE
Microsoft Security Essentials (MSE) is a lightweight application that runs in the background and takes up few CPU and memory resources, the vendor said.
It is the first Microsoft security product to use the company's new Dynamic Signature Service, which ensures users are protected by the most current virus definitions available. Most other antivirus applications download the latest virus signatures one or more times daily.
MSE will run on Windows XP Service Pack 2 (SP2) or SP3, Windows Vista, and Windows 7.
Only users of genuine versions of these Windows operating systems will be able to install MSE. The application will be available in eight languages and in 19 countries including the United States; Australia, Canada, Japan, Mexico, New Zealand and Singapore.
Technical Stuff
MSE monitors the file, registry, network and kernel mode actions taken by unknown programs to look for suspicious behavior, according Microsoft. When a program initiates unexpected network connections, tries to modify privileged parts of the system, or downloads known malicious content, this triggers MSE to request updates from the Dynamic Signature Service.
Further, MSE uses the Microsoft SpyNet telemetry system to monitor the quality of definition updates. When users detect and remove malicious files, information on that is sent to Microsoft in real time, and that information is used to identify abnormal patterns and assess the potential impact of an incorrect or misbehaving signature.
If a false positive is detected, the Dynamic Signature Service fixes the signature in real time and prevents users from being affected, according to the company.
Despite this, MSE lacks the personal firewall, backup and PC tuning features offered in Windows Live OneCare, which it replaces. "Microsoft Security Essentials is a no-cost core antimalware service that provides real-time protection to address the ongoing security needs of a genuine Windows PC," Microsoft spokesperson Mac Brown told TechNewsWorld.
The Nitty-Gritty
MSE may be lightweight, but it does what it's supposed to do, Directions on Microsoft analyst Michael Cherry said. "I've been using Security Essentials for the past little while," he told TechNewsWorld. "It's a base-level antimalware tool that gets antivirus signature files updated and runs very efficiently."
Windows Live OneCare subscribers have to go to the MSE Web page and download the application once their subscriptions expire.
MSE is essentially targeted at users who don't really pay attention to security but do want some basic form of defensive line. "We still see far too many consumers worldwide that do not have up-to-date protection either because they cannot afford it, are concerned about the impact the suites will have on the performance of their PCs, or because they simply do not realize their AV (antivirus) software is not up to date," Microsoft's Brown explained. MSE will help them because it's free, consumes few systems resources and updates itself automatically, he said.
New computers often have antivirus software pre-installed, so is this argument valid? "Most preloaded antivirus applications are trial offers that run out after 30, 60 or 90 days, or perhaps after a year," Directions on Microsoft's Cherry said. "A surprisingly high number of people don't pay to have them renewed after that because they don't understand why they have to pay for it, and don't understand that, even though it's still running, it's not updating the virus signatures."
With MSE, Microsoft joins the ranks of vendors like AVG in offering free, basic antivirus software. AVG also sells more advanced security packages.
Users do need to do some work. The MSE help page has videos on how to install the application; how to scan for viruses on demand; and how to fix a threat once it's been detected. After that, they're on their own, though Microsoft's Brown said MSE users can get free community and e-mail support.
Why Offer MSE Free?
Microsoft loses nothing by giving away MSE, said Peter Christy, cofounder of Internet Research Group.
One factor leading to the decision to give MSE away for free was the failure of Redmond's Live OneCare Security as a Service product to take off. "The launch of Live OneCare was problematic because it was not as good as antivirus vendors' solutions and because they could make a case that there could be a conflict of interest with Microsoft selling both the operating system and security," Christy explained.
Another factor was that Live OneCare competed with offerings from antivirus vendors, who simultaneously have strong business ties with Microsoft, Christy told TechNewsWorld. Meanwhile, Redmond was improving its operating system security and Windows update patch system.
"I believe they decided to continue delivering a base system, which they may not have to invest as heavily in as if they were competing with the antivirus vendors, but which helps them control malware," Christy said.
"Malware is a huge problem for Microsoft, and we see that even in Apple's ads, so with Microsoft Security Essentials they're walking the fine line between competition with partners like Symantec, which is bad, and protecting their customers, which is good," he said.