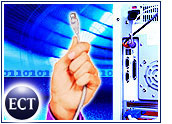 Imagine being able to have complete access to your hard drive and the corporate LAN in a device no bigger than a small cell phone.
No, Realm Systems isn't developing the next generation of the super small PDA. It just completed more than two years of research and development for a concept that will create the first generation of an innovative approach to portable computing.
Realm System's new portable computing platform will radically simplify the secure delivery of desktop and enterprise applications and services to mobile corporate end users.
Mobile Personal Server
"Realm will mobilize the corporate end user and free IT from desktop maintenance," said Richard White, CEO and co-founder of Realm Systems.
Realm Systems on January 11 introduced a mobile computing platform that gives the enterprise workplace a framework for connecting the enterprise workforce safely and securely from any location. The tiny device plugs into any computer, turning it into a dumb terminal while the palm-sized device becomes a host server.
The platform consists of two key elements — the Realm Mobile Personal Server (MPS) and the Realm SOBA Router.
The Realm MPS enables enterprise employees to take their corporate networks with them everywhere they go. Much like a cloned copy of the office desktop, the MPS provides access to data and applications without actually making copies to go.
What the user does carry from the office is a small device that creates the desktop look and feel of the corporate computing environment from any computer regardless of host operating system.
The Realm SOBA Router is a centralized back-end system that maximizes desktop control and security. It will significantly lower desktop maintenance costs, White said. IT Managers will be able to maintain thousands of users, secure and enable enterprise applications, and increase ROI on their existing Web services investment.
Targets Wide Appeal
The Realm mobile platform has applications that should attract attention in several industries, White told TechNewsWorld. Chief among them are entertainment, financial services, education, health care, government and other verticals.
Realm is currently in beta with a waiting list of more than 100 potential customers, including a number of top Fortune 500 corporations.
"Our new MPS and SOBA Router are combining the power of the enterprise network with the simplicity of a secure USB powered device to create a revolution in mobile computing. With Realm, any computer, any operating system, anywhere, is your computer," White said.
Memorable Storage
The Realm MPS is the world's first secure, USB-powered computing device that can be used any place, any time, on any operating system. It comes with an embedded operating system with up to 64 MB of DRAM, dual 425 MHz PowerPC processors, up to 1 GB of flash using either an SD expansion slot or up to a 20 GB hard drive.
The device contains a nonvolatile memory core of 512 MB to automatically save the configuration state when the device is unplugged from its USB connection. The enterprise user can literally stop writing in midsentence in the embedded word processor or other application, unplug and go.
When the user plugs into another location, the cursor will be waiting in the same place — no long boot up required.
The device can be configured for specific applications and data storage on SD removable media. Capacity ranges for this storage will be a 5 GB and an 8 GB medium. Realm plans to offer storage up to 20 GB by the fourth quarter of 2005, White said.
"This is not a flash memory device. It is literally a host server. The computing platform doesn't matter, and no drivers are needed," White told TechNewsWorld.
By simply docking the device in any computer with a USB interface, the MPS takes over the monitor, keyboard, mouse and Internet connection. The device leaves no trace of its connection or information on the host terminal. It even contains its own e-mail server.
Capital Success
Financing to propel the beta unit to market will be provided by an US$8.5 million preferred A stock offering.
"The financing we've secured will enable Realm Systems to fulfill the pent-up demand that exists for our new secure platform," White said. "Realm will deliver on the promise of mobile computing and enterprise application services by providing a completely holistic, secure framework for cost-effectively managing and deploying solutions across the enterprise."
The financing was led by GMG Capital headquartered in New York, and David Mimran, a New York based financier.
Realm Systems, a privately held company headquartered in Salt Lake City, Utah, has filed and issued patents with more than 200 individual claims in specific technology areas.
"Realm Systems is uniquely positioned to help solve many of the issues currently facing enterprise IT in ways unmatched by any other company," Joseph Gfoeller, managing general partner for GMG Partners, said. "The company has a broad patent portfolio and a waiting list of over 100 potential customers, including many in the Fortune 500."
Meeting the Challenge
According to CEO White, the unique offering that will drive the new mobile platform is the ability to load applications from a corporate environment with a device no bigger than a deck of cards. It comes with word processor, PowerPoint and spreadsheet applications.
"The user can thread this device into the corporate LAN and have full server access from anywhere," White said.
He said the development of the Mobile Personal Server began at a time when the computing industry was looking for miniaturization. This device does away with the need to synch a laptop computer, PDA and a desktop computer.
Security is increased, White said, because the connection to the corporate server is intermittent with no permanent IP address. Thus, the threat of worms and Trojan is greatly reduced.
Also, the corporate server is more secure with remote access. Access is gained only through the programmed device, the proper password, and a successful biometrics thumbprint authentication built into the device with a 2,048-bit encryption.
Consumer Users Next in Line
Realm Systems is working on a unit that will compress the Mobile Personal Server circuitry onto a two-chip set. That small footprint can be merged into a cell phone.
"Our first targeted use is the enterprise. But we plan to introduce a consumer product carrying the Mobile Personal Server by no later than the first quarter of 2006," White said.
He said the company's initial forecasts for the enterprise-level materials fell more than 16 weeks behind. So plans for hurrying a consumer level product fell behind the company's initial expectations.
"We can't touch the consumer product until our enterprise commitment is met," White explained.