When I last visited the ever-changing Netrunner distribution, I said that Netrunner Linux still went its own way. That was its twentieth rebirthday upgrade over its then 10-year history in late February 2020.
The same is true for Netrunner 21.01 XOXO — now with more modern trappings. Today, the two-month-old Netrunner XOXO release is something much more reminiscent of the 1990's Linux Netrunner's look and feel.
That is not necessarily a bad thing. Netrunner XOXO is a good fit for your general computing needs. In its present form, the developers should stop the constant rebuilding and let this well-running operating system find its audience.
I suspect that Netrunner Linux's sordid history of changes suggested it was not a reliable choice with its own staying power. It clearly has the right stuff to make it a success as a modern desktop with a tinge of yesteryear to give it more classiness.
Netrunner — at least until its next unexpected change — is still a Debian-based distribution with a highly refurbished KDE desktop loaded with extra applications, multimedia codecs, Flash, and Java plugins. It has its own look and feel. The result is an enhanced desktop that is very user-friendly on top of a set of controls to make tweaking it fun and efficient.
Dizzying Family Lines
Version 21.01 XOXO is based on the current Debian Stable 10.7 ("Buster") and comes with better modern hardware support thanks to Linux Kernel 5.9.15 from Debian buster-backports. The KDE-powered desktop environment, however, is a hodgepodge of various KDE elements bringing uniqueness to the mix.
The mixture of parts includes KDE Plasma 5.14.5, KDE Applications 18.08.0, KDE Frameworks 5.54, and Qt 5.11.3. The collection performs well. It gives you a KDE experience that you will not find elsewhere.
The Netruner Linux lineage is straight out of a chapter on how not to build and maintain a Linux distribution that suggests clarity and consistency, though. Back in 2014, Netrunner was a rolling release based on the Arch Linux variation, Manjaro Linux. It saw fading interest. The dev team discontinued the distro after a short run.
Then the Germany-based developer, Blue Systems, relaunched Netrunner in 2017 and discontinued it again in 2019. That decision to drop the Netrunner Rolling edition in 2019 was an attempt to eliminate a redundant development cycle.
Along the way, Netrunner morphed into many different iterations. Its blurred history brought lots of disappointment to dissatisfied users. At one point, the wandering distro was based on Kubuntu. At another developmental missed milestone, it was nearly a Hawaii-themed distribution. 
Netrunner's re-emergence as a Debian-based distro relies on two major releases per year in addition to necessary security updates. One of Netrunner's only consistent forms is the operating system's availability in both desktop and Core editions.
The KDE desktop Plasma version ships with a full set of preinstalled software for everyday usage. The Core version is a slimmed-down release that allows you to build up your own system or run it on low-spec hardware like arm-boards.
Look and Feel
Now — at least until its next change — Netrunner is still based on Debian Linux and a highly customized KDE interface. I am often turned off by the variety of KDE customizations to show up in KDE-based distros. It seems that the KDE design is becoming as whimsical and inconsistent as the many previous flavors of Netrunner Linux itself.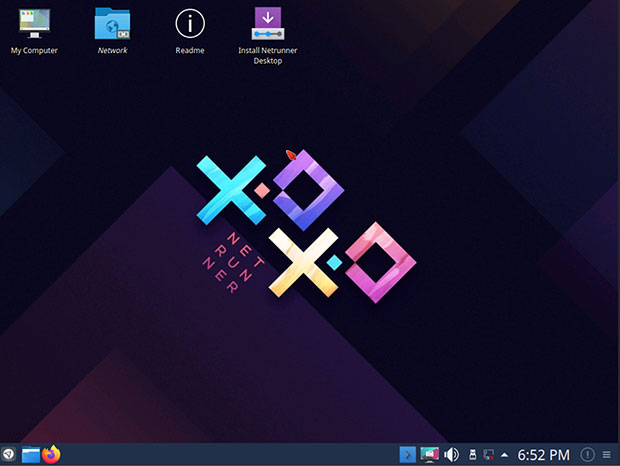 Netrunner Linux continues to set a standard for KDE Simplicity.
---
The desktop menu, called the Application Dashboard, is a recobbled iteration of the standard KDE menu stitched over the GNOME Application Overview design. It works surprisingly well.
Besides including the latest Debian security updates and the activated Debian Backports repository, you get updated WiFi and ethernet firmware and a wider base of supported printers out of the box.
The preinstalled Netrunner Linux software has a few interesting surprises, too. It seems to follow the developer's notion that productivity out-of-the-box trumps open-source software purity guidelines. It is a handy mix of choices that includes LibreOffice, the Firefox browser, GIMP, Inkscape, Handbrake, Krita, Pidgin, Skype, SUSE Studio Imagewriter, Thunderbird, Telegram, Whatsapp, and Yakuake.
If you are into Linux gaming, you will probably be pleased with Netrunner's approach to game choices. It ships with Steam and some entertaining games.
Navigation Basics
The desktop layout itself is unique to Netrunner. Other iterations of the KDE Plasma environment can be awkward to use. Especially bothersome to me is the widget installation and the convoluted approach to setting up the Activities views. Netrunner tries to simplify those working parts.
A search area sits just under the top two buttons in menu mode for quickly locating and launching an application. No need to click the search window to position the cursor in order to type an entry. Just start typing. Your entry appears as you type.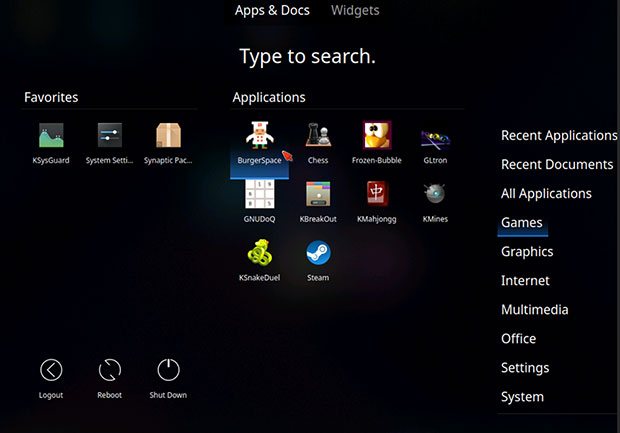 Part of Netrunner's uniqueness lies in how it displays the main menu.
---
Categories hug the right edge of the screen. A vertical listing down the center of the screen lets you scroll through a category's contents. A Favorites row and buttons for shutdown options are located in the left section of the menu display.
Right-click on a menu item to add it to the Favorites row or place its launcher on the desktop. You also can pin the icon to the bottom panel.
Easy Set-Up
The KDE desktop offers the best of both functional worlds when it comes to widgets or applets. You can place specialized displays and tools on the bottom panel and the desktop. Actually, using the features in Netscape borders on being overly simple.
You can say the same thing about Activity screens and workspaces. Activities are similar to virtual workspaces, only with more options. While a virtual workspace is a common feature in several desktop options, only KDE adds the additional functionality that Activities desktops provide.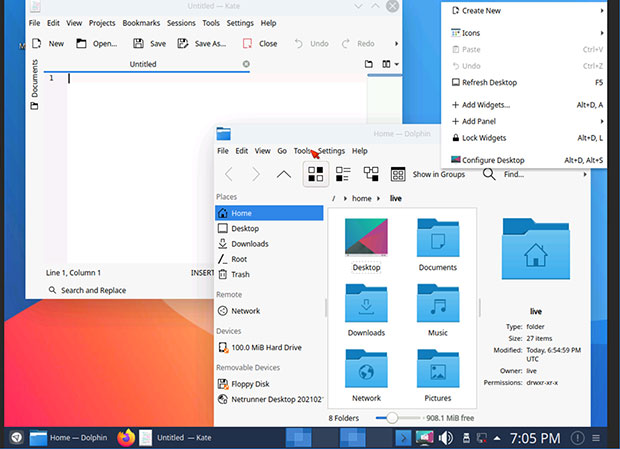 The windows design is clean and bright, further enhancing Netrunner's ease-of-use nature.
---
Each Activity workspace can have any number of additional virtual workspaces, and each Activity screen can have its own background image and widgets. These are totally separate from using virtual workspaces. So KDE offers both options.
You can be very flexible with this functionality. You can designate widgets to be available on some or all Activity screens — and place them on a default screen that makes widgets visible on all of your virtual workspaces.
It's easy to place widgets where you want them, with a two-step process after you right-click on the desktop or the panel. Scroll through the list of available widgets in the pop-up panel, then drag the item to where you want it.
Bottom Line
Were it not for the design uniqueness of KDE Plasma in the Netrunner distro, I would see very little need for this particular offering, especially given its frequent directional changes. If the developers can keep this version on track and not repeat their previous behavior of discontinuing and then reintroducing the distro as something else, I would have more confidence in Netrunner Linux.
Its modern flavor is both functional and comfortable. I usually have usability issues with other KDE implants in Linux distros. Netrunner's approach is not so bothersome to me. So I hope it continues along its present path.
Installation requires some 30 GB in temporary storage space. After the installation is complete, the total usage drops to around 8 GB. This is handy to know if you want to experience this distro first in a virtual machine. Add 10 GB of virtual drive space for testing.
Want to Suggest a Review?
Is there a Linux software application or distro you'd like to suggest for review? Something you love or would like to get to know?
Please email your ideas to me and I'll consider them for a future Linux Picks and Pans column.
And use the Reader Comments feature below to provide your input!