A new aerial drone from 3D Robotics packs two computers and an array of powerful features for US$999.
Solo's two computers — one on the craft and one in the controller — have enabled it to make some radical breakthroughs in autonomous flight and camera control, according to 3DR.
Built on 1-GHz Cortex A9 ARM chips running Linux, the computers allow operators to preprogram the drone's flight path so they can concentrate on shooting video or stills from the unmanned aircraft system and not be distracted by piloting tasks.
Solo is the first drone to support full control of GoPro cameras and deliver live-streaming HD video to mobile devices or through its controller's HDMI port, 3DR said. Video can be delivered to the devices from up to half a mile from the point of takeoff.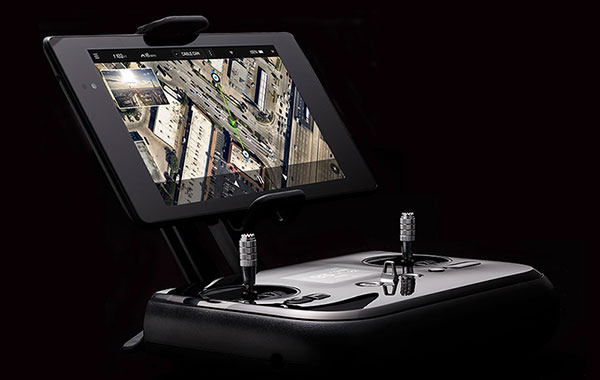 "The integration with GoPro is genius, because they're almost the de facto standard for cameras on these kinds of devices," said Matt Waite, founder of the Drone Journalism Lab at the University of Nebraska, Lincoln.
"Because of the bang for your buck that you get with GoPros, they're everywhere," he told TechNewsWorld. "For a significant number of people buying these devices, they're not going to need to buy a GoPro because they already have one."
Gimbal Optional
To get maximum performance from a flying GoPro, 3DR also is offering the optional Solo Gimbal ($399). The gimbal, which is used to mount and stabilize a camera on the drone, gives an operator the ability to start and stop recording from the GoPro while in flight — which reduces the amount of extraneous footage captured during a shooting session.
Combined with 3DR's mobile app or buttons on the drone's controller, the gimbal lets an operator snap stills and change settings, such as FOV, FPS and exposure compensation.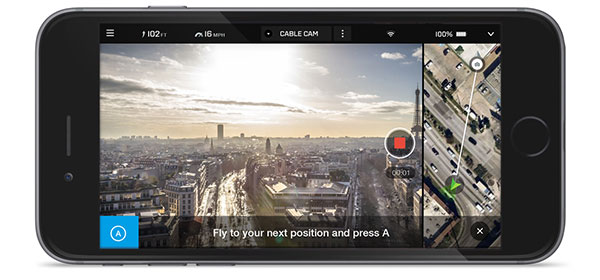 In addition, Solo's Gimbal can stabilize a camera to a tenth of a degree in pointing accuracy. It also can provide extra power for a GoPro and, combined with Solo's controller, create Smart Shots, allowing the drone's computer to take control of the gimbal for capturing what it determines to be the perfect shot.
Although Solo is priced at $999, when you add the price of the gimbal and a camera to the package, the total cost would be in the $1,600 ballpark.
"It's surprising to me that the gimbal costs so much and is not included in the main package," said Andrew Amato, editor-in-chief and cofounder of Dronelife.com.
"They did a really good job of keeping the price of the unit itself at $1,000," he told TechNewsWorld, "but I thought at least the gimbal would be included in the $1,000."
Smart Battery
For hands-off operators, Solo offers auto takeoff, landing and return home. It also has an e-brake feature for stopping the craft in mid-air.
The smarts in the drone extend to its battery. It not only keeps tabs on its power level, but also tracks the drone's distance from home base and warns the operator when it's time to return. 3DR estimates Solo's battery life to be 25 minutes without a payload and 20 minutes with one.
For Solo buyers with an eye to the future, the drone has a gimbal bay so other companies can make compatible gimbals, an accessory bay for additions such as a ballistic parachute system and LED lighting systems, and easy-to-swap motor pods for changing propulsion systems. What's more, software for the system can be upgraded wirelessly.
"This is a cool, sleek well-finished product that's going to appeal to a lot of people," said Mike Fortin, president of CineDrones.
However, commercial users may be looking for a little more that Solo can deliver.
"At the end of the day, it's still only flying a GoPro," Fortin told TechNewsWorld. "Commercial users want something that can fly a camera that is better than what your average GoPro can put out."