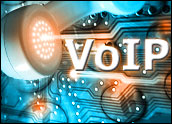 Skype hardware maker Ipevo announced on Tuesday the U.S. launch of the Solo, a desktop Skype phone that makes phone calls over the Internet without being tethered to a computer.
Ipevo officials hope the stand-alone device will catch the fancy of users who shy away from computers. The always-on phone, however, requires a broadband Internet connection.
The Solo is embedded with Skype software so users can place phone calls to anywhere in the world from any available wired broadband connection.
"The Solo allows users to Skype without the overhead of being tethered to a computer. Some people don't like to have their computers always on just to use the phone. Others just like have a separate phone connection," Ed Lucero, Ipevo's vice president and general manger for North America, told TechNewsWorld.
Familiarity Counts
The company based its design for the Solo on usability standards that will give the Internet phone the look and feel of a traditional household phone. It comes equipped with an RJ-45 Ethernet connector and Skype software so users can make and receive Internet voice calls right out of the box.
Setup is as simple as plugging in the network cable, logging in to the user's Skype account and placing a call. Solo supports Skype-to-Skype, SkypeIn, SkypeOut and Skype Voicemail features that enable customers to take advantage of Skype's free calling to other Skype users, as well as the low-cost rates to call mobile phones and landlines anywhere in the world.
"Technology is not meant to be complex. In fact, the most innovative products fit in perfectly with our everyday lives and become second nature," said Lucero. "We've made placing a Skype call as easy and familiar as placing a regular phone call."
WiFi Soon
The Solo also has a USB (Universal Serial Bus) port on the rear panel next to the Ethernet connector. Although that port is not functional now, it will accommodate a wireless expansion very soon, according to Lucero.
The Solo cannot be powered with a cable between the USB port on the Solo and a computer. The Solo needs to be plugged into an AC power supply, Lucero said.
Neither will the Solo work with a user's wireless router connected to a computer system. Users will have to connect the phone device by cable to an available RJ-45 connector on the router.
"We will release by the end of this year a WiFi dongle that will allow users to make a wireless connection to the Internet," Lucero said.
Key Features
The Solo has a one-click speakerphone function for hands-free talking. LED indicators show the power on/off status, missed call, message waiting, mute and speakerphone modes.
The Skype phone also has memory keys for speed dialing and a 2.4-inch TFT color LCD display with adjustable viewing angle.
The Solo is FCC (Federal Communications Commission), CE, VCCI (Voluntary Control Council for Interference by Information Technology Equipment) and RoHS (Restriction of Hazardous Substances Directive) compliant.
Cost and Availability
The Solo go on sale Oct. 9 for US$169.99.
Ipevo is packaged the Solo with a 90-minute SkypeOut voucher, a quick start guide, and built-in accounts to make it easier for non-Skype users to get started.
Skype is not a replacement for your traditional telephone service and cannot be used for emergency calling, advised Ipevo.