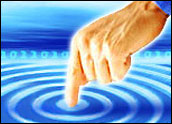 Synaptics on Monday announced what it describes as the next generation of PC touchpads, its ForcePad.
ForcePad Animation from Synaptics, Inc. on Vimeo.
The ForcePad can accept input from five fingers simultaneously. It's a variable force detector device that's targeted at Intel Ultrabooks running Windows 8.
Several key OEM partners are sampling the ForcePad, and "we expect to see key Intel reference designs with ForcePad publicly announced later this year," Ted Theocheung, vice president of Synaptics' PC division, told TechNewsWorld.
The ForcePad "appears to be designed to emphasize Windows 8 capabilities" and "could also be used in USB touchpads," Rob Enderle, principal analyst at the Enderle Group, suggested.
May the ForcePad Be With You
The ForcePad allows for larger surface areas, in keeping with Microsoft's Modern TouchPad size recommendations, Synaptics said.
Variable pressure detection, which detects how much pressure the user is employing, allows for more efficient, more ergonomically friendly gesture motions, Synaptics said. It also enables more intuitive and precise user interactions in operating system controls and applications. The ForcePad detects up to five fingers used simultaneously at up to 1,000 gm of force at 6-bit resolution.
"Force-sensing in general does hold tremendous potential for taking that experience to a whole other level," Rhoda Alexander, director of tablet and monitor research at IHS iSuppli, told TechNewsWorld. "You can drive different responses depending on how forcefully you touch the pad, and it does have implications for the touchscreen."
On the ForcePad, gestures continue after users stop the motion of their hands. Further, the speed of the gesture can be varied according to the amount of pressure used. For example, increasing the amount of pressure that's applied to a scrolling gesture will speed up navigation of a Web page, list or document, Synaptics said.
The ForcePad has an auto-calibration feature that can detect and adjust to changes in the ForcePad's physical environment, including chassis flexion, temperature and humidity. This gives a consistent experience on ForcePads on devices from different manufacturers, Synaptics suggested.
Synaptics uses ClickEQ technology in the ForcePad. This means there are no dead zones in the ForcePad.
ForcePad vs. the Mac
The Apple Macs can use large multitouch trackpads either built into the device, as with its MacBooks, or sold as peripheral. Apple's trackpad "is a mechanical design that's generally referred to as a 'ClickPad,'" Synaptics' Theochung said. Although a ClickPad doesn't use buttons, it "relies on a mechanical hinge design that moves and wears out over time."
The ForcePad "has no mechanical hinge," Theochung pointed out. Further, it is "40 percent thinner than" an equivalent-sized hinged ClickPad.
Further, the ForcePad "is designed to overcome the latency in current touchpads," Enderle told TechNewsWorld. "Latency, particularly when you are gaming or creating, can be very annoying, and this technology directly addresses this problem."
United We Stand
The ForcePad was unveiled as "part of an umbrella strategy for the PC division to reinvent the human-computer interaction," Synaptics' Theochung remarked. The other two parts of the strategy are the ClearPad Series 7 touchscreen and the ThinTouch Keyboard technology.
"One of the biggest problems with Windows 8 has been the lack of display and touchpads designed for it," Enderle said. With its umbrella of products, Synaptics has "aggressively designed all interfaces to best showcase Windows 8 and launched them before the product hit the market. Even Windows 95 didn't get this level of support."
Both the ForcePad and the ClearPad Series 7 are sampling to OEMs now, Theochung stated. The ThinTouch technology is also sampling to OEMs and is scheduled to be announced later this year.
"Several key OEMs" may demonstrate units for 2013 that include ForcePads at the Consumer Electronics Show in January, Theochung suggested.
The ForcePad external ISV sample unit was made available Monday to independent software vendors, Theochung continued.
Touch Me in the Morning
The idea of variable pressure detection is not new. Jeff Han, a scientist at New York University's Courant Institute of Mathematical Sciences presented a multitouch wall at the TED conference back in 2006.
A startup by the name of "Touchco", which was purchased by Amazon in 2010, developed a technology called "interpolating force-sensitive resistance," which could detect multiple touch points and different levels of fingertip pressure, The New York Times reported.
Although force sensing resistors are inexpensive, slim and have good shock resistance, they can be damaged if pressure is applied for a few hours.