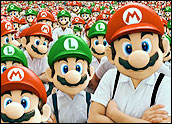 Nintendo on Monday announced that it will release a new model of its DS handheld console that can play 3-D games but won't require the user to wear special glasses.
This device is due by early next year at the latest.
The move may give Nintendo's DS an edge as the video game and entertainment markets inch toward 3-D.
Approaches to 3-D
Nintendo's new device, nicknamed the "3DS," will be able to play titles that were created for current and previous DS models, Nintendo said.
However, when playing specially designed 3-D games, users won't need special glasses to view 3-D images, Nintendo said. The company wouldn't release any more details about the device, but it said the 3DS will be on display at the 2010 Electronic Entertainment Expo (E3), to be held in Los Angeles in June.
News of the device has given rise to speculation about how Nintendo will be able to offer 3-D views without using special glasses.
Most current 3-D display technologies require users to wear either passive polarized glasses or alternate-frame sequencing glasses, which have active shutters. However, autostereoscopic displays don't require the viewer to use glasses or headsets.
Autostereoscopic Displays
There are two common methods of rendering autostereoscopic displays. One produces 3-D imagery visible to the naked eye regardless of the thickness of the display; the other requires a thin display.
The first method requires lenticular lenses. A lenticular lens is an array of magnifying lenses designed so that, when a viewer looks at them from different angles, he or she sees slightly different images.
Most flat-panel screens use lenticular lenses or parallax barriers. A parallax barrier consists of a layer of material with a series of slits so each eye can see a different set of pixels. This creates a sense of depth through parallax — a displacement or difference in the apparent position of an object viewed along two different lines of sight.
Some flat-panel autostereoscopic displays use eye-tracking systems that automatically adjust the two displayed images to follow viewers' eyes as they move their heads.
The Nintendo Technology Puzzle
Though the above technologies exist, Nintendo's specific plans for achieving glasses-free 3-D in its upcoming handheld remain uncertain.
"I can't comment until I see the device or see its specifications," Michael Pachter, managing director of equity research at Wedbush Securities, told TechNewsWorld.
"Nintendo has a history of coming up with very clever innovations for its platforms to differentiate them in the marketplace," said Carl Howe, director of anywhere research at the Yankee Group. "The Wii came out of such work, and I wouldn't be surprised if it did something similar with 3-D technology."
It could be that the 3DS will change the perspective of the scene on the console based on accelerometer inputs. "This isn't a true 3-D image because both eyes will see the same image, but it does give the illusion of 3-D when the device is moved," Howe told TechNewsWorld.
Another option is for Nintendo to add an optical splitter on the display that provides each eye a slightly different image, Howe said. While this would appear to be true 3-D to the user, it might not work if a user holds the consoles off to the side instead of right in front, he pointed out.
Alternatively, Nintendo might use two screens on its console, along the lines of the lenticular lense approach, Rob Enderle, principal analyst at the Enderle Group, told TechNewsWorld. These screens would be stacked such that each would give a slightly different image than the other when viewed from any angle. "When you have two screens, you get 3D vision, so you don't need to use glasses," he explained.
Beating the Competition
If Nintendo succeeds in pulling off this project, it could give the 3DS a significant market advantage.
Sony will release 3-D titles for its PlayStation 3 game console around June, and will also release a software update that will let users upgrade their game consoles to become 3-D-capable.
The catch here is that users will have to also buy a 3-D television set and get special glasses, and that will be expensive.
On price, at least, Nintendo could win out if it doesn't require users to invest in 3D TV sets and special glasses.
In addition, the 3DS' backwards compatibility with older DS games is also an advantage — in its six years on the market, the DS has sold hundreds of millions of units and amassed a large library of titles.