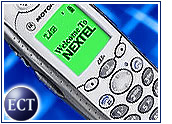 Nextel Communications posted large gains yesterday as the Reston-based company and other leading cellular phone providers reported growth in new subscribers.
Nextel reported its ninth consecutive profitable quarter on a large increase in revenue. It is the smallest of the six national carriers but generates the largest profit margins in the business.
It said profit quadrupled to $1.3 billion ($1.12 per diluted share) on revenue of $3.3 billion during its second quarter ended June 30, compared with $281 million (27 cents) on revenue of $2.6 billion during the same period a year ago. Part of the improvement in the most recent quarter stemmed from a one-time tax gain of $726 million.
For the first six months of this year, Nextel posted profit of $1.89 billion ($1.64) on revenue of $5.72 billion compared with $489 million (47 cents) and revenue of $4.6 billion for the same period a year ago.
Huge Net Gain
The company had a net gain of 546,000 customers during the quarter, for a total of 13.9 million subscribers. Those subscribers paid more than a year ago — $70 a month on average — in large part because customers are talking more and using more data services, the company said.
"I am optimistic that we will maintain this momentum going forward," Nextel chief executive Timothy M. Donahue said in a conference call.
Other companies reporting earnings yesterday also showed success in signing up new customers. Sprint Corp., a larger carrier based in Overland Park, Kan., said it added 897,000 wireless subscribers in the quarter. Cingular Wireless, a joint venture of SBC Communications Inc. and BellSouth Corp., announced it added 428,000 new customers.
AT&T Wireless of Redmond, Wash., which had been bleeding customers, said it added 15,000 new subscribers in its most recent quarter. Verizon Wireless, the nation's largest carrier, will report its results Tuesday.
Wireless Growing Quickly
The wireless industry is growing faster than expected, in part because companies are trying harder to keep their customers, said Jonathan Atkin, an analyst with the RBC Capital Markets. More wireless carriers are locking customers into two-year contracts, which means more stable revenue.
Nextel's stock price has shot up in the last year from about $6 a share to about $26. Shares of Nextel closed yesterday down $1.54 at $24.46 a share.
"The stock is down because people are concerned that marketing costs went up during the quarter," on campaigns including its sponsorship of NASCAR auto racing, said Patrick Comack, an analyst with Guzman & Co. But that money is well spent, he said, and is helping Nextel continue to post big gains.
Busy Quarter
Earlier this month, it won a fierce regulatory battle and gained approval to take over valuable airwaves that are critical to its future. Those airwaves will enable the company to carry more calls and more high-speed data traffic.
During the conference call, Nextel executives said they would have to review the details of the $4.8 billion package that the Federal Communications Commission approved before deciding to accept the deal. But in discussing the FCC action, Donahue said, "We applaud their decision."
The company's expenses increased, in part to fund its current, yearlong trial of a new high-speed Internet service in Raleigh, N.C. It expanded Boost Mobile, its service targeting the youth market, to seven new cities, including the Washington area.
It also launched new services including an international walkie-talkie service that allows people to communicate, with the push of a button, between Canada, the United States and four countries in South America. In addition, the company reduced its debt by $700 million during the quarter, to $9.6 billion.
Sprint's Wireless Division
Among other wireless providers, Sprint's wireless division reported revenue of $3.6 billion, up from $3.1 billion during the corresponding period a year ago. The company does not break out that division's profit; the company overall posted earnings of $233 million, up from $7 million a year ago as gains in its wireless division helped offset declines in Sprint's long-distance business.
Cingular had revenue of $4.16 billion, up from $3.87 billion. The company does not report net income, which is incorporated into its parent companies' financials. SBC will announce its second-quarter results today; BellSouth will release its results on Monday.
AT&T Wireless's profit dropped to $61 million (2 cents) from $222 million (8 cents). The company's revenue increased slightly, to $4.22 billion from $4.16 billion. In February, AT&T Wireless agreed to merge with Cingular, based in Atlanta, in a deal that could close later this year.