Nikon on Monday announced its new KeyMission line of shooters, marking its entry into the 360-degree and action camera business.
The KeyMission 360 (US$499.95, pictured above) can corral 360-degree video in 4K UHD at 24p, as well as in the more traditional HD 1080p. It also shoots 30-megapixel stills.
The unit has two f/2.0 lenses, each with a 20-megapixel CMOS sensor. The dual units eliminate a bane of 360-degree cameras: blind spots.
Other features include automatic in-camera stitching; shooting modes like Superlapse, Time-Lapse and Loop; a built-in stereo microphone; and Electronic Vibration Reduction, for taking the shake out of video after it's been shot.
The KeyMission 170 ($399) has a 170-degree superwide angle f/2.8 lens with an 8.3MP CMOS sensor for capturing 4K UHD or 1080p HD video.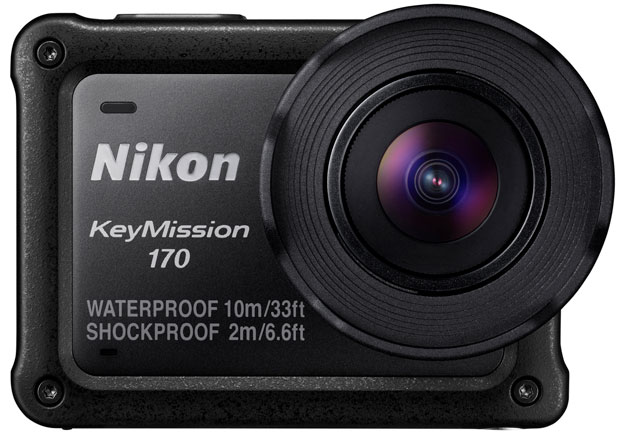 The unit supports highlight tagging, which makes it easier to create montages of adventures; a remote control for starting, stopping and adding tags to video; and a rear LCD for framing shots, playing back video, and changing the camera's settings.
Point-and-Shoot Toughie
The KeyMission 80 ($279.95) is a rugged point-and-shoot camera that has a 25mm f/2.0 lens with an 80-degree angle of view and 12MP sensor.
It also has a 5MP front-facing camera with a 22mm f/2.2 lens for shooting selfies, and support for time-lapse recording and interval timer shooting.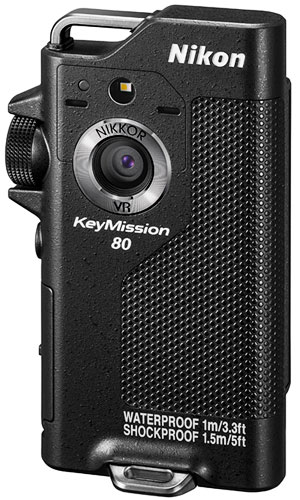 All the KeyMission cameras are ruggedized and don't need a protective housing, as do some other action-cams.
The KeyMission 360 is waterproof to 98 feet, shockproof from 6.6 feet, and freezeproof to 14 degrees Fahrenheit.
The 170 is waterproof to 33 feet, shockproof from 6.6 feet, and freezeproof to 14 degrees F.
The 80 is waterproof to 3.2 feet, shockproof from 6.0 feet and freezeproof to 14 degrees F.
For the 360 and 170 models, Nikon also offers SnapBridge, a smartphone app for accessing the camera settings, plus software for advanced editing on a PC or Mac.
Late to the Party
While Nikon is a powerful brand in the camera market, its KeyMission line will face some challenges.
"I'm skeptical because it's a crowded market as it is," said Terry Sullivan, associate editor for digital cameras and imaging at Consumer Reports.
That's created problems even for established players like GoPro.
"They've been suffering because so many copycats have come after them doing similar things," Sullivan told TechNewsWorld.
Nevertheless, GoPro and others still have a tremendous lead over Nikon, especially in the mid-range wide-angle action-cam category the KeyMission 170 targets.
"Nikon is indeed late in the mid-range KeyMission 170 model it debuted," said Ross Rubin, principal analyst at Reticle Research.
Upside for Nikon
While lagging in the mid-range market, that's not the case with the 360 market, suggested Eric Abbruzzese, a senior analyst with ABI Research.
"I don't think they're late — the market is still pretty nascent," he told TechNewsWorld. "The KeyMission is on par in hardware and price with others in the market, so I think they're on time with this product."
The 360 market could have some upside for Nikon, according to Reticle's Rubin. Like many camera makers, it is trying to patch a hole in its revenue stream as the market for compact point-and-shoot cameras gets ravaged by smartphones.
"The high-end 360-degree video market has strong potential growth with the advent of more inexpensive headset systems," Rubin told TechNewsWorld.
Follow the Leader
In addition, 360 cameras could be important for virtual reality and 3D experiences in the future.
"360 and VR are going to go hand-in-hand for the next few years," ABI's Abbruzzese said.
As for Nikon, it has ambitious plans for the action-cam market.
"We hope to acquire a share large enough to allow us to establish a leading position, similar to our role in the compact market," said Kosuke Kawaura, director of marketing and planning for Nikon.
"We expect the market to expand in the future with differentiated products, and we plan to offer such products," he told TechNewsWorld.
The best possible outcome might not be good enough, however.
Even if the KeyMission 360 is successful, noted Consumer Reports' Sullivan, "it's not going to make up for the shortfalls in the compact camera market."