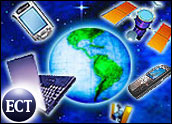 Whether for business or family fun, everybody takes road trips. When traveling to unfamiliar turf, nothing can make the trip more enjoyable than not getting lost. Traditional Global Positioning Software (GPS) has come a long way. A modern GPS device is something no traveler should leave home — or office — without.
Today's hottest GPS devices come packed with more than electronic road maps that provide turn-by-turn voice directions. They can be as multifunctional as a desktop scanner, printer and fax machine combination. Some of the newest devices double as a game and video player as well as an MP3 player.
TechNewsWorld scoured store shelves and online shopping sites to assemble a must-have list of the best GPS gadgets available this holiday season. Any one of our nine top choices will make a gift that keeps on giving.
Vehicle Navigation Systems
Pioneer Electronics' AVIC-S1 is a compact and lightweight portable navigation device that gives drivers access to the entire map of the United States and Canada in a system slightly bigger than the palm of a hand. It is fully contained in a 4.1″ x 3.5″ x 0.7″ chassis, which includes a 3.5-inch touch-panel display, 2 GB flash memory for map storage, SiRF Star III GPS receiver, Bluetooth support and built-in rechargeable lithium ion battery to quickly deliver door-to-door route calculations and voice instructions. US$600.
Magellan's CrossoverGPS offers voice-and text-prompted turn-by-turn driving directions with preloaded street-level maps for the 50 United States, Canada and Puerto Rico. It also makes traveling through the great outdoors safe for those who could otherwise get lost via preloaded topographic contour maps. The system features a 3.5-inch color touch-screen display with a 3-D birds-eye map view. Formerly known as the "RoadMate2500T," the Magellan CrossoverGPS measures 3.4″ x 4.3″ x 1.1″ and weighs 8.5 ounces. $549.99.
Rand McNally's GPS Navigator is one of the newest portable vehicle navigational systems on the market this season. It offers multi-stop route planning, a "detour" button to route quick trips around traffic snarls and a "Go Home" button that directs the driver home from any location.
This device comes preloaded with 26 road trips selected by Rand McNally's editors. Each trip includes recommended dining, shopping and other attractions along the route. In addition, it comes with a printed road atlas and trip planner and is programmed with maps of the U.S., Canada, Puerto Rico and the U.S. Virgin Islands. $499.99.
Mobile Phone Services
InfoSpace's Find It! is a cool GPS gadget that works on your mobile phone. This all-in-one, GPS-based mobile local search application allows consumers to easily and quickly find everything from nearby restaurants and movie times to people, maps and driving directions.
Find It! is available on Sprint and Nextel phones for $2.99 a month. It can be used to look up nearby movie theaters, choose a film, pick a time, find a nearby pizza place and get directions. Users can choose from six categories of local information, including Dine Out, Go Out, Shop, Travel, Health and Services. Other features include: Spoken turn-by-turn directions; an expanded content library including nearby events, WiFi hotspots, entertainment, golf courses, and 15 million other points of interest. Refreshed listings are updated weekly.
Novelty Tracking Devices
SnowRanger is an innovative product that provides ski resort maps that can be downloaded to Garmin and Magellan GPS receivers. Take the GPS device onto the slopes to see where all the lodges, trails and chairlifts are on the mountain, as well as your own location, where you have been and which direction you are heading. SnowRanger currently has maps available for 54 resorts packaged into four sets for $29.95 per set, either as a download or on CD-ROM.
SlimTRACK is a wireless GPS device that secretly tracks anything that moves from your car to your kid or your kid in your car. A real-time security and tracking device, it uses global GPS and wireless Internet communication to secretly keep tabs on anything that moves. Use it to keep track of any object so you can find it.
The device can be programmed to set speed limits and distance restrictions, and to send a message when the tracked object moves or travels too far or too fast. SlimTRACK is no bigger than a deck of cards and weighs no more than a cell phone. Plus, it needs no Web service subscription. Monthly fees range from $19.95 to $49.95, plus activation fee. $499.95
Personal Navigation Devices
Mio's DigiWalker H610 is a handheld personal navigation and digital entertainment device that provides real-time directions or entertainment while driving, bicycling or walking. The H610 comes with 50 preloaded maps of the U.S. states and Canada. Use it to play digital video, photos and music, or one of four included video games. The palm-sized device lets you check weather, convert currencies, get flight info and more. A free three-year subscription is included. $431.36.
Delphi Electronics' Nav200 is a portable navigation device with entertainment features that include an MP3 player, picture viewer, movie viewer and game. It comes preloaded with U.S. and Canadian NAVTEQ maps on a 1.5 GB SD card; a 3.5-inch bright, anti-glare, full-color LCD touchscreen; and a built-in rechargeable battery. $379.