Nissan will be ready to begin selling multiple models of driverless cars by 2020, it announced on Tuesday.
The company has been researching the technology for years, it said, in partnership with teams from universities including MIT, Stanford, Oxford, Carnegie Mellon and the University of Tokyo.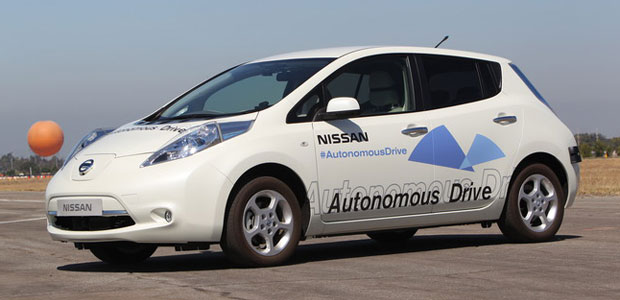 Work has already begun in Japan, meanwhile, to build a dedicated autonomous driving proving ground — expected to be completed by the end of fiscal year 2014 — to test the safety of the vehicles using real, masonry townscapes.
"I am committing to be ready to introduce a new ground-breaking technology, Autonomous Drive, by 2020, and we are on track to realize it," said company CEO Carlos Ghosn.
Nissan declined to provide further details.
The Google Factor
Nissan is Japan's second-largest automaker and will surely face competition on the road to self-driving vehicles, not only from other automakers but also technology giants such as Google.
Google, in fact, could be the company's biggest threat, though the two companies may end up taking considerably different approaches.
"What Google is trying to achieve and what the auto OEMs are looking to achieve are two very different things," said Praveen Chandrasekar, Frost & Sullivan's program manager for Automotive and Transportation Telematics and Infotainment.
Different Motivations
"Google is looking to develop fully automated cars," Chandrasekar told TechNewsWorld. "The OEMs, on the other hand, are now looking to make a semi-autonomous vehicle."
Such vehicles can be autonomous in certain driving situations, "but at any time the driver can take over," he pointed out.
The two companies' motivations are also very different.
"Google is looking to make a driverless vehicle where you give control to Google," Chandrasekar suggested. "That gives greater time to check email via Google, make payments through Google.
"You are using that time spent in the car where Google can push their online products to you," he added.
Varying Degrees of Autonomy
While the ultimate goal may be a car that does the driving for you, near-term solutions are likely to be increased driver assistance and what is called "semi-autonomous" functionality.
"BWM and Audi are looking at semi-automated technologies in 2016 such as a traffic jam assist that could take over when traffic is moving inch-by-inch," Chandrasekar noted. "This is very much an extension of a car that can park itself, but these are not completely driverless technologies."
Another early appearance is likely to be made by technology enabling vehicle platooning, where cars can be just 20 feet apart and travel at a fixed speed.
"One of the first things we'll see that will be a truly intelligent automobile will be a platooning lane," Michael Rogers, principal at Practical Futurist, told TechNewsWorld. "This will be a lot like the high occupancy vehicle."
One key to getting there, however, will be addressing the communication among vehicles.
"The key part of this infrastructure for driverless cars will be the car-to-car communication," Rogers explained. "The vehicle-to-vehicle wavelength has existed since the 1990s, but we're still seeing a very military approach, where every car is on its own."
Questions of Liability
Also essential is that the cars are aware of the environment around them, including objects that might not be communicating with them.
"We will see cars that will use laser and radar technology to scan to the road but also provide all-around vision," said Chandrasekar. "The car will need to see a pedestrian on the side or an animal that might be looking to cross. This will require radar and sensory vision around the vehicle, because the car needs to know not only where it is but what is around it."
Then, of course, there are issues of liability to be worked out, since not even future driverless cars are likely to be perfect.
"The larger picture is how this impacts liability and what is actually allowed," noted Rogers. "If it is in semi-autonomous [mode] and you crash, there is the issue of liability. Completely driverless for now has many questions."